KBIA, KOMU Faculty and Students Win Regional Edward R. Murrow Awards
Columbia, Mo. (May 5, 2009) — Faculty and students of two of the Missouri School of Journalism's news outlets recently won seven regional Edward R. Murrow Awards, competing against professional news organizations throughout the area.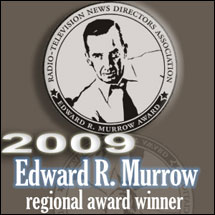 KBIA, an NPR-member station, won five awards, including one in the category of overall excellence. Three students were among the winners. KOMU, mid-Missouri's NBC affiliate, won two regional Murrows.
Named for the veteran broadcaster, the Murrow awards honor outstanding achievements in electronic journalism. They are awarded annually by the Radio-Television News Directors Association.
KBIA News Director Janet Saidi was very pleased to learn of the awards, saying, "These wins are very exciting for the KBIA News team. Professional producers like Sara Wittmeyer and Maureen McCollum put a lot of their talents and energy into coaching and producing student scripts and stories, and it is very exciting to see this work pay off."

The radio station competes in the Midwest region against small-market radio stations in Missouri, Kansas, Iowa and Nebraska. KBIA won in five out of nine total award categories: overall excellence, feature reporting, hard news, news series, and use of sound.
Aside from winning for Overall Excellence, KBIA won regionally in several individual reporting categories. Winners include:
Overall Excellence: KBIA staff.
Feature, Hard News: "Rural Healthcare Project," Janet Saidi, assistant professor and KBIA news director.
Feature Reporting: "Dumpster Diva," Casey Phillips, senior, radio-television journalism.
News Series: "Living Green in Mid-Missouri," Catherine Wolf, master's student.
Use of Sound: "Veterans Day," Meghan Freeman, senior, radio-television journalism.
KOMU won in the small-market television category, including one award to Sarah Hill for feature reporting and another to Scott Schaefer for videography. Both serve as adjunct faculty members at the School.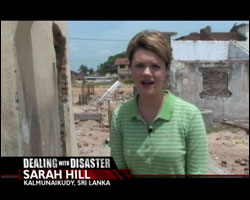 "Interestingly, both awards came for two different versions of the same story. Sarah and Scott each did their own version of a story about a special Christmas tree," KOMU News Director Stacey Woelfel said. "Both stories turned out to be quite remarkable."
Since its founding in 1953, KOMU has won numerous awards showcasing its teaching mission, its staff and its top-quality news coverage. KOMU has previously won regional Murrow Awards for its Web site, komu.com, and for "Sarah's Stories," a series by anchor and adjunct instructor Sarah Hill. The station won a national Murrow Award in 1994 for overall news excellence. A self-funded auxiliary enterprise of the University of Missouri, KOMU is the only university-owned commercial television station in the U.S. that uses its newsroom as a working lab for students.
KBIA also serves as a training lab for radio-television journalism students.
The RTNDA awards 540 regional Murrow awards in 14 categories every year, with each regional winner becoming automatically eligible for the national awards to be judged in early June.
Updated: May 4, 2020
Related Stories
Expand All
Collapse All
---