KBIA-FM, KOMU-TV Win National Edward R. Murrow Awards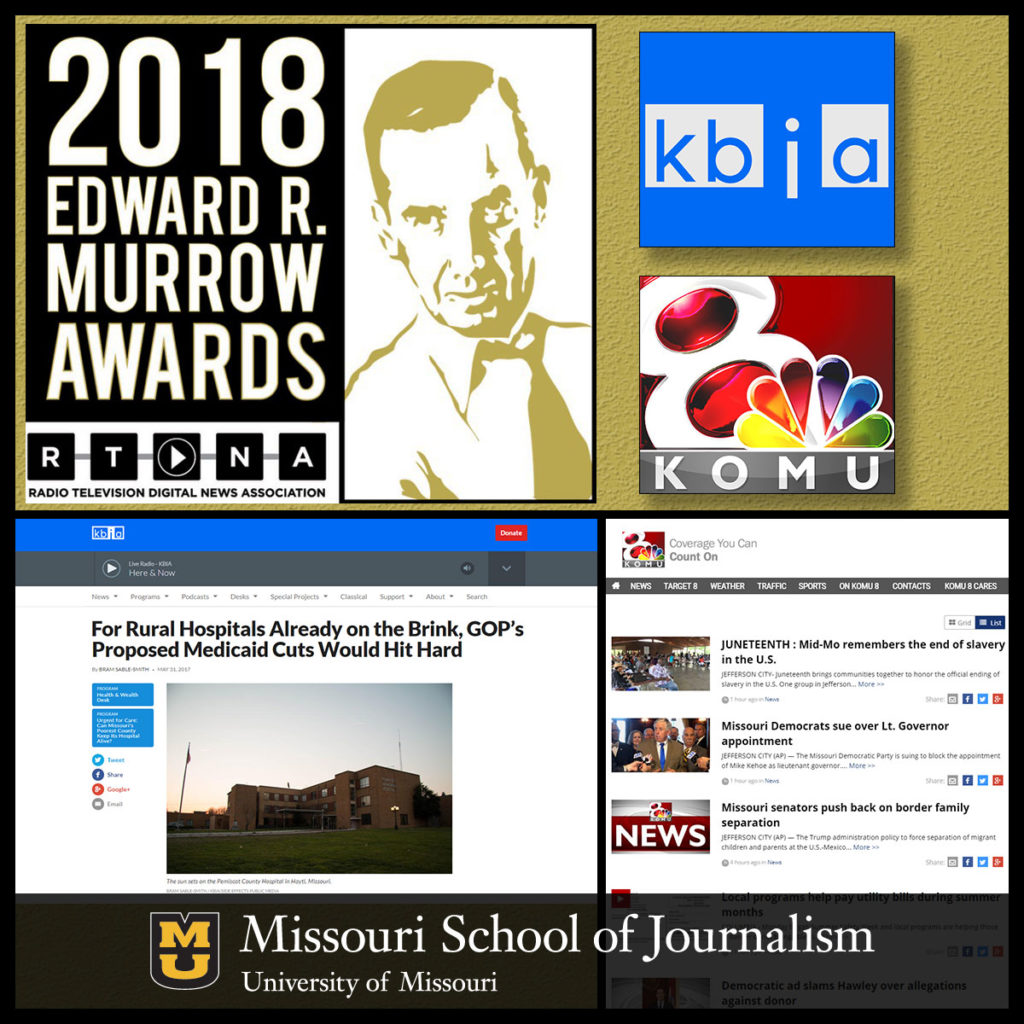 Serving as working laboratories for broadcast journalism students at the Missouri School of Journalism, KBIA-FM and KOMU-TV have consistently bested professional news outlets nationwide in competition for RTDNA's prestigious Edward R. Murrow Award.
Missouri's Student-Staffed Media Outlets Compete with the Nation's Best…and Win
Columbia, Mo. (June 22, 2018) — KBIA-FM has won its fifth consecutive national Edward R. Murrow Award in the small market radio division. KOMU-TV won for best news website, small market television. The stations beat out hundreds of the nation's top local and network programs for the honors.
Given by the Radio Television Digital News Association (RTDNA), these awards recognize local and network radio, television and digital news organizations for examples of outstanding journalism in 16 categories. The national awards will be presented October 22, 2018, at the RTDNA Edward R. Murrow Awards Gala at Gotham Hall in New York City.
"We are proud of our students' accomplishments and recognize the work of our faculty and staff who lead by example, educating and producing the world's finest journalists today," said David Kurpius, dean of the School of Journalism. "The national recognition goes to show our students that we compete against and can beat the best stations in the nation."
KBIA won for "Urgent for Care: Can Missouri's Poorest County Keep Its Hospital Alive?" Health journalist Bram Sable-Smith reported on the five-part series.
"Bram's work is completely deserving of this honor," said Ryan Famuliner, KBIA news director. "He's spent so much time and effort covering this important story affecting both community leaders and the people in rural parts of our state, and almost no one else in the country has invested this kind of time into this issue. In turn, he's uncovered some important issues that extend far beyond the small communities in our state. His reporting has made a measurable difference."
According to reporter Sable-Smith, "At least 11 journalists had a hand in bringing these highly collaborative stories to life: my talented colleagues here at KBIA, KCUR, the Missouri School of Journalism and Side Effects Public Media among others. I feel so fortunate to work for an organization that values providing high-quality journalism that spotlights under-reported issues and communities here in my home state of Missouri."
KBIA has won a national Edward R. Murrow award in each of the last four years, winning for Excellence in Innovation in 2017, Best Website in 2016, Feature Reporting in 2015, and Best Website in 2014.
KBIA has served mid-Missouri since 1972. The station is a university-licensed, community-supported, not-for-profit institution, actively involved in the life of the mid-Missouri area. The station is the area's largest provider of arts programming, serving more than 30,000 listeners and members each week.
The best TV news website award is KOMU's second in a row. The station's submission included a compilation of innovative, interactive storytelling on the site throughout 2017.
"Every reporter, anchor and digital producer contributes every day to making sure KOMU.com is the best news source it can possibly be," said Randy Reeves, KOMU news director. "To have that work recognized two years in a row is just awesome."
In 2016, KOMU also was recognized with a national Murrow award for Excellence in Social Media (small market category) for its coverage of the 2016 Republican gubernatorial primary election debate.
Serving as a working laboratory for broadcast journalism students at the MU Journalism School, KOMU is the only university-owned commercial major-network affiliate in the United States that serves both an academic and a commercial mission. Its operations and investments in broadcast technology are funded entirely by advertising and retransmission revenues. The station receives no funding from the university or state.
The national winners of the Edward R. Murrow Award were chosen from the winners of the regional competition, which were announced in April. KBIA won nine regional Murrow Awards including Overall Excellence; KOMU won two regional Murrow Awards including Excellence in Social Media.
The Radio Television Digital News Association has been honoring outstanding achievements in broadcast and digital journalism with the Edward R. Murrow Awards since 1971.
Updated: November 4, 2020
Related Stories
Expand All
Collapse All
---