KOMU Faculty Win a National Edward R. Murrow Award
Columbia, Mo. (July 20, 2009) — Sarah Hill, BJ '93, and Scott Schaefer, BJ '04, have won a national Edward R. Murrow Award in the feature reporting category for "The Magic Tree," part of the "Sarah's Stories" series. The Radio-Television News Directors Association, the industry's leading trade organization, sponsors the competition.
Both Hill and Schaefer serve as adjunct professors at the Missouri School of Journalism and work at KOMU-TV, the only university-owned commercial television station in the United States that uses its newsroom as a working lab for students.
"This national recognition goes to show our students that we compete against and can beat the best stations in the nation," Schaefer said. "Everything I've learned about journalism I've learned right here at Mizzou. I am only four and a half years out of school, so this award should show students that they, too, can excel at whatever they put their minds to with great mentors and hard work."
"The Magic Tree" documents the three-month process of stringing 75,000 holiday lights through a 30-foot-tall crabapple tree, a project that Columbia resident Randy Fletcher says he undertakes each year to give people joy at Christmas. Hill and Schaefer edited approximately four hours of video into the winning three-minute story.
"We were thrilled to receive the award and show our students that only in television can words marry with pictures in such a unique way," Hill said.
Schaefer said this experience can help students understand what it takes to create great work.
"The more time you can spend with a subject, the more comfortable they feel around you and really start to open up and act naturally," he said. "In the end, Fletcher was so comfortable with me and my camera that he really started to talk openly, and that makes some great TV."
Stacey Woelfel, KOMU's news director and RTNDA chairman, highlighted the importance of the Murrow Award.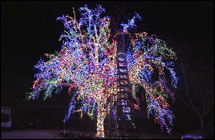 "This award is all the more impressive because the work of Sarah and Scott has been judged the best feature story from a small station in the whole country," he said.
Since its founding in 1953, KOMU has won numerous awards showcasing its teaching mission, its staff and its top-quality news coverage.
The Radio-Television News Directors Association has been honoring outstanding achievements in electronic journalism with the Edward R. Murrow Awards since 1971.
Updated: May 4, 2020
Related Stories
Expand All
Collapse All
---