Stacey Woelfel
Professor Emeritus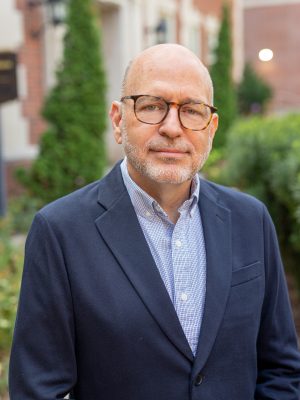 Download High-Resolution Photo
48632 Calle Esperanza La Quinta, CA 92253
Education
B.J. in Broadcast Journalism, Missouri School of Journalism
M.A. in Political Science, University of Missouri
Ph.D. in Political Science, University of Missouri
Areas of Expertise
Documentary Film Making
Drone Journalism
Journalism Ethics
Millennial and Gen Z Journalists
Television News
STACEY WOELFEL spent 35 years on the faculty the Missouri School of Journalism. He began his time on the faculty in 1986 as the executive assignment editor at KOMU-TV, the University of Missouri-owned NBC affiliate for central Missouri, eventually taking over the position of news director there in 1990. Woelfel spent more than 24 years in that position—the longest of any KOMU news director in the school's history. In 2014, Woelfel left KOMU to be the founding director of the Jonathan B. Murray Center for Documentary Journalism. The center uses the Missouri Method hands-on approach to teach students to artfully tell true stories in the documentary fashion. Woelfel was also the director of aerial journalism at the Donald W. Reynolds Journalism Institute, overseeing the institute's nine-drone fleet, teaching a drone-flying class and working with interested Missouri journalism students who want to get their FAA licenses to become drone pilots. In 2013, Woelfel was an RJI fellow, where he explored how newscasts can take advantage of second-screen viewing.
Woelfel is the past national chairman of the Radio Television Digital News Association (RTDNA), past national president of the Carole Kneeland Project for Responsible Journalism, past president of the board of governors of the Mid-America chapter of the National Academy of Television Arts and Sciences and past president of the board for the Kansas City Film Festival. He has received the University of Missouri's highest teaching honor, the William T. Kemper Fellowship for Teaching Excellence, as well as the Mizzou Alumni Association's Faculty-Alumni Award. Woelfel is a winner of the Payne Award for Ethics in Journalism, multiple Emmy and Edward R. Murrow awards, along with numerous regional and local honors. He has been inducted into the Silver Circle of the National Academy of Television Arts and Sciences. He is a frequent instructor in free media practices for journalists worldwide. Woelfel has authored the book Suspicious Signs and penned a chapter in Silenced: International Journalists Expose Media Censorship. He holds a doctorate in political science.
He received a Bachelor of Journalism degree in broadcast journalism from the Missouri School of Journalism in 1981, as well as receiving master's and doctorate degrees in political science from Mizzou. Before returning to the University of Missouri in 1986, he worked as a photographer and assignment editor at WESH-TV, the NBC-affiliate station in Orlando, Florida.
Woelfel enjoys traveling with his wife, Rebecca. The couple resides in California and has two adult children who are both pursuing careers in the movie and television business in Los Angeles.
Updated: April 5, 2023