Convergence Journalism Professor Earns 2007 Excellence in Education Award for Extracurricular Work with Students
Columbia, Mo. (April 25, 2007) — Mike McKean, associate professor and chair of convergence journalism, recently received a top award from the University's Division of Student Affairs for his extensive work with students outside the classroom.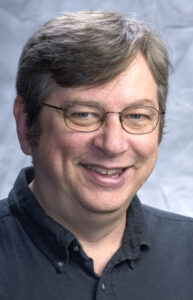 The Excellence in Education Awards, presented since 1996, annually recognize 10 University faculty members, academic administrators and advisers who have made significant contributions to students' out-of-class learning experiences. Nominees must demonstrate longstanding commitment to student learning and development, such as creating innovative extracurricular learning programs or serving as organizations' advisers or mentors. Any member of the University community is eligible to nominate an individual for the award.
"Throughout his more than 20 years at Missouri, Mike has worked across disciplines in ways that show he is dedicated to excellence in education," said Lynda Kraxberger, associate professor of convergence journalism, in McKean's letter of nomination. "He has also shown that his areas of interest affect the total student experience, not just what students learn in the classroom."
McKean's expertise in new media technology has allowed him to pioneer numerous cutting-edge programs for Missouri Journalism students. For instance, he helped build a partnership between Apple Computer and the University's Freshman Interest Group program that resulted in the creation of the annual iLife Challenge.
"Mike immediately saw value in promoting a source of learning that reinforced peer-to-peer small group interaction in a large University environment," Kraxberger said.
In addition, McKean uses iChat and other instant-messaging programs to make himself accessible to students outside of class and is leading the way to bring iTunes University to life at Missouri. iTunes U is a free, hosted service for colleges and universities that provides easy access to educational content, including lectures and interviews, 24 hours a day, seven days a week.
"Though there's no immediate payoff for our classes, Mike sees the overall benefit to students in being able to use an easy and familiar brand to access information about courses, about student organizations and as a way of connecting audiences from outside the University to life inside the University," Kraxberger said.
McKean's work with convergence journalism and technology reaches beyond the Missouri campus as well. For several years, he has helped develop a converged journalism curriculum at Moscow State University, and this year, he is working to establish a similar program at Shantou University in China. Last summer, he taught in an exchange program in Australia.
The Excellence in Education Award is not the first to recognize McKean's work in the areas of technology and student learning. In 2004, he received an Innovator Award for Teaching with Technology and was named an Apple Distinguished Educator for his use of technology in the classroom.
McKean joins four others from the School who have received Excellence in Education Awards, including faculty members Charles Davis and Stacey Woelfel, associate dean Brian Brooks and former director of external relations Ron Kelley.
Updated: April 17, 2020
Related Stories
Expand All
Collapse All
---