Five Journalism faculty awarded Reynolds Faculty Fellowships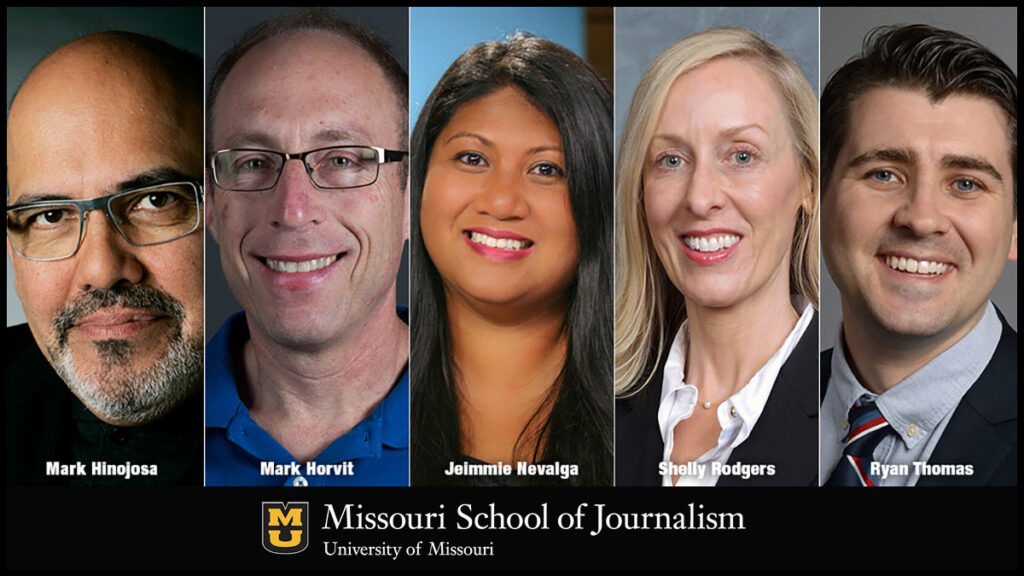 Annual endowment will be used for salary supplement and support for teaching and research.
Columbia, Mo. (Feb. 19, 2020) — Five University of Missouri journalism faculty have been selected to receive a Reynolds Faculty Fellowship award. These unique fellowships provide support for scholarship and research, in addition to salary enhancements, in recognition of high-quality work.
"I am grateful for the generous support of our alumni, friends and the Donald W. Reynolds Foundation to be able to provide these fellowships to our faculty," said David Kurpius, dean of the Journalism School. "Teaching excellence is a hallmark of the Missouri School of Journalism and these fellowships are an investment in our faculty and will ensure the School remains competitive in attracting and retaining elite journalism faculty."
The five fellowships are part of a larger program established in 2014 by the Donald W. Reynolds Foundation to help recruit and retain talented faculty at the Missouri School of Journalism, the alma mater of the foundation's namesake. The School will receive $10 million from the Foundation in 2021; however, the Foundation is allowing up to 50 third-party donors to create the individual fellowships immediately with gifts of $200,000. Those matching donors receive the right to name the fellowships. Once the Foundation's gift is received in 2021, the level of each endowed fellowship will increase to $400,000.
The five faculty to receive named fellowships are:
Donald W. Reynolds was a 1927 graduate of the Missouri School of Journalism and spent his life building the Donrey Media Group, ultimately owning more than 100 enterprises in the newspaper, radio, television, cable television and outdoor advertising industries.
The Donald W. Reynolds Foundation gift for the faculty fellowships follows previous gifts from the Foundation to build the Reynolds Alumni Center and to build and fund in perpetuity the Reynolds Journalism Institute (RJI) at the Missouri School of Journalism.
These five faculty fellowships bring the total to eight that the School has been able to award. The previous named faculty include: Jamie Flink, assistant professor, as the Molly Phelps Bean Faculty Fellow; Jennifer Rowe, associate professor, was selected as the Carol Loomis Faculty Fellow; and Yong Volz, associate professor, was selected as the Roger Gafke Faculty Fellow.
Updated: November 11, 2020
Related Stories
Expand All
Collapse All
---