13 faculty at Missouri School of Journalism awarded Reynolds Faculty Fellowships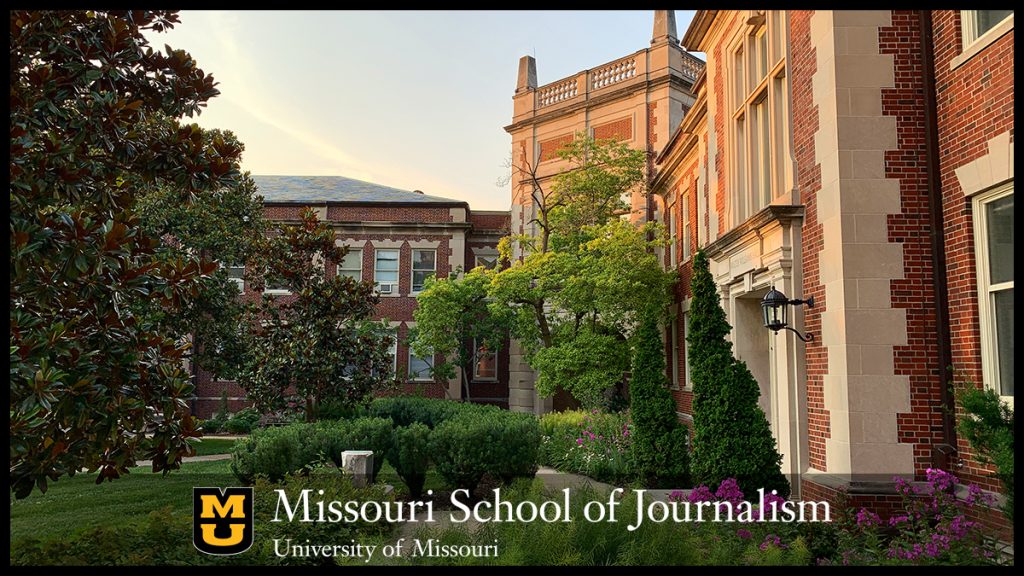 The prestigious fellowships are part of the School's effort to build on excellent scholarship through substantial reinvestment
The Missouri School of Journalism today announced the recipients of 13 Donald W. Reynolds Faculty Fellowships, part of an effort by the School to invest in the development and retention of world-class faculty. In addition to recognizing exceptional work, each fellowship provides monetary support for scholarship, research, and salary enhancements.
"Mizzou is entering a new era of reinvesting in excellent faculty, and at the School of Journalism, we are following through on that promise," said David Kurpius, dean of the School. "These faculty, like so many throughout the School, are premier talents in their fields and are integral to the state-of-the-art education and innovation that our School is known for. Investing in that talent means we are continuing to push the envelope in delivering outstanding journalism and groundbreaking research to our community and the world."
Kurpius said the fellowships will support robust research and novel, collaborative work that will help the School and the university continue to push higher in national research funding and recognition. The emphasis on collaboration extends to the program's funding. The 13 fellowships are part of a larger program established in 2014 by the Reynolds Foundation, in conjunction with gifts from third-party donors, to help recruit and retain talented faculty at the School of Journalism, the alma mater of the foundation's namesake.
"The Donald W. Reynolds Foundation has been an extraordinary partner in advancing the work of the School of Journalism for more than half a century," said Colin Kilpatrick, senior executive director of advancement at the School. "Its investment in this fellowship program will help preserve what has become a hallmark of the School—the outstanding caliber of our faculty."
The School received $10 million from the Foundation in 2021; however, the Foundation's gift also provides opportunity for 50 third-party donors to create individual fellowships with gifts of $200,000 to the School. Those matching donors receive the right to name the fellowships.
For one alumnus, donating to the fellowship program is a way to pay tribute to his former professors while recognizing the accomplishments of the School's current faculty.
"There might have been a journalism student who benefitted more than I did from the Journalism School faculty, but I seriously doubt it," said Major Garrett, BJ '84, BA '84, chief Washington correspondent for CBS News. "I arrived with more confidence than skill, more ambition than focus. My professors taught me the essence of journalism – accuracy, persistence, curiosity – with patience and rigor. They gave me everything I needed to succeed and more. I am honored and grateful to do what I can to support the best journalism faculty in the world, knowing firsthand what it can and will produce."
The 13 faculty to receive fellowships are:
Jeanne Abbott, professor, is the managing editor of the Columbia Missourian, the School's working laboratory for students. Her professional experience includes stints at the Sacramento (Calif.) Bee and the Anchorage (Alaska) Daily News.
Liz Brixey, associate professor, is a city editor overseeing education coverage at the School's community newspaper, the Columbia Missourian. Brixey has been recognized as a mentor to more than 50 students at MU's Honors Convocations and as a mentor to nine Mizzou '39 winners. She coordinates the annual Atwater Writing Contest in memory of former Journalism Dean and faculty member James Atwater and his wife, Patty.
Jim Flink, associate professor, joined the faculty after more than 20 years in television news, four years as a start-up executive and one year as a mobile video news consultant. He is leveraging his traditional and new media newsroom experience and integrating content creation techniques and timelines normally seen in newsrooms into the agency paradigm. Flink has been selected as the Amy and Marshall Senk Faculty Fellow. The fellowship is a gift of Amy and Marshall Senk, residents of Corona del Mar, Calif. Amy Senk, BJ '89, is a freelance writer and the founder and publisher of the online newspaper Corona del Mar Today. Flink
Elizabeth Frogge, associate professor and managing editor at KOMU-TV, has more than a decade of experience in reporting, anchoring, producing and shooting television news. Frogge has taught a variety of television courses, including Advanced Reporting as well as Broadcast 2 and 3. She is also the faculty adviser and co-founder of the student chapter for the Association for Women in Sports Media.
Robert Greene, associate professor, serves as the filmmaker-in-chief at the School's Murray Center for Documentary Journalism. He is also on the faculty of the School of Visual Studies. Robert's films include the award-winning Procession (2021), Bisbee '17 (2018), the Sundance award-winning Kate Plays Christine (2016) and the Gotham Award-nominated Actress (2014). He also writes criticism for Sight & Sound and many other outlets.
Keith Greenwood, associate professor, teaches courses in journalism and photojournalism history, photography's role in society and research methods. His research interests include photojournalism history and the influences that determine depictions of subjects in photographs.
Sara Hiles, associate professor, teaches writing and online journalism at the Missouri School of Journalism. Her areas of interest include environmental, science and health reporting; using multimedia and social media; and investigative reporting. She is also the executive director of the School's Mississippi River Basin Ag & Water Desk.
Amanda Hinnant, associate professor, is an award-winning educator and a widely published researcher. Her research focuses on health and science communication, media sociology and narrative persuasion. Hinnant has led many research teams on health communication research sub-grants for the School of Journalism from the Institute of Clinical and Translational Sciences and the Centers of Excellence in Cancer Communication Research. Hinnant was selected as the Wallace Turner Memorial Faculty Fellow. Wallace Turner, BJ '43, was a Pulitzer Prize-winning journalist with The Oregonian and The New York Times. The fellowship is a gift of his brother, William V. Turner, BS BA '56.
Heather Isherwood, associate professor, works with students on Vox Magazine, VoxMagazine.com and all its digital and mobile extensions. She has 17 years of professional writing, editing and management experience at national magazines as well as regional newspapers.
Laura Johnston, associate professor, teaches writing and cross-platform editing courses and works closely with the School's summer workshop for high school students, MUJW. Johnston also works as a senior news editor at the Columbia Missourian, where she also serves as the Opinion editor. Before joining the Missourian, she worked as a reporter and editor for Rust Communications in Cape Girardeau, Mo.
Brian Kratzer, associate professor, and the director of photography for the Columbia Missourian. Kratzer teaches Photo and Visual Editing, Staff Photojournalism and works with an advanced multimedia team creating documentary videos for the Missourian's website and app. He has been on faculty at the Missouri Photojournalism Workshop.
Sungkyoung Lee, associate professor, is on the doctoral faculty at the School. Her research focuses on message processing, health communication, and media effects. Lee is also the director of the School's Psychological Research on Information and Media Effects, or
PRIME, lab which measures real-time psycho-psychological responses to media messages. The lab is one of only six media effect research labs in the country.
Jon Stemmle, professor, teaches classes in dealing with public relations, health and science communication, social media, event planning and integrated marketing campaigns. His primary research interests involve health-related community-based participatory research, tailored health communication, messaging through storytelling and narrative, and non-traditional learning.
Donald W. Reynolds was a 1927 graduate of the Missouri School of Journalism and spent his life building the Donrey Media Group, ultimately owning more than 100 enterprises in the newspaper, radio, television, cable television and outdoor advertising industries.
The Donald W. Reynolds Foundation gift for the faculty fellowships follows previous gifts from the Foundation to build the Reynolds Alumni Center and to build and fund in perpetuity the Reynolds Journalism Institute (RJI) at the Missouri School of Journalism.
For more information about how you can support the School's faculty and establish a Reynolds Faculty Fellowship, please contact the School's Office of Advancement at (573) 882-4822 or Colin Kilpatrick, executive director of advancement at kilpatrickc@missouri.edu.
Updated: May 5, 2022
Related Stories
Expand All
Collapse All
---