New grant opens the floodgates for Ag & Water Desk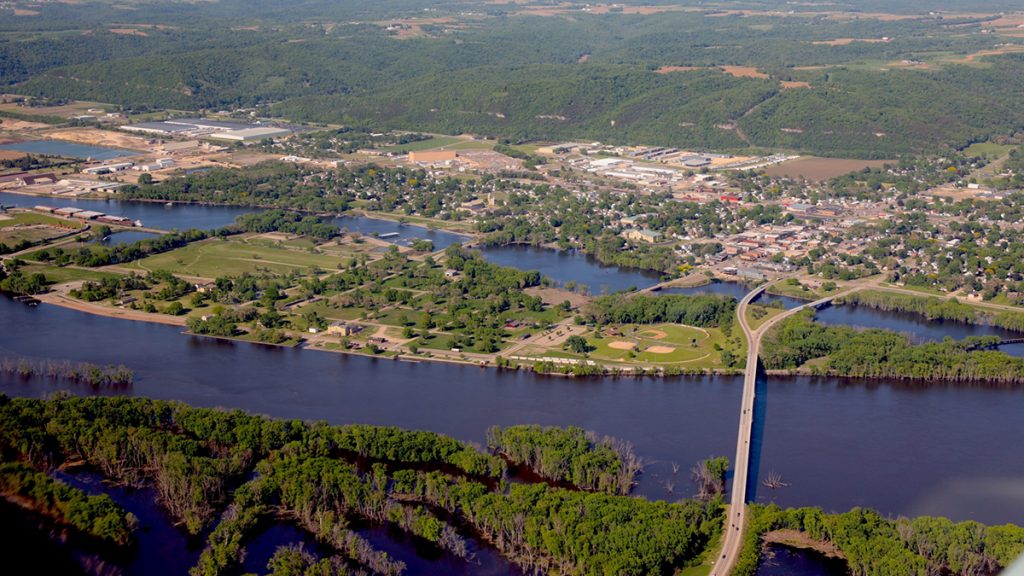 Prairie du Chien is a small river town in southern Wisconsin. Many small-town water systems are facing increasing challenges. Over the last two decades, water systems in the 10 states bordering the Mississippi River violated U.S. Environmental Protection Agency regulations for drinking water more than 438,000 times, according to a story by the Ag & Water Desk. Photo courtesy of Wisconsin Watch.
The University of Missouri School of Journalism's Mississippi River Basin Ag & Water Desk marks one year with good news about adding more reporters and news outlets
Contact: Sara Diedrich, 573-882-3243, diedrichs@missouri.edu
When the University of Missouri School of Journalism's Mississippi River Basin Ag & Water Desk launched more than a year ago, the mission was to do more than report on important water, agricultural and environmental stories unfolding in this more than a million-square-mile area.
The goal was to explore why issues were arising and what could be done about them.
So far, the team of journalists stationed in 10 core partner newsrooms across the region has produced more than 700 stories on local and regional issues, including 85 collaborative, enterprising or breaking news pieces that have been published by news outlets around the country. Stories covered include the proliferation of "forever chemicals" in the Mississippi River, the ramifications of an aging river infrastructure, extreme rain and flooding and the possibility of pumping Mississippi River water to the sun-baked West. The Desk's first series, "When it Rains," is up for a major international award. All stories produced by the Desk are shared free of charge thanks to support from the Reynolds Journalism Institute.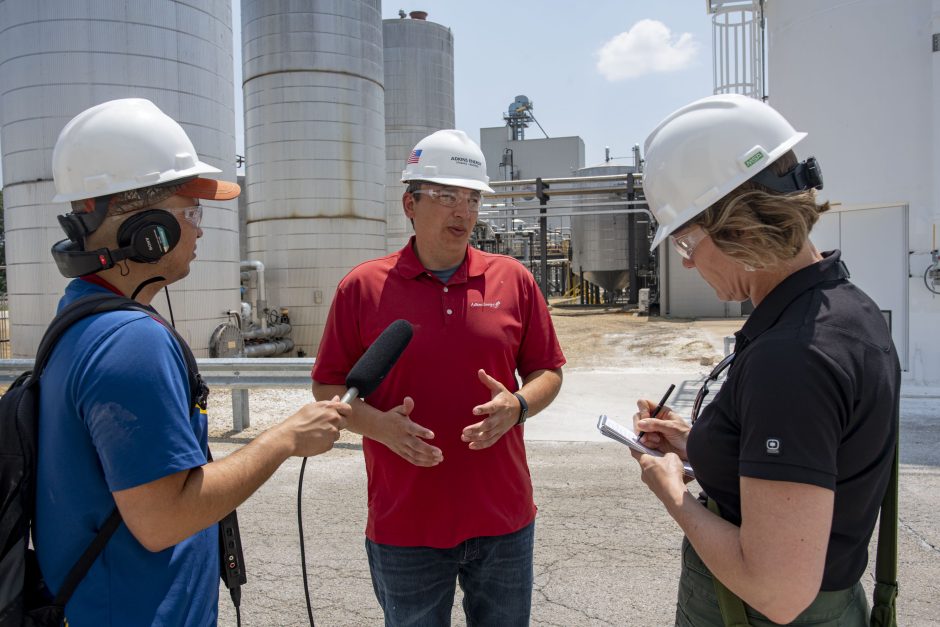 Time to grow
Now this collaborative reporting network is poised to expand, thanks to a $2.47 million grant from the Walton Family Foundation, which donated the initial $1.4 million several years ago to help start the Ag & Water Desk. The foundation is a major funder of environmental journalism across the United States, including coastal reporting in Louisiana and coverage of Western water issues as well as the Society of Environmental Journalists and the Institute for Journalism and Natural Resources.
Sara Shipley Hiles, executive director of the Ag & Water Desk and associate professional practice professor in the MU School of Journalism, said the Desk, which works in partnership with Report for America, has just scratched the surface of what is possible through its network. The new funding will go towards hiring 10 more reporters over the next year and expanding into more news outlets while continuing to work with expert journalists and senior advisors from across the country, who mentor, lead projects and help determine the editorial direction of the Desk. The network also helps fill the gap in news coverage left by deep cuts to newsrooms across the country.
"I believe we are making a difference," Hiles said. "It's a very large area, and there is plenty of work yet to do. We are just getting started."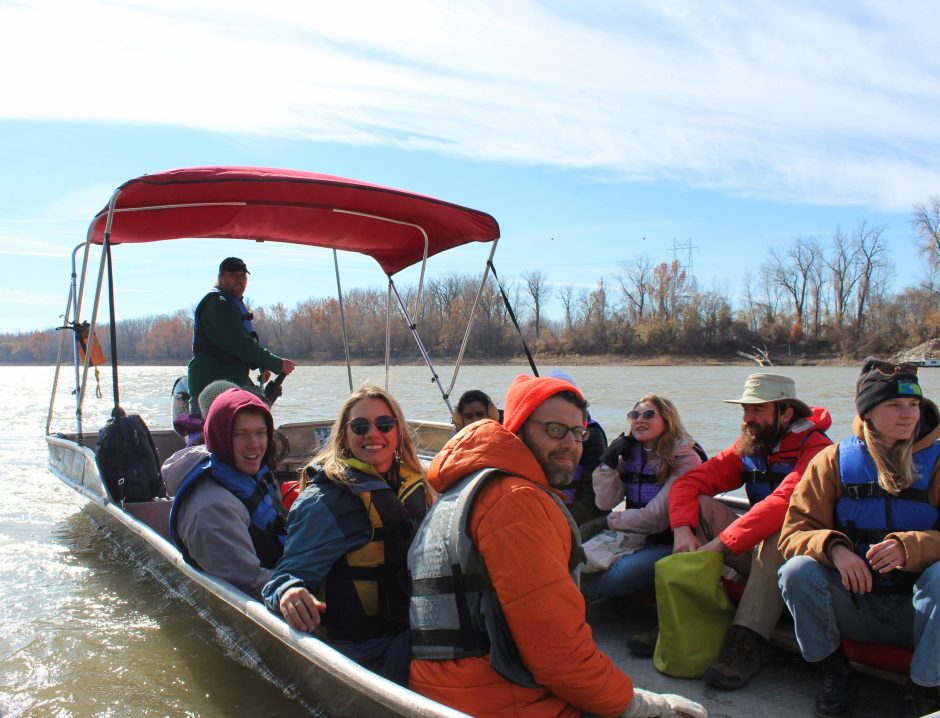 A river runs through it
The Mississippi River originates as a tiny outlet stream from Lake Itasca in northern Minnesota and meanders 2,350 miles south to the Gulf of Mexico. The Mississippi River Basin includes the mainstem river and all of its tributaries, including the Missouri and Ohio Rivers, stretching east and west from the Rocky Mountains to the Appalachians. Millions rely on the river system for drinking water, commerce and recreation.
More than 90% of America's agricultural exports are grown in the river basin, including more than three-quarters of the world's exports in feed grains, and most of the country's livestock. The Mississippi River drains 42% of the continental U.S.
Reporters like Connor Giffin, who graduated from MU in May 2022 and is in the first cohort with the Ag & Water Desk, are covering local, regional and national projects in their areas.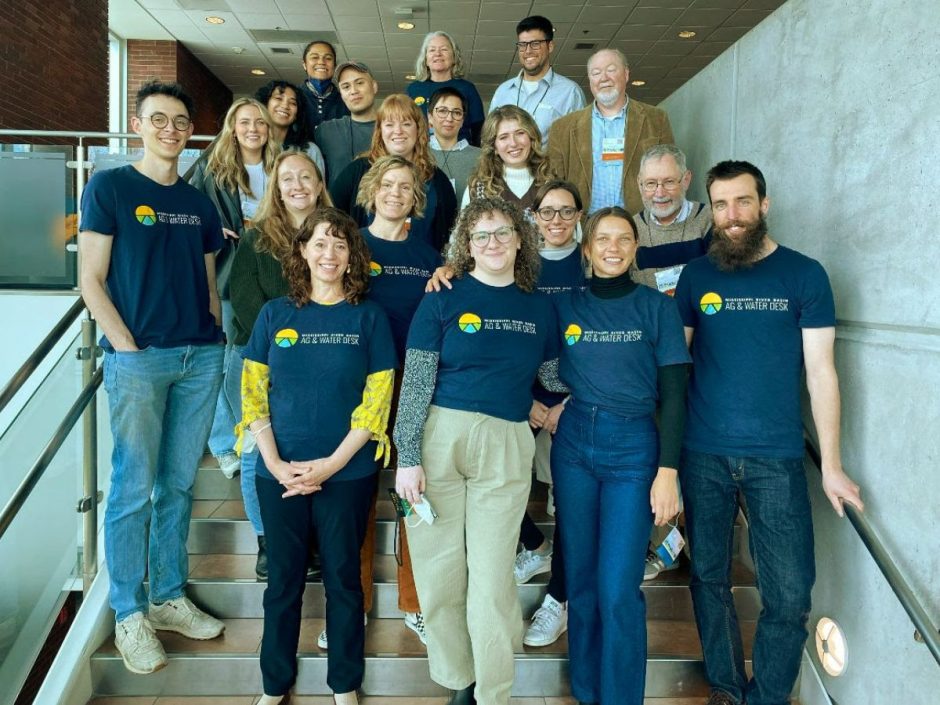 Boots on the ground
Giffin is stationed at the Courier Journal in Louisville, Kentucky, where among other stories, he teamed with Bryce Gray, a reporter at the St. Louis Post-Dispatch, to help produce a story for the Desk's "When it Rains" series.
A native of San Francisco, Giffin chose to attend MU because of its journalism school, where he was introduced to science writing and covered environmental issues for the Columbia Missourian. When he heard about the Ag & Water Desk, it sounded like the perfect opportunity to combine his love of the outdoors with his passion for community journalism. Giffin recently joined a team of environmental and waterway advocates on a 22-mile canoe ride up the Ohio River to explore the health of eight tributaries.
"I've always liked being outdoors and camping and those sorts of things," Giffin said. "There're not too many jobs where you can canoe up the Ohio River and call it work. The Desk does a great job covering the basin by bringing together journalists across the region to cover issues."
Sky Chadde, another MU alumni, is an assistant editor/senior writer at Investigate Midwest, an online news outlet based in Champaign, Illinois, which often posts content from the Ag & Water Desk's story. Chadde supervises a Desk reporter and by extension offers expert advice to the Ag & Water Desk during its weekly virtual meetings. He credits his experience at the Missouri School of Journalism for his interest in investigative and environmental reporting.
"What I learned at Mizzou and the Missourian laid a solid foundation for what I am doing today," he said. "I can't say enough for how much I learned there."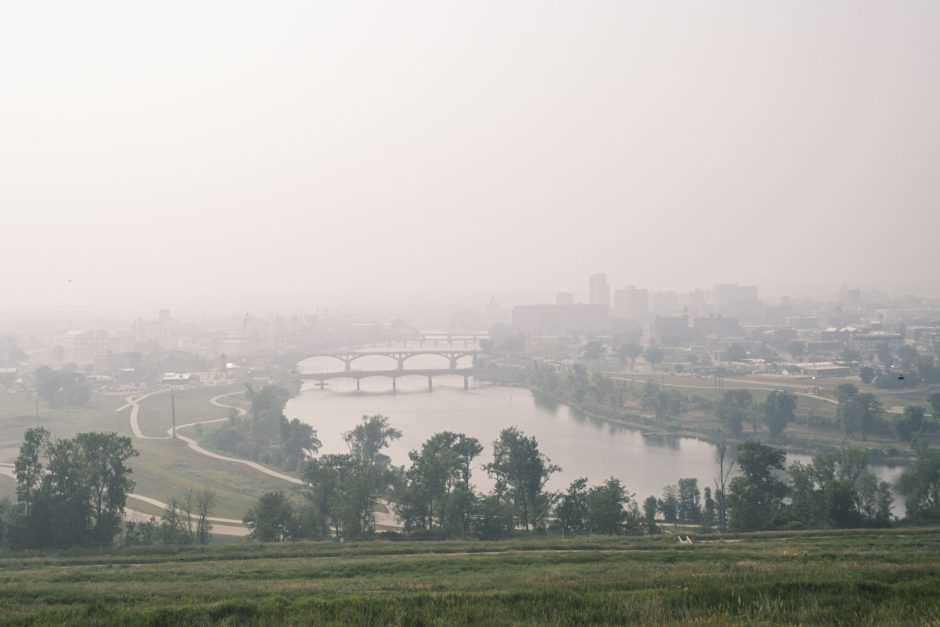 Into the future
Hiles, who grew up in rural Marthasville, Missouri, not from the Missouri River, learned early the importance of waterways and how they impact surrounding communities. She believes agricultural and environmental issues affect everyone's life and hopes stories covered by the Ag & Water Desk will help educate the public about important matters in the basin — and by extension, create a demand for more news coverage on those topics.
"There are so many important stories to tell, and I do think people truly value our natural resources," Hiles said. "We have gone to great lengths to make sure the stories told by the Desk are driven by facts, research and data because we understand how important these issues are to our audience."
Tegan Wendland, editorial director of the Ag & Water Desk, grew up in rural Wisconsin and has seen firsthand the degradation of local news. While there are fewer local reporters and media outlets across the country, people are still seeking answers to questions about climate change and how those changes will affect their lives.
"So many of the issues in the Mississippi River basin are interrelated — nutrient runoff and water degradation, climate change and weather patterns, harmful industrial development in marginalized communities, the list goes on and on," she said. "We're producing stories tying all these issues together and illustrating the interconnectedness of the region. Our stories have been published by hundreds of news outlets, reaching millions of people. … There is clearly a huge appetite for this coverage, and we are so privileged to have the funding and talented reporters and editors to provide it."
Updated: August 30, 2023
Related Stories
Expand All
Collapse All
---