Mississippi River Basin Ag & Water Desk expands coverage of local environment and agriculture news with new grant
COLUMBIA, Mo. (July 31, 2023) — The Missouri School of Journalism today announced a $2.47 million grant from the Walton Family Foundation in support of the Mississippi River Basin Ag & Water Desk, a network of journalists that provides coverage of agriculture, water and environmental issues centered around the Mississippi River Basin to news media nationwide free of charge. The grant extends the foundation's support of the Desk for three more years and represents a more than $1 million increase over the Desk's founding grant in 2021.
"At a time when local news deserts are a concern throughout the country, the Desk is an oasis of strong, local environmental coverage," said David Kurpius, dean of the School of Journalism. "We are thankful for the Walton Family Foundation's expanded support, which speaks to the profound needs the Desk is addressing in the industry and in communities throughout the basin."
With this support, the Desk will place a second cohort of 10 journalists in newsrooms throughout the basin for up to three years beginning next summer. As before, the journalists will be hired through a partnership with Report for America (RFA) and will receive training and mentorship from experts at the School of Journalism and the Society of Environmental Journalists (SEJ). Interested newsrooms can apply to Report for America by the deadline of Sept. 18.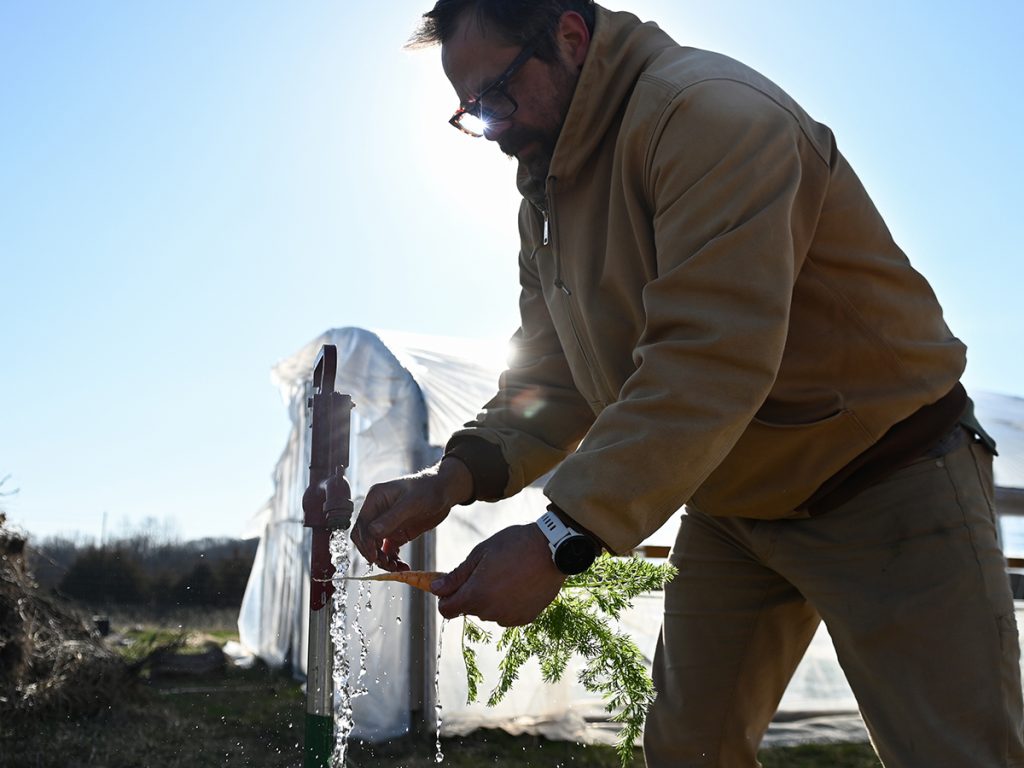 In addition, reporters from the first cohort that started in 2022 have the option to remain for a third year, which is expected to result in a larger network of reporters next year. A list of newsrooms and reporters already in the program can be found at the Desk's website.
"Over the last two years, this unique program has proven to be highly successful at increasing and improving environmental journalism in local news deserts," said Meaghan Parker, executive director of SEJ. "Its comprehensive approach leverages the strengths of each partner to combine three key pillars: sustainable local newsroom capacity, regional collaboration and mentoring, and national networking and convening. SEJ is pleased to continue to be a part of this innovative and important effort to better inform local communities across the basin and leaders across the country."
"Collaborations like this are helping newsrooms bring greater awareness of the issues that affect the daily lives of millions of people living within the Mississippi River Basin through a local lens," said Kim Kleman, executive director of Report for America. "With this added funding, we'll not only be able to expand coverage but provide our corps members with the mentoring and editing support they need to better serve their communities through their reporting."
Over the last two years, this unique program has proven to be highly successful at increasing and improving environmental journalism in local news deserts.

Meaghan Parker, executive director of the Society of Environmental Journalism
An important economic and environmental region in the United States, the basin covers more than 40% of the continental U.S. and supplies more than 90% of agricultural exports in the country. Sara Shipley Hiles, executive director of the Desk and an associate professor at the School, said issues like flooding, pollution and land use in the basin have consequences for the entire country, a fact that makes deep, well-researched coverage of these issues vitally important. Consequently, she wants to see the Desk's reach extend even further.
"We've done a lot of stories and reached a lot of people, but I think we have even more that we can accomplish over the next couple of years," Hiles said. "We're very excited to continue to expand the program."
Hiles added that one feature of this expansion will be an effort to recruit newsrooms from a wider swath of the basin, which runs from near the Canadian border to the Gulf of Mexico and covers more than 1.2 million square miles.
In the year since the Desk began producing content, its journalists have created more than 600 stories. That includes several dozen collaborative and investigative pieces and multimedia projects, such as the five-part multimedia series When it Rains and team coverage of drinking water contamination. Stories are shared with the Desk's distribution network, which consists of more than 60 newspapers, radio stations, magazines, television stations and digital news outlets across the country and a total audience of more than 45 million.
"Communities need access to quality, fact-based journalism in order to make informed choices about how to meet the challenges posed by climate change," said Moira Mcdonald, director of the Walton Family Foundation Environment Program. "Roughly 70 percent of the world's freshwater is used in agricultural production. We all want solutions so that people and nature can thrive together. Journalism that explores the connections between agriculture and water, especially rooted in the farming communities around the Mississippi River basin, is so important."
Veteran journalist Tegan Wendland serves as editorial director of the Desk. Earnest Perry, associate dean for graduate studies and research at the Missouri School of Journalism, is a project advisor, and assistant professor Kate Rose conducts research.
The Desk's coverage has been featured in local and national news outlets including the Associated Press, Washington Post, NPR, Science Friday, Indian Country Today and others. Interested news outlets can sign up here to receive access to republish the Desk's stories for free, and members of the public can receive a newsletter with the latest stories twice a month.
The Walton Family Foundation is, at its core, a family-led foundation. Three generations of the descendants of its founders, Sam and Helen Walton, and their spouses, work together to lead the foundation and create access to opportunity for people and communities. The foundation works in three areas: improving K-12 education, protecting rivers and oceans and the communities they support, and investing in our home region of Northwest Arkansas and the Arkansas-Mississippi Delta.
Report for America is a national service program that places talented emerging journalists in local newsrooms to report on under-covered topics and communities across the United States and its territories. By creating a new, sustainable model for journalism, Report for America provides people with the information they need to improve their communities, hold powerful institutions accountable, and restore trust in the media. Report for America is an initiative of The GroundTruth Project, an award-winning nonprofit journalism organization dedicated to rebuilding journalism from the ground up.
With more than 1,400 members, the Society of Environmental Journalists (SEJ) is the largest network of professional journalists covering energy and the environment in North America. SEJ's mission is to strengthen the quality, reach and viability of journalism across all media to advance public understanding of environmental issues. Through its annual conferences, grants, awards, webinars, online forums, and publications, SEJ increases and improves environmental journalism by supporting the people who cover the world's most important stories.
Updated: July 31, 2023
Related Stories
Expand All
Collapse All
---