Sara Shipley Hiles grows science writing programs at Missouri School of Journalism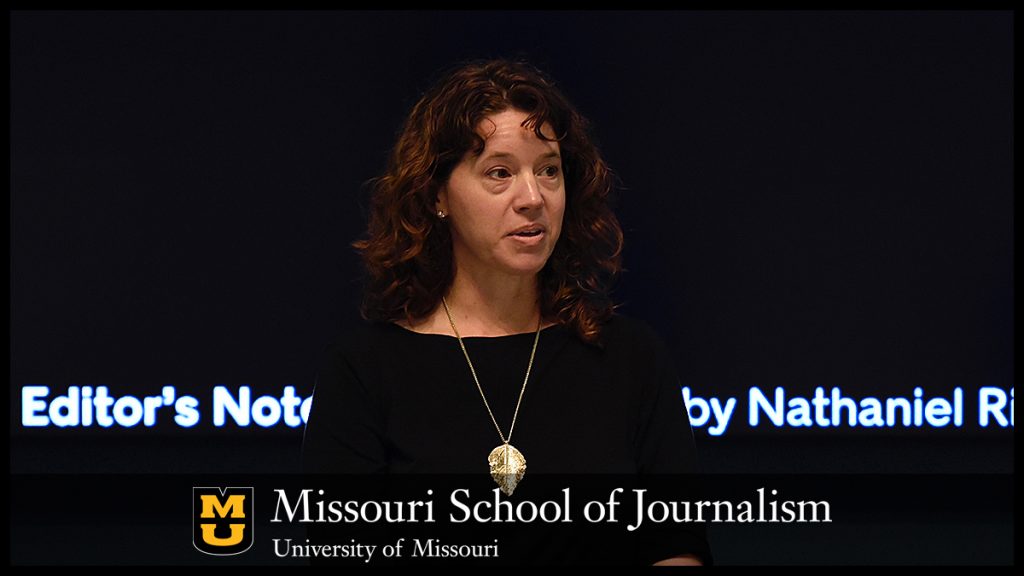 COLUMBIA, Mo. (June 29, 2023) — Sara Shipley Hiles has been telling the stories behind the world's environmental challenges since the beginning of her career. Now, as an associate professor at the Missouri School of Journalism, she is supporting those stories on a larger scale than ever before.
As executive director of the Mississippi River Basin Ag & Water Desk, she oversees a program that provides in-depth environmental coverage to newsrooms around the country free of charge. The Desk is a collaborative network of reporters, expert advisors and participating newsrooms that seeks to fill the gaps in coverage of some of the planet's most consequential issues involving climate and the natural world.
She is also the director of the Smith/Patterson Science Journalism Lecture Series, a partnership with the Pulitzer Center that brings working journalists to campus to speak with students about their on-the-job experiences. She oversees a companion program, the Smith/Patterson Science Journalism Fellowship, which gives one student each year the opportunity to report a story anywhere in the world with the help of a $5,000 stipend. And to further support students interested in science or health reporting, she is the faculty mentor for a student organization, Science, Health & Environmental Journalism @ Mizzou.
Then there is her role in the classroom itself, where this spring she taught a capstone course that brought students to New Orleans and Florida to investigate the fertilizer industry and its wide-ranging impacts. It was one of three similarly-structured capstone projects, with Professors Mark Horvit and Ron Stodghill leading the other two. Hiles' project was funded by a $20,000 grant from the Pulitzer Center to enable travel and research and culminated in The Price of Plenty, a five-part series published in the Columbia Missourian and distributed by the Ag & Water Desk.
"Sara's efforts consistently prioritize the hands-on experience and positive impact of the Missouri Method," said David Kurpius, dean of the School of Journalism. "Whether coaching her students on science-literate writing or supporting the news ecosystem with well-researched environmental coverage, she is a leader who is moving the School and the industry forward."
Science in her blood
It's no surprise that Hiles ended up in a science-related career. Her parents owned a clinical drug research facility, and she counts among her siblings a doctor, a pharmacist, a nurse and an engineer. But bridging that inherited passion for science with another passion — writing — offered her the opportunity to forge her own path.
"When I figured out you could be a journalist and get to learn about all of these things, then translate them into beautiful stories that help people appreciate the environment or understand some sort of injustice happening in the world, that was a turning point," Hiles said.
But in other ways, her upbringing — running around outside in rural Marthasville, Missouri, where her family also raised hogs — was too contained. Itching to see more of the world, she earned her bachelor's degree in communications from Loyola University New Orleans in 1993 and began her career as a reporter for the city's major daily newspaper, the Times-Picayune.
When she took students to New Orleans and Florida this past semester, it was for much the same purpose: to take them out of their comfort zones and allow them to observe the subjects of their stories firsthand. One such experience came from a rare visit to a Florida phosphate mine, where the mineral deposits formed by the remains of ancient marine animals and sediment are harvested as a component of fertilizer production.
"When they take phosphate out of the ground and process it, what is left behind is put into these massive gypsum stacks," she said. "They're huge. They rise up off the ground like mountains."
While her students returned to Missouri after a few weeks, it took Hiles a bit longer to find her way back after earning her first degree. But 13 years after leaving home, she found it again: first as an environmental reporter for the St. Louis Post-Dispatch, then for an online master's degree from the School of Journalism, and finally as a teacher at the School, where she spent nearly 10 years as the digital director of Vox Magazine before her environmental focus moved back to the forefront.
One dream I have is that all journalism students will have basic training in science literacy. No matter what beat you are on, you need to understand science-related issues. Everyone covered COVID-19, and everyone covers climate change.

Sara Shipley Hiles
Now, in the midst of teaching science reporting, overseeing the Ag and Water Desk and running the Smith/Patterson Lecture and Fellowship, she sees her work as more aligned and focused than ever. In fact, she hopes that all of these efforts — alongside the work of faculty members like Amanda Hinnant, Zach Massey, Susan Renoe, Shelly Rodgers, Kate Rose, Jon Stemmle and Alison Young — will culminate in a "science communication center" that will unite and formalize science communication work across the School, creating more opportunities for students and faculty alike.
"One dream I have is that all journalism students will have basic training in science literacy," Hiles said. "No matter what beat you are on, you need to understand science-related issues. Everyone covered COVID-19, and everyone covers climate change."
She said an increased emphasis on science communication training for journalists will help combat rising tides of misinformation online, where topics like vaccines, autism and even the climate are often subject to sensationalized stories and rumors that spread quickly.
"If you don't know how to cover these stories, you can easily fall into traps," Hiles added. "It's important for journalists to understand how to avoid hyperbole while furnishing important information that is missing from the public conversation."
That commitment to journalism as a public service hasn't just helped her educate excellent student journalists and support the industry; earlier this year, she won the C. Brice Ratchford Memorial Fellowship, which honored her dedication to program-building, teaching and journalism.
At the time, Jim Spain, vice provost for undergraduate studies at Mizzou, highlighted Hiles' ability to emulate the natural world in expanding the reach and breadth of the School's science communication programs.
"Sara has led the creation of a news ecosystem that reflects the natural ecosystem stretching beyond the traditional extension boundaries of individual states," Spain said.
And as someone who has lived amongst the historic, distinctive bayous of New Orleans, the picturesque valleys of Oregon and several other locales, it's Missouri where she has chosen to create the most impactful work of her career. As she embarks on her second decade at the School, her roots are firmly planted.
Updated: July 3, 2023
Related Stories
Expand All
Collapse All
---