Hands-On Investigative Reporting Project Leads Missouri Attorney General to Launch New Probe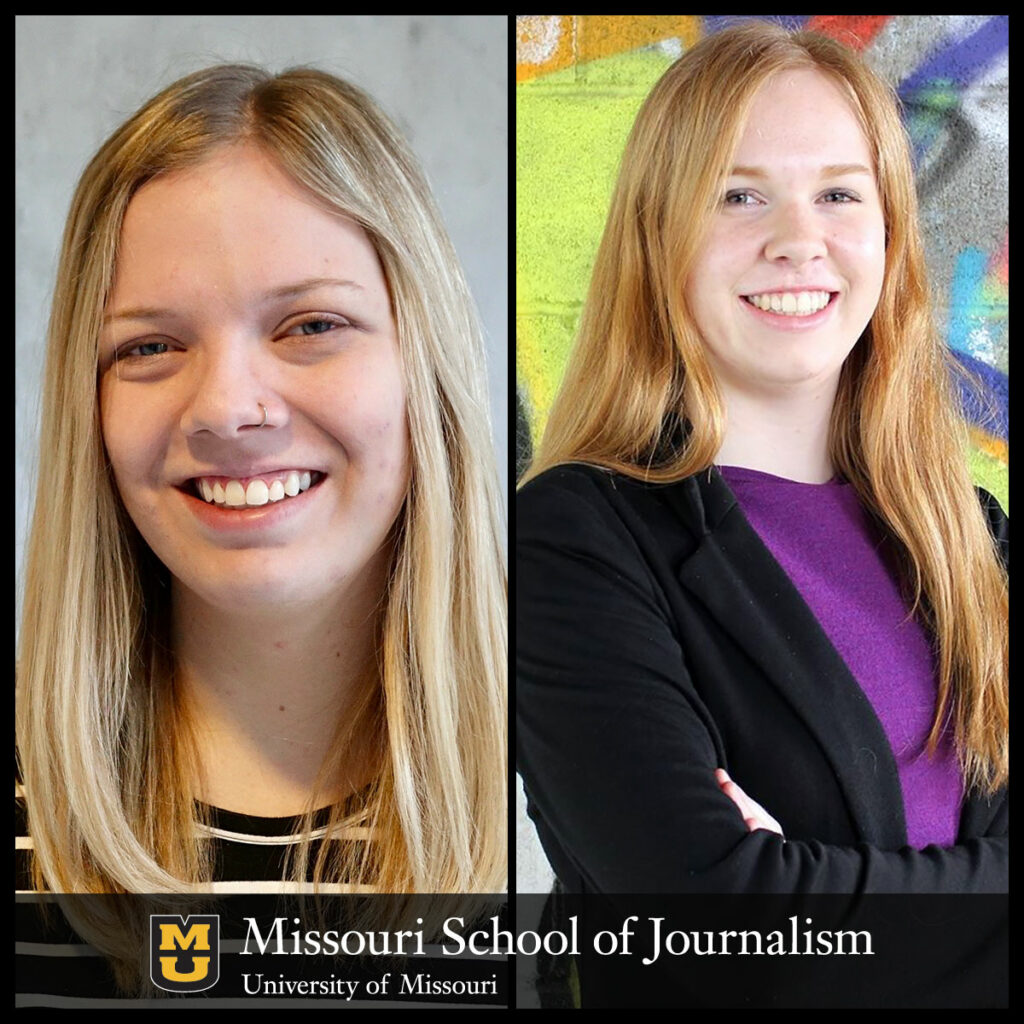 During their senior year at Mizzou, Kyra Haas and Aviva Okeson-Haberman began developing a story that took their reporting in unanticipated directions, requiring them to file multiple Sunshine Law requests after they noticed a disparity between the data and their anecdotal experiences speaking directly with Missourians who had attempted to use the state's adult abuse hotline.
Classroom Project for Real-World Media Outlets Reinforces the Importance of 'Following Up on Everything'
By Jennifer Nelson
Columbia, Missouri (June 4, 2019) — A recent investigative story published by Kyra Haas, BJ '19, and Aviva Okeson-Haberman, BJ '19, about service failures of Missouri's adult abuse hotline prompted an investigation by the Missouri Attorney General's office.
The Columbia Missourian community newspaper and KBIA 91.3 FM – real-world media outlets and working laboratories for Missouri Journalism students – collaboratively published a text and audio story on May 22 reporting that only about 40 percent of calls made from January through April 2019 were answered by someone who could file a report. The hotline collects reports of abuse, neglect and exploitation of those 60 and older as well as disabled adults under 60. According to the article, calls that went unconnected were often dropped for various reasons including a hold limit or people simply hanging up after an extended wait time.
Within hours of publishing the student-produced story, the Attorney General's office issued a press release announcing an impending investigation and citing the students' work. Haas and Okeson-Haberman began working on their investigation as part of the spring 2019 Investigative Reporting class taught by Associate Professor Sara Shipley Hiles at the Missouri School of Journalism.
Seeing such a prompt response from the public to an investigative article is rare, said Shipley Hiles. "I'm thrilled to see the students' work get this kind of attention and results," she said. "This is why we do what we do. It shows the power of the Missouri Method."
From Idea to Investigation
Haas, of Lawrence, Kansas, and Okeson-Haberman, of Springfield, Missouri, began looking into the possible story idea in late fall 2018, before their spring 2019 reporting class had even begun. Haas said they wanted to make sure they could file Sunshine Law request information in time to produce the story by the end of the semester when they were both scheduled to graduate.
However, after filing their initial request, which focused on staffing numbers, there did not seem to be much of a story idea. The two students then decided to pursue another possible lead about elder financial exploitation, said Haas. While attending a workshop on this topic, the subject of the hotline came up, and some attendees were obviously upset. Okeson-Haberman later spoke with a workshop attendee, who told the students she had called the hotline 11 times over a day and a half and waited on hold for a total of two hours before finally connecting.
"This story reinforced the importance of following up on everything," said Haas. "Our initial records request didn't show that there was a problem with the hotline, which was inconsistent with what we heard anecdotally from the people who had called to report."
When the two students did some more digging, they learned that the state kept data on hotline call responses, so they filed another Sunshine Law request. Their subsequent findings "painted a much darker picture" of calls that were getting answered, said Haas. The students learned that the Department of Health and Senior Services had changed the way it was collecting data and a subsequent interview with department officials confirmed the dismal numbers, said Haas.
Okeson-Haberman added that she learned the importance of being very specific when making a public-records request – and to ask what type of data the department collects – from the outset of reporting. Since the story was so data-driven, Okeson-Haberman said she was thankful for the experience she gained working at KBIA, which taught her how to write a script and develop an audio mindset when approaching stories.
"We wanted to make sure that the audio version of this story wasn't boring, that listeners wouldn't just tune it out or that it wouldn't be so confusing because of all those numbers," she said.
The collaborative efforts highlighted by the development of this story are typical of the J-School's efforts to have its newsrooms work together on projects. Associate Professional Practice Professor Ryan Famuliner, who is also the news director at KBIA, is currently pursuing a Hearst Fellowship to explore additional means of pooling newsroom resources across all media outlets to foster deeper collaboration.
Updated: June 15, 2021
Related Stories
Expand All
Collapse All
---