Asian-American Journalists Association Students Interview Lead Investigative Editor
Marty Baron Oversaw 2002 Catholic Church Sex Abuse Scandal; Interview Adds Depth to Academy Award-Winning Film 'Spotlight'
By Kiara Ealy
Columbia, Mo. (April 7, 2016) — Members of Asian-American Journalists Association (AAJA) Mizzou interviewed Marty Baron, who was the lead editor of the Boston Globe investigative reporting team at the time of the 2002 Catholic Church sex abuse scandal. The film, "Spotlight," was based on the news report, and it won a 2015 Academy Award win for Best Picture.
The film screenings and 15-minute pre-recorded Q-and-A with Baron was shown March 11 and 12. The project was a collaboration between AAJA and the Missouri Student Association (MSA). Randall Smith, the Donald W. Reynolds Endowed Chair in Business Journalism at the Missouri School of Journalism, serves as the AAJA Mizzou faculty adviser.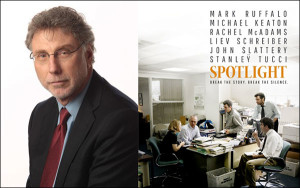 Smith said the idea to conduct and show the Marty Baron interview came about after AAJA members thought his comments would add depth to the MSA screening.
AAJA event organizer Siyu Lei said "Spotlight" is one of the rare movies about journalists that "doesn't attempt to simplify the process for viewers or glorify the work to make a statement. It is a fair representation, which I think gives it so much more weight and enables it to make a stronger impact on young journalists."
Lei and fellow organizer Covey Son oversaw the interview with Baron.
"Conducting an interview with Marty Baron further reminds people that this was a true story, with real people behind the scenes," Lei said. "I was honored for the opportunity to talk to Marty myself, but importantly, I hope our interview with Marty answered some questions that concerned our viewers, and possibly giving them some motivation to pursue journalism as a career."
Smith thought connecting with media professionals, such as Baron, bridges the gap between seasoned and novice journalists.
"I've known Marty professionally for many years. I emailed him, and he agreed to do the interview almost immediately," Smith said. "Marty cares very much about the next generation of journalists."
AAJA Mizzou aims to provide media-relevant services and build a professional network for those interested in the journalism industry. Through education and connection, AAJA Mizzou hopes to promote inclusivity in media.
Upcoming AAJA events this semester include a discussion panel on Reporting in Asia and a media field trip to Kansas City.
Baron currently serves as the executive editor at The Washington Post.
Updated: September 24, 2020
Related Stories
Expand All
Collapse All
---