Workshop Equips High Schoolers with Investigative Reporting Skills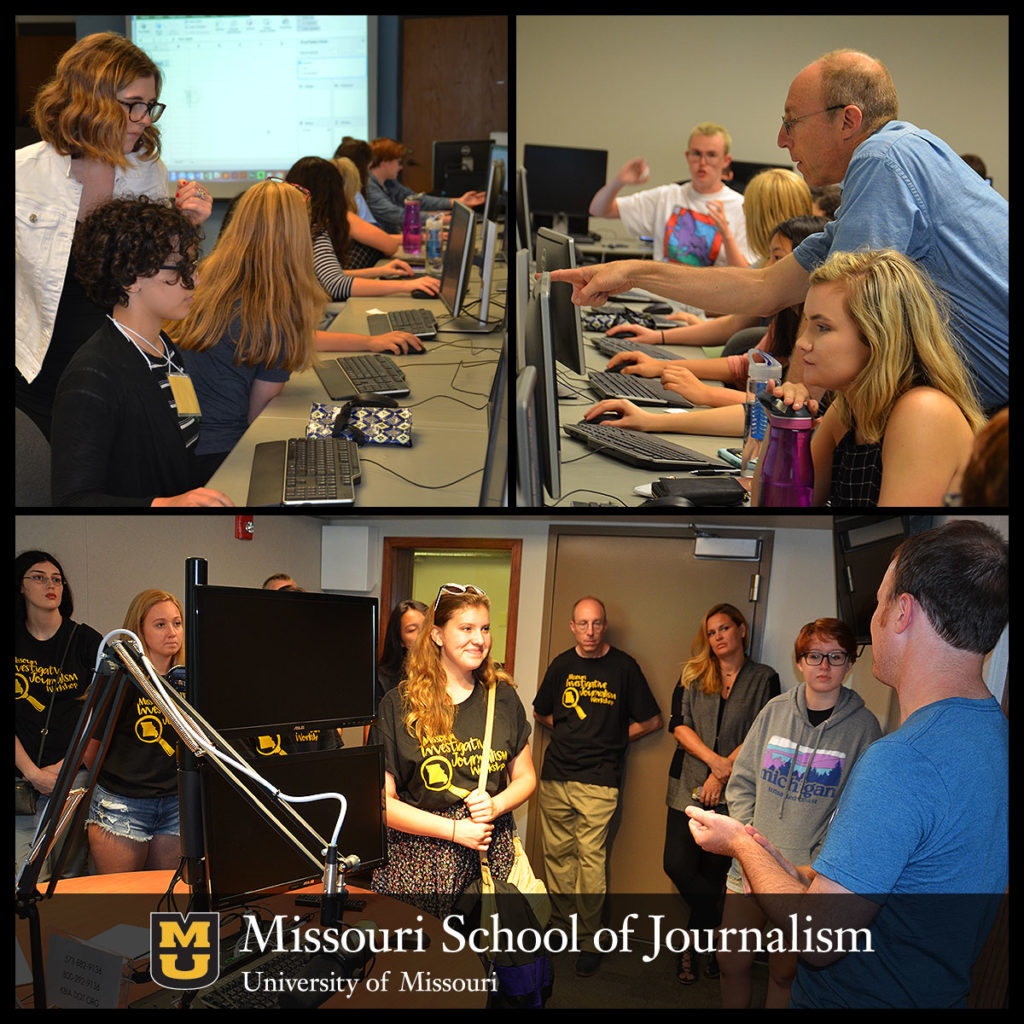 High school students from across the U.S. took a deep dive into research and reporting during the inaugural Missouri Investigative Journalism Workshop held at the Missouri School of Journalism with support from Investigative Reporters and Editors, which is headquartered at the School.
By Jennifer Nelson
Columbia, Mo. (June 29, 2018) — A group of high schoolers from California to New Jersey are leaving a Missouri School of Journalism workshop equipped with more investigative reporting skills and a better idea if investigative journalism might be the job for them.
The Missouri Investigative Journalism Workshop, which launched this summer, was open to all high school grades. It was hosted by the School with support from Investigative Reporters and Editors (IRE), the nation's leading organization for investigative reporters. IRE is headquartered at the School.
The hands-on, five-day workshop equipped 17 teens with the skills necessary to analyze and visualize data, find data online, and use social media and the web as investigative tools. The workshop also provided students with an opportunity to cover a mock news conference and write a relevant news story.
Learning how to search for information in "the deep web" was one of Cassie Schoene's most significant takeaways from the workshop. "I most definitely have relied on Google for a lot of things, and I'm never able to find articles," says the soon-to-be junior from St. Louis. "I'm scrolling (a lot), but it's helpful to me to be able to find my stuff immediately."
During the workshop, students heard from some seasoned journalists including Tisha Thompson (MA '01), ESPN investigative reporter, who shared tips and tricks for investigative interviews during one session. The presentation, she says, was one she also shared with veteran professional journalists at an Investigative Reporters and Editors event earlier this summer.
"I think you can all handle the master class of interviewing because it's really a high school class," she says. "It's not different. The trick is, we overthink it. There are some basic skill sets that even people 20, 30 years into the business forget."
The workshop not only prepared students for their current high school journalism roles but got them thinking about investigative reporting as a possible career option.
"The idea is to get more young journalists interested in doing investigative and data work and to get them thinking about what's possible and excited about this before too many career choices are made," says Mark Horvit, director of the State Government Reporting Program and an associate professor at the Journalism School.
During their visit, students also had the opportunity to check out the Missouri School of Journalism as an option for college, touring the School's newsrooms at KBIA-FM, the Columbia Missourian and KOMU-TV.
For Brooke Betik, who will be a senior this fall in Ennis, Texas, watching the movie "Spotlight" – about The Boston Globe uncovering a child molestation story in the Catholic Church – inspired her to consider investigative journalism. The workshop helped her confirm she's on the right path, she says.
"This workshop showed me the logistics of investigative journalism," she says. "Several people that would come and talk would mention the movie, and it showed me that even though there was a movie that won an Oscar about this job, it is a real job and people did this in real life and it was based on their story. So, it kind of reaffirmed that this is what I want to do and I want to be like one of those people."
About Investigative Reporters and Editors
Investigative Reporters and Editors, Inc. is a grassroots nonprofit organization dedicated to improving the quality of investigative reporting. IRE was formed in 1975 to create a forum in which journalists throughout the world could help each other by sharing story ideas, newsgathering techniques and news sources.
Updated: November 4, 2020
Related Stories
Expand All
Collapse All
---