Journalism Students, Alumni Gain Hands-On Experience Covering Missouri Tornado Devastation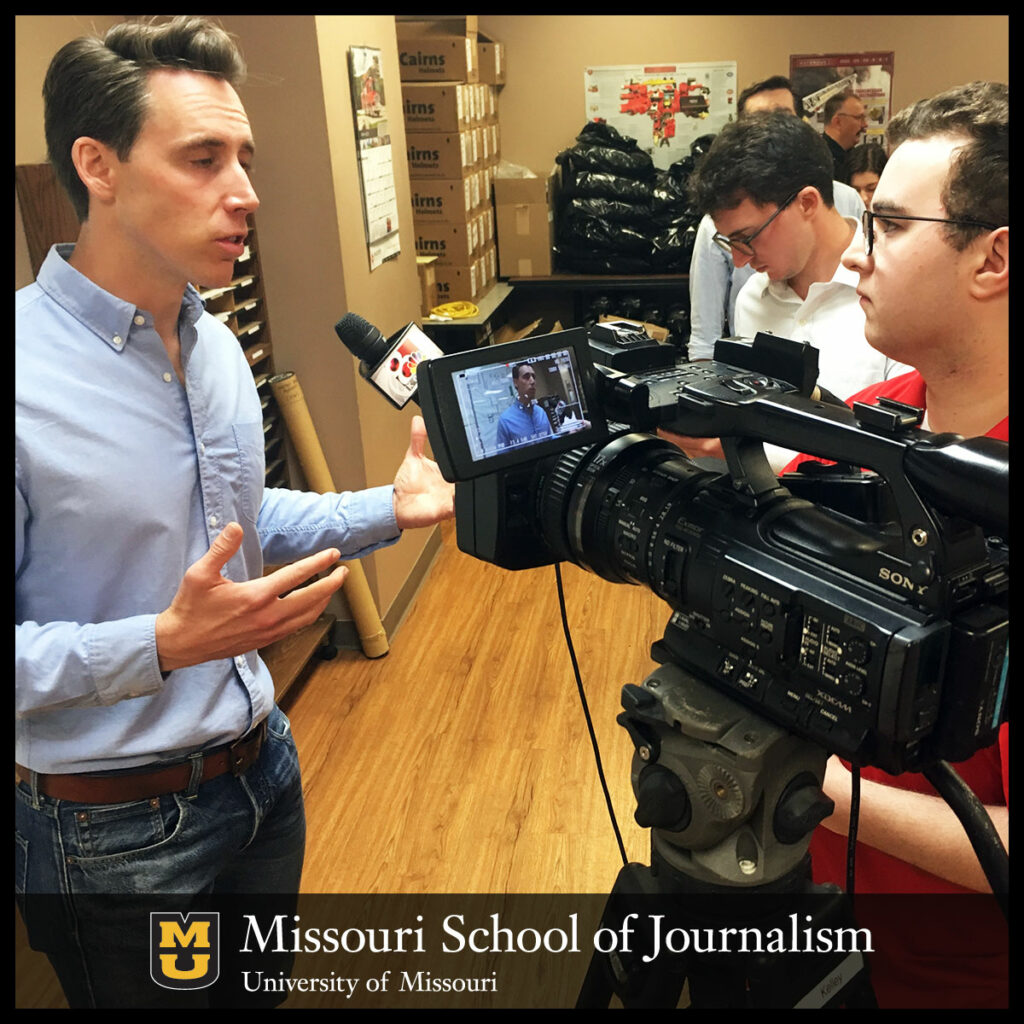 Missouri undergraduate student Spencer Humphrey interviews U.S. Senator Josh Hawley (R-MO) after the senator is debriefed by Eldon, Missouri, officials about the damage to the community. Photo: Olivia Gerling, KMIZ.
Several students were in their first week of summer classes when a tornado hit Jefferson City, Eldon
By Jennifer Nelson and Nate Brown
Columbia, Mo. (June 12, 2019) — On the second day of class and several hours before class was to start, junior Kate Seaman reported to Eldon, Missouri, instead of the classroom to photograph the devastation left behind by a tornado that hit late Wednesday, May 22. Her classmates headed to Jefferson City, which had also been hit by a tornado.
It was Seaman's first big news event shooting photography at the Columbia Missourian this summer as part of the Staff Photojournalism class. She had just been out all day shooting photos of Rocheport's sandbagging efforts as they prepared for predicted flooding of the Missouri River. She returned home in time to seek shelter from storms in Columbia. However, by 4:30 a.m. the next morning she was back on the road heading to Eldon.
It was "all hands on deck" as journalists from the Missourian, KOMU-TV and KBIA-FM reported to the two communities. One Missourian photojournalist was on the scene by 2 a.m. after the storm hit around midnight with two more photographers arriving a couple of hours later. KBIA and Missourian reporters were on the scene the next morning. KOMU-TV provided wall-to-wall coverage throughout the night until 7 a.m. when the Today Show aired. Just like the cleanup wasn't over in one day, coverage continued for days afterward, too.
Some journalists like Seaman were taking summer classes, and others were working at the School of Journalism news outlets for the summer to gain experience when the tornado hit. Even recent graduates, who were still in town, stepped in to help with coverage.
"The Missouri School of Journalism is rightfully proud of giving students experience with real, competitive stations and publications," said Randy Reeves, KOMU news director. "Our students got real-life experience covering the destruction of a tornado and the pain that can bring to a community."
They took what they learned in their classes and working for the school's media outlets. Regardless of their experience level, they all had something to learn, too as they navigated the disaster scenes. A team from the Missourian including Assistant Professor Brian Kratzer, who teaches Staff Photojournalism, was working behind the scenes to help prepare and protect the photo team covering the tornado by making calls about safety, access and sharing pointers on being prepared mentally for the experience, he said.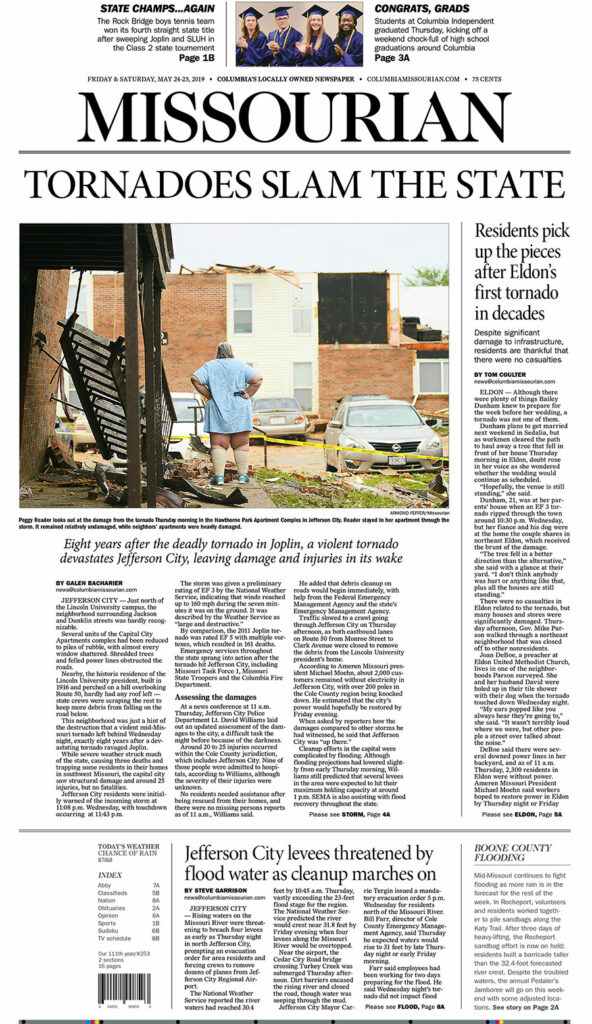 "That night and into the next day was a balance of making sure the photojournalists were physically and mentally prepared while understanding we were there to report with empathy," said Kratzer. "Luckily, in our first Staff Photojournalism course we spent half the time talking about expectations in news events, underscoring the fact that you never know what you are about to walk into and that you might observe the best and worst of humanity on any given day. It is fortunate for our students we have so many faculty who can explain, in depth, situations in our careers where we've been prepared or caught off-guard by traumatic scenes."
Seaman of Westfield, New Jersey, said although this was her first week reporting for the Missourian, one thing that prepared her for talking to people about sensitive issues were discussions from previous classes, as well as conversations with her mother who works in a homeless shelter, she said.
With pointers from the first class in the back of her mind, she shot enough photos until she thought she had enough for a gallery, she said.
"I learned the town of Eldon and how to keep moving around to make sure you get the best possible shot of everything to best represent the story," she said.
Senior Jordan Alejandre of San Jose, California, who was in his first week of the Broadcast III class, had just gone to bed Wednesday night, so he could be ready for his early morning shift at KOMU-TV. However, he woke up shortly after to several messages in the TV station's Slack channel. After a five minute debriefing at the station, he headed to Jefferson City for a 12-hour shift.
As he went throughout his shift, the KOMU reporter remembered what he had learned from some of his earlier classes, such as the importance of planning your day and making sure you have a timetable for what you need to have done and when.
"I think having that ingrained in my head, it really helped my time management," he said. "I got all my shooting done by 4 p.m. and then I had all my video back to the station by 5, and I was ready to go live if I needed to. I've always been a procrastinator, but I think this finally clicked where I was like, 'OK, I got this done in such an intense situation.'"
Senior Spencer Humphrey is reporting for the station this summer to gain experience, while also taking a class. He covered the devastation in both Jeff City and Eldon. He said the breaking news event allowed him to get more practice shooting live shots more – particularly those at night, which he didn't have as much experience doing.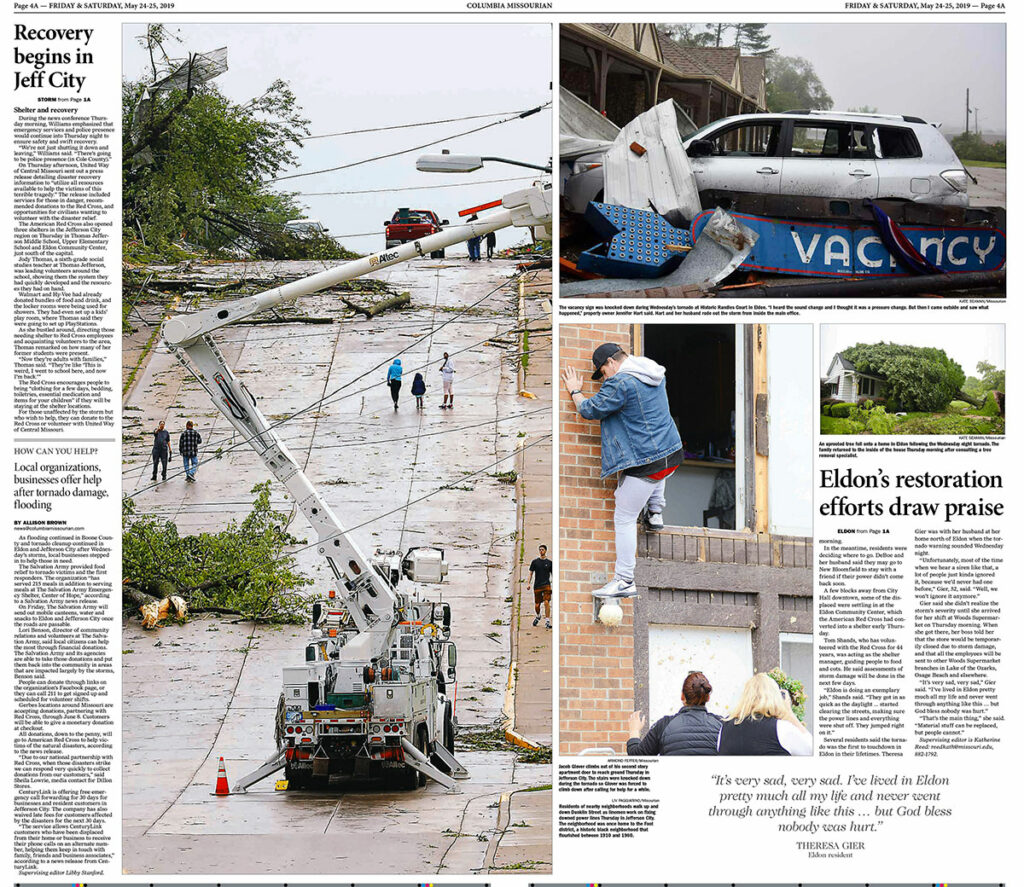 He also learned from watching others around him navigate a disaster scene where there are downed power lines, for instance.
"I will say it's been probably the biggest week of learning," he said. "I don't want to say I've learned more than any class can teach me, but you learn a lot by doing it. And that's what I think makes this journalism school so unique."
With a small reporting summer staff at KBIA-FM, Jamie Hobbs, BJ '19, of Poplar Bluff, Missouri, received a call to ask if she would volunteer her time to covering the tornado devastation in Jeff City. She has been reporting for KBIA-FM and the Missourian off and on this summer as she looks for a job.
Hobbs said since this was breaking news, she didn't have as much time to gather background information, so it was a good opportunity to learn on the spot, and people were openly willing to talk about their experiences.
The tornado quickly became national news, with KOMU-TV content being used by the likes of NBC News and The Washington Post, and the Missourian feeding photos to The Associated Press. In addition, Staff Photojournalism student Jacob Moscovitch shot photos for The New York Times and photojournalism graduate student Antranik Tavitian covered the event for Reuters. Recent graduate Peter Baugh had a shared byline on washingtonpost.com. Interviews from KBIA reporters were used on the NPR newsmagazine All Things Considered and aired nationally. KBIA staff reports were picked up by BBC, NPR and Missouri public radio stations.
Updated: November 10, 2020
Related Stories
Expand All
Collapse All
---