School of Journalism's VOX Magazine and KBIA-FM receives SPJ Region 7 Mark of Excellence Awards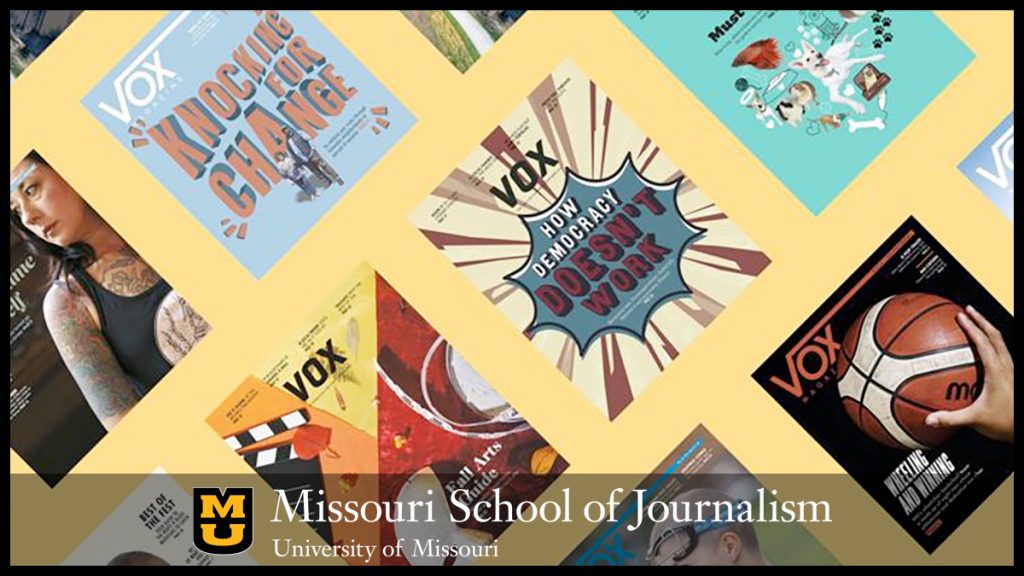 The Society of Professional Journalists awards are given for the best in student journalism
Columbia, Mo. (April 21, 2022) — The published work of 12 Missouri School of Journalism students at the School's NPR-member station KBIA-FM and Vox Magazine has earned Region 7 Mark of Excellence Awards, including seven first-place wins, in a competition sponsored by the Society of Professional Journalists for the best in student journalism. Two students won multiple awards; the Vox Magazine staff won one and was a finalist for two others.
SPJ Region 7 includes Iowa, Kansas, Missouri and Nebraska. First-place regional winners advance to the national round of judging, which is ongoing. National winners will be announced in mid-May.
The staff of Vox Magazine won the In-Depth Reporting category with their piece "Weather the storm."
"I'm extremely proud of the work the Vox staff has done over the past year," said Heather Isherwood, associate professor and Vox editorial director. "They've created stories, visuals and digital packages that meet the highest qualities of journalism. The Weathering the Storm package is a wonderful example of magazine journalism with expert storytellling guided by Associate Professor Ron Stodghill, and editing and visuals from a talented and dedicated Vox team. It is a great example of the creative and collaborative effort that happens on every aspect of Vox on a regular basis."
In the audio division, senior Xcaret Nuñez won two first-place awards. Both stories that were selected are pieces she says are 'close to her heart.'
"I'm so grateful to both my sources, Rene Powell (Disability Rights Activist) and Dawnavyn James (Parkade Elementary Kindergarten Teacher) for allowing me to share their stories," said Nuñez. "Powell is such a powerful person that has impacted lives of others, including mine. And I'm thankful to James for allowing me to hang out with her class for the day, listen to her educate the future, and learn so much from her as well."
According to Ryan Famuliner, KBIA news director and associate professor, these types of awards are never that surprising but rather a nice reminder that colleagues recognize the work of the station's student reporters.
"At KBIA we are incredibly lucky to be able to work with such talented journalists while they're studying at the J School," said Famuliner. "Particularly in the last year, when everyone faced extra challenges amid the pandemic, the students working in our newsroom served our community very well."
Mark of Excellence Awards entries are judged by professionals with at least three years of journalism experience. Judges were directed to choose entries they felt were among the best in student journalism. School divisions are based on student enrollment, including both graduate and undergraduate. Large schools have at least 10,000 students and small schools have 9,999 or fewer students.
Founded in 1909 as Sigma Delta Chi, SPJ promotes the free flow of information vital to a well-informed citizenry; works to inspire and educate the next generation of journalists; and protects First Amendment guarantees of freedom of speech and press. The School's chapter was founded in 1913.
Region 7 Mark of Excellence Awards went to the following Missouri Journalism students and recent graduates:
Art/Graphics/Multimedia
Feature Photography
Photo Illustration
Audio
Radio News Reporting
Radio Feature
Radio In-Depth Reporting
Podcast
Print/Online
In-Depth Reporting
Winner: Vox Magazine staff writers: Fairriona Magee, Katelynn McIlwain, Julian Nazar, Anneleen Ophoff, Rashi Shrivastava and Pili Swanson; and editors Hannah Gallant, Evan Musil, Courtney Perrett and Maddy Ryley, "Weathering the storm"; December 2021
Best Student Magazine
Finalist: Vox Magazine, by the Vox Magazine staff
Best Affiliated Web Site
All Platforms
Arts/Fashion Journalism

About KBIA
KBIA, mid-Missouri's NPR-member station, reaches 15 counties and has served mid-Missouri since 1972. KBIA is a university-licensed, community-supported not-for-profit institution, actively involved in the life of the mid-Missouri area. The station is the area's largest provider of arts programming, serving more than 30,000 listeners and members each week.
About Vox Magazine
Vox Magazine is an award-winning, cross-platform city publication where Missouri School of Journalism students, supervised by professionals, are the writers, editors, designers, photographers and managers. It keeps readers informed about what is happening and where to be in Columbia, Mo. Vox publishes a monthly print edition and a website, providing insight on local news and culture. The print edition has a weekly circulation of 10,000 and is distributed in the Thursday edition of the Columbia Missourian. It can also be picked up at drop locations around Columbia.
Updated: July 11, 2022
Related Stories
Expand All
Collapse All
---