School of Journalism photographer receives White House News Association photography award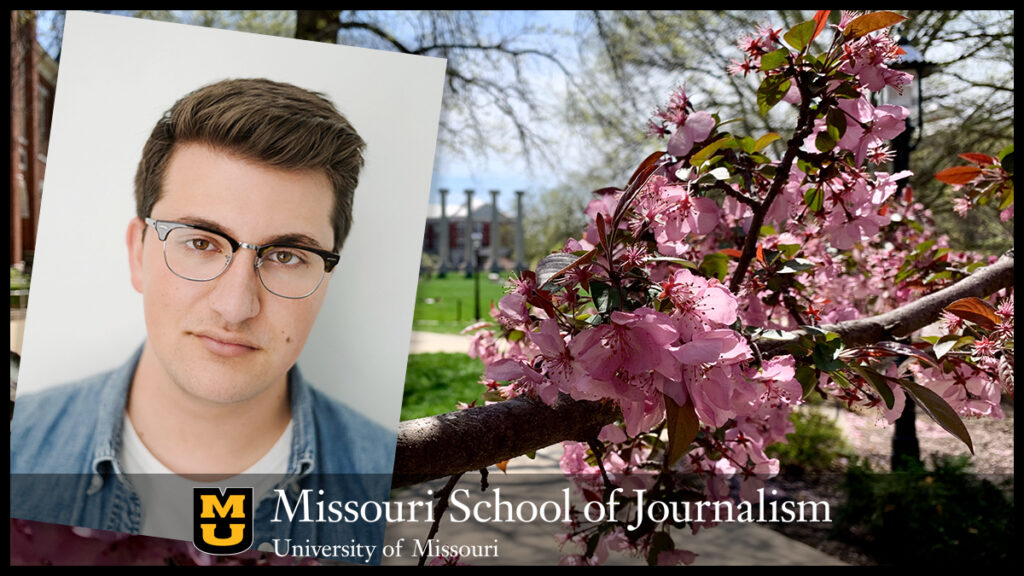 Jacob Moscovitch turns time at home during the pandemic into an opportunity to document life unfolding around him; awarded Student Still Photographer of the Year.
Columbia, Mo. (May 4, 2021) — When Jacob Moscovitch was forced to return home last year from studying abroad at the Danish School of Media and Journalism, the photo projects he had planned were upended.
That's when Moscovitch, a senior graduating this month with a degree in photojournalism from the University of Missouri School of Journalism, did what thousands of photographers across the globe did in response to the COVID-19 pandemic: he picked up his camera and began to photograph his personal view of the unfolding outbreak.
What he documented was his mother grieving over the loss of her mother – his grandmother – who had died from cancer in Israel. Moscovitch calls his mom Imma – the Hebrew word for mother. But because of the pandemic, his family had to watch his grandmother's funeral on WhatsApp, an excruciating experience for Imma.
Moscovitch's project, titled "Holding Imma," recently earned him the 2021 White House News Association (WHNPA) Student Still Photographer of the Year. The award, which is only given to one student each year, is based on a portfolio of 10 to 30 images which shows a unified image and voice within the photographer's work.
"I think it is interesting that photojournalism has been grounded by the idea that people must go out and do the extreme to win anything, and this is false. You can make a powerful story with what is in front of you," Moscovitch said.
Moscovitch came across this competition from Al Drego, who he met in a Facebook group called, "Fellow Photogs," which is a group of thousands of photojournalists who help photographers navigate the freelance industry and share upcoming contests and job openings. Drego works with the White House Press overseeing the student section of the competition. When he noticed that Moscovitch had not submitted work, he encouraged him to do so.
Before Moscovitch was sent home from his study abroad due to the pandemic, he had planned to do a project about Israel. So, when he was sent back home, he had to find a safe alternative. So, he decided to do the story on his mother.
Moscovitch values personal projects and noticed that as the COVID-19 pandemic began to unfold, many national media outlets were encouraging photographers to show a more personal perspective. He began to realize the power of personal photo stories. By being pushed into a position where his only choice was to create work from the stories that were going on in his own home, Moscovitch was able to produce an intimate and deep piece of work.
From the time he was a child, Moscovitch has always had a love for photography. He recalls his father always having a camera in his hand. He believes that this photographic presence normalized always having a professional camera in his hand as well. His love of photography grew stronger during the pandemic because it gave him an opportunity to explore other subjects.
In middle school and high school, Moscovitch worked on the yearbook as photography editor, then becoming editor-in-chief his senior year. The experience helped him decide what he wanted to pursue in college. At the time, he was not aware of the photography opportunities that came along with journalism, but he fell in love with photojournalism through learning about the program.
Along with his father, a major mentor in his photography journey was his yearbook teacher, Joanna Burns.
"She instilled in me that photography is equal with words. It is not decoration or art, it is journalism, and it is valued, powerful, and moving," Moscovitch said. "Photography does not need a translation, or a fact check, it is just so real, and I love it."
He explains that photography is in and of itself a story to be told and people are able to interpret that story how they choose.
He hopes to one day be a photo editor at a national publication. Moscovitch will be honored this fall at the "Eyes of History" gala in Washington, D.C.
Updated: May 4, 2021
Related Stories
Expand All
Collapse All
---