Missouri Journalism students win awards, scholarships in 2020-2021 Hearst Journalism Awards Program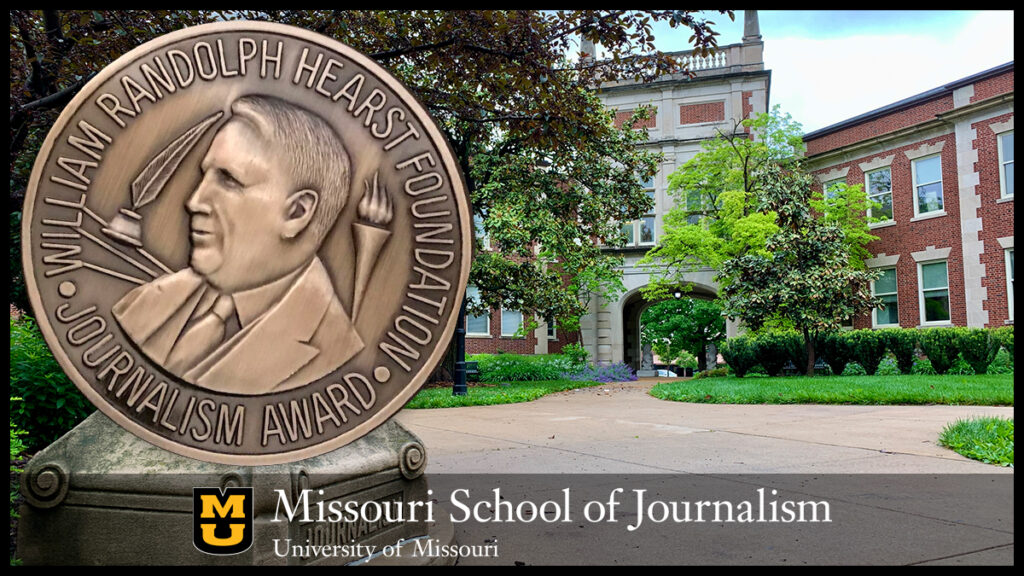 By Nate Brown
Columbia, Mo. (June 22, 2021) — Five students, including a project team of three, won awards and scholarships during the 2020-2021 Hearst Journalism Awards Program, which culminated this month with the 61st annual Hearst National Championships. Two students advanced to the championships. Collectively, the students won $15,000 in scholarships.
Annabel Thorpe won second place in the Television Championship, winning a $7,500 scholarship and a Hearst medallion. Classmate Alyssa Jackson was a finalist in the same championship, winning a $1,500 scholarship and a Hearst medallion. Both also won $500 scholarships for Best Use of Television for News Coverage.
Championship entries were completed remotely, which meant Thorpe and Jackson produced those stories in their new home towns.
"The competition pushed me to dive head-first into my new city and got the wheels turning for the job I just started," said Thorpe, who's now a reporter at WLKY-TV. "A big thank you to [Assistant Professor] Ryan Takeo for giving me all the tools I needed to compete on a stage and with stakes like this."
Jackson landed at WTOC-TV in Savannah, Georgia, after graduation.
The Hearst awards program — often called the "Pulitzers of college journalism" — consists of 14 competitions held throughout the school year: five writing, two photojournalism, one audio, two television and four multimedia.
With points earned by students during this year's program, the University of Missouri won the sixth-place trophy in the Intercollegiate Overall category.
"Even during the coronavirus pandemic, our students – with proper precautions – continued to keep mid-Missourians informed about news in our community," said Dean David Kurpius. "The Hearst awards are a testament to their efforts and to the School's faculty who guide and teach in our professional newsrooms."
The following students placed in the top 5 in monthly competitions:
All of the winning monthly stories were based in mid-Missouri except Moscovitch's video documentary, which he made during his study away semester in Denmark. He also won Hearst awards last year in two Multimedia categories.
According to Hearst, this year's program received 1,325 entries for the 14 competitions.
The Missouri School of Journalism is one of 104 accredited schools of journalism in the U.S. eligible to participate in the Hearst Journalism Awards Program, which operates under the auspices of the accredited schools of the Association of Schools of Journalism and Mass Communication.
Updated: June 23, 2021
Related Stories
Expand All
Collapse All
---