Recent Graduate Places in Top 10 in Hearst Feature Writing Competition
Sky Chadde, BJ '14, Wrote About a Documentary by a Columbia Filmmaker
By Caroline Murray
Columbia, Mo. (Dec. 9, 2014) — A recent Missouri School of Journalism graduate received eighth place in the 55th annual William Randolph Hearst Foundation's Feature Writing Competition.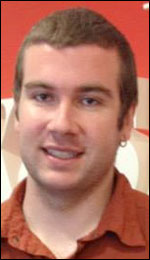 Sky Chadde, BJ '14, won for his feature "True/False Film Fest's David Wilson Captures Small-Town Life in First Feature Film." The story was published in Vox Magazine on Nov. 14, 2013. Chadde's story was selected from submissions from undergraduate students of accredited schools of the Association of Schools of Journalism and Mass Communication nationwide.
The feature is about Columbia "celebrity" David Wilson, a filmmaker who made a 2013 film called "We Always Lie to Strangers" about the lives of Branson, Missouri, performers. The piece chronicled the filmmaking journey of Wilson, his fellow filmmakers and his subjects, from looking for funding to winning an award at the South by Southwest festival.
Chadde said this was his first stab at magazine-style writing. Making the shift from the hard news style he had used at the Columbia Missourian to the narrative style of this piece was initially a challenge.
"I turned in a first draft, and John Fennell, who I have to give the most credit to for how the story turned out, said it was too much like a newspaper story," Chadde said. "There were no characters, there were no scenes, there was no tension. It was flat, and he wanted something dynamic. So he challenged me to write it better."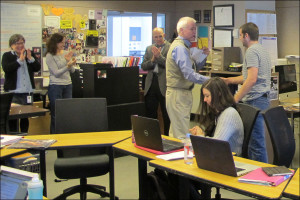 Chadde said the reporting skills he learned from professors like Judd Slivka, assistant professor of convergence journalism, and Liz Brixey, associate professor on the print and digital news faculty, prepared him to write this piece. But it was many revisions and conversations with Fennell, an associate professor of magazine journalism, which brought the piece to life.
"John being able to work with me one-on-one is a main reason I learned so much, and that applies to other professors I had at the J-School as well," Chadde said. "John and I talked in his office a few times about the story, about how to shape it, where it should start, where it should go."
Chadde, who studied magazine journalism, is currently a staff writer at The Monitor in McAllen, Texas. He is originally from Socorro, New Mexico. This story was also won the Dean's Award for feature writing in the Mastering the Method contest this year.
About the Hearst Awards
The Hearst Journalism Awards Program was founded in 1960 and is fully funded and administered by the William Randolph Hearst Foundation. The 14 monthly competitions consist of five writing, two photojournalism, one radio, two TV and four multimedia, with Championship finals in all divisions. The program awards up to $500,000 in scholarships and grants annually.
Updated: July 31, 2020
Related Stories
Expand All
Collapse All
---