Missouri School of Journalism Places in Top Ten in Hearst Multimedia Competition IV
San Francisco (May 14, 2012) — The top ten winners in the college Multimedia IV Team Reporting category were announced in the William Randolph Hearst Foundation's Journalism Awards Program, in which 106 undergraduate journalism programs at universities across the nation are eligible to participate.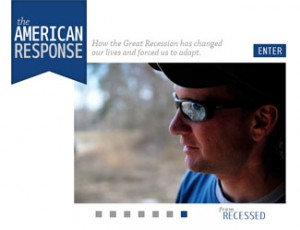 The Missouri School of Journalism placed tenth for Project 573, an innovative multimedia-reporting project that captured the circumstances mid-Missourians faced in the recession. This class serves as the students' final journalism class requirement for graduation.
The award goes to the group of students from all emphasis areas who launched the initiative website during the 2010-2011 academic year. They are Daniel Brenner, Amanda Bromwich, Evan Bush, Adam Falk, Andrew Feiler, Michelle Flandreau, Campbell Massie, Catherine O'Neill, Alex Rozier, Alex Ruppenthal, Kyle Stokes and Zach Wade.
The multimedia judges were: Cory Tolbert Haik, executive producer, news, innovations and strategic projects, The Washington Post; Geri Migielicz, executive editor, Story4, Ben Lomond, Calif.; and Jennifer Sizemore, VP/editor in chief, msnbc.com, executive producer, NBC News, Redmond, Wash.
The Missouri School of Journalism placed third overall in the multimedia competition. Earlier this year Matt Busch and Ben Zack earned fourth and fifth, respectively, in the Narrative Multimedia I Features category. Sarah Hoffman placed fourth in the Multimedia III News category. Each of these students earned a $1,000 award for their wins.
Project 573 Student Developers
Top row, from left: Daniel Brenner, Equipment Manager, Photographer; Amanda Bromwich, Executive Producer, Designer; Evan Bush, Executive Editor and Founder, Videographer, Writer; Adam Falk, Executive Editor and Founder, Designer, Videographer. Second row: Andrew Feiler, Equipment Manager, Photographer; Michelle Flandreau, Videographer, Writer; Campbell Massie, Director of Audience Development; Catherine O'Neill, Copy Editor, Writer. Third row: Alex Rozier, Videographer; Alex Ruppenthal, Writer; Kyle Stokes, Executive Producer, Videographer; Zach Wade, Graphics, Designer.
---
Updated: June 8, 2020
Related Stories
Expand All
Collapse All
---