Connor Giffin recognized for skillful feature writing in Hearst competition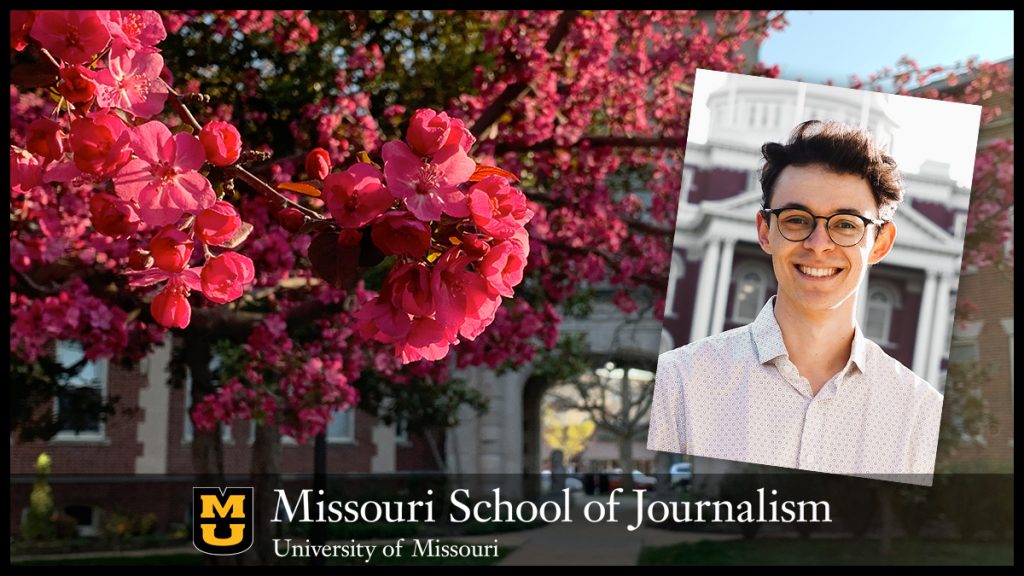 Columbia, Mo. (March 3, 2022) — Connor Giffin, a senior at the Missouri School of Journalism, has been honored by the Hearst Journalism Awards Program for his feature writing, finishing in the Top 20 in the prestigious, nationwide Hearst Feature Writing competition.
Giffin was recognized for a story he wrote for the Columbia Missourian about Missouri River Relief, a nonprofit organization conducting regular cleanups of the Missouri River. Coinciding with the 20th anniversary of the organization's cleanup efforts, Giffin tagged along on one such effort while fellow student Olivia Anderson took pictures.
"We figured we couldn't put this story together without seeing them do the work they do, so Olivia and I got on a boat and watched them clean up trash in the Missouri River," Giffin said. "They have pulled all kinds of crazy things out: pianos, huge tractor tires, prosthetic limbs."
Jeanne Abbott, managing editor of the Missourian, said the feature highlighted Giffin's dogged determination to get the whole story.
"Connor doesn't stop until he covers all the bases," Abbott said. "With the river relief story, he just kept digging and digging until he thought he had surrounded the entire thing. And then he turned in a story as polished as any I've ever seen."
The story was more than an award-winning cap on Giffin's student career at the Missourian; after a few semesters of working at the community newspaper, the story also helped him realize how much he loved environmental reporting. The environmental beat served as his capstone course at the School of Journalism, with the river relief story standing out as a highlight.
"I hadn't done any environmental reporting before that semester, and I definitely came out of the semester with it being one of my favorite things I've ever covered," Giffin said.
Giffin hopes to land a job writing local news after graduation, though he hasn't yet settled on where he will go or what he'll be writing about. In Abbott's estimation, regardless of whether Giffin finds himself doing environmental reporting or another kind of writing once he joins the work force, the skills he displayed and developed at the School of Journalism will ensure that he doesn't miss a beat.
"He will be able to go anywhere and hit the ground running," Abbott said. "It's really impressive to see him go after a story, because he instinctively knows where to go to get the information he needs. I'm glad he made the cut in the Hearst competition. He deserves it."
Updated: March 3, 2022
Related Stories
Expand All
Collapse All
---