Lauren Barnas and Carter Woodiel Place in Top 3 in the Hearst Journalism Awards Program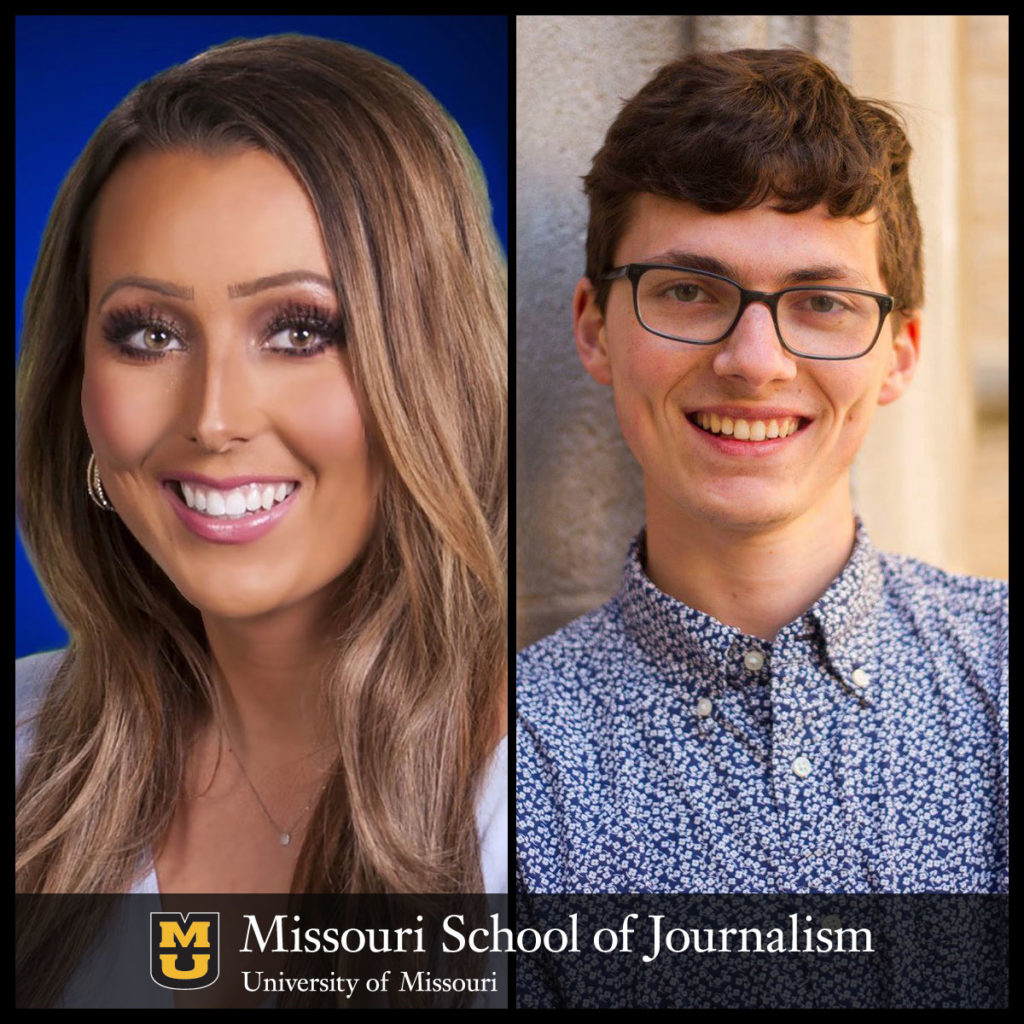 Lauren Barnas, BJ '17, and Carter Woodiel both placed in the top three at the 58th annual William Randolph Hearst Journalism Awards Program.
Recent Alumna and Journalism Senior Place Third in the "Pulitzer Prizes of College Journalism"
By Yue Tang
Columbia, Mo. (March 19, 2018) — Two Missouri School of Journalism competitors placed in the top three at the 58th annual William Randolph Hearst Journalism Awards Program.
Former KOMU-TV reporter and anchor Lauren Barnas, BJ '17, placed third in the Television Features Competition and won a $1,500 award. Barnas was selected from 94 entries submitted from 53 schools nationwide. Current senior, KBIA reporter and anchor Carter Woodiel placed third in the Radio Broadcast News and Features Competition and won a $1,500 award. Woodiel qualifies for the National Radio Championship this June, along with qualifying television/video, writing, photojournalism and multimedia finalists. This is the second time that Barnas and Woodiel have been named as finalists in the Hearst award program, often referred to as "the Pulitzers of college journalism."
Barnas is originally from Springfield, Missouri. Her first job after graduating from Mizzou was as a TV news reporter for KOLR10 in her hometown. After six months in that role, Barnas was promoted to a morning anchor spot.
"The two stories I submitted for this competition are still a couple of my favorites, and I don't mean that in the traditional sense," Barnas said. "Both involve headache and heartache. But this is when I first realized how much of an impact local journalism can have."
"Remembering Rylie" is the story of a 13-year-old Hallsville student who took her life after being bullied at school. The story shed light on the very sensitive issue of teen suicide and brought a tiny piece of justice to Rylie's family.
In her second story, "Benefitting from Disaster," Barnas took us inside a local cleaning business left to deal with dirty customers. She investigated the systematic loophole and what could possibly be done to fix it.
Barnas attributed her win to the hands-on Missouri Method, which allows students to learn in professional newsrooms and agencies.
Woodiel's entry consisted of more than one story, a compilation of daily news stories, all reported on a three- or four-hour deadline to air on KBIA that nonetheless stood out for the quality of the writing. Woodiel's submission was highlighted by a three-minute feature story about a veterans' outreach center in Columbia highlighting the special way the center reaches out to its mid-Missouri community.
"It's an incredibly competitive contest," said Assistant Professor and KBIA News Director Ryan Famuliner. "But he totally deserves it. He's one of the strongest student reporters I've worked with at KBIA."
Planning to graduate from Mizzou this May, Woodiel earned his play-by-play "chops" at KCOU-FM, MU's acclaimed student radio station, where he served as sports director for the 2016-17 academic year. At KBIA, Woodiel covered spot news and local feature stories and anchored local newscasts during NPR's "Morning Edition" news program. Woodiel spent last season as the primary play-by-play voice of the Brewster Whitecaps in the prestigious Cape Cod Baseball League, calling the Whitecaps' full 53-game championship season. He also works as a writer and anchor for Newsy, a national video news network and cable TV channel. At Newsy, Woodiel writes and anchors news summary videos for the web, primarily focusing on sports news.
Woodiel plans to continue his work as a play-by-play broadcaster after his graduation in May.
"The J-School was, of course, very important for my performance in the competition," Woodiel said. "I've learned so much about what makes a good reporter through my work with KBIA, Newsy, and through my classwork."
The annual Hearst Journalism Awards Program is held in 105 member universities of the Association of Schools of Journalism and Mass Communication with accredited undergraduate journalism programs. The Broadcast News Competition was added to the program in 1988 alongside writing, photojournalism, and multimedia competitions. Hearst Journalism Awards offers awards totaling up to $700,000 in scholarships, matching grants and stipends.
Updated: October 30, 2020
Related Stories
Expand All
Collapse All
---