Two Radio-TV Journalism Students Place Second and Fourth in Hearst Journalism Awards Program
Blake Hanson and David Wietlispach Will Receive Scholarships for Their Wins
Columbia, Mo. (March 16, 2012) — Missouri School of Journalism seniors Blake Hanson and David Wietlispach placed second and fourth, respectively, in the second television competition for the Hearst Journalism Awards Program. Hanson will receive a $2,000 scholarship for his top placement; Wietlispach, $1,000.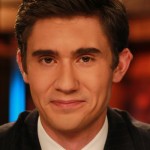 One of the two stories Hanson submitted to the contest was about a home wiped out by a tornado in Slater, Mo., on May 22, 2011. He shared how neighbors had all gathered to see the damage. The piece showed how tight-knit the community was and the impact one home's destruction had emotionally on the residents of Slater.
Hanson's second story investigated Mamtek International Ltd., a company that defaulted on $39 million in bonds to Moberly, Mo. As well, more than 600 promised jobs were lost. His story focused on how the residents handled the situation.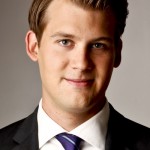 Wietlispach's first entry highlighted where Missouri food stamps are being spent outside of the state.
"There were some interesting things going on," Wietlispach said. "Millions were being spent in Florida, some was being spent in Hawaii. The series was reactions from tax payers, legislators and social services."
Wietlispach interviewed business owners, city officials and Convention and Visitors Bureau employees to learn how the University of Missouri's move to the Southeastern Conference will affect Kansas City for his second contest submission.
The competition attracted 57 entrants from 33 schools.
The judges for this year's competition were: Edward Esposito, vice president, information media, Rubber City Radio Group, Akron, Ohio; Kate O'Brian, senior vice president, ABC News, New York; and Fred Young, retired senior vice president of news, Hearst Television Inc., Yardley, Pa.
Updated: June 5, 2020
Related Stories
Expand All
Collapse All
---