Missouri Journalism Students Selected as Great Plains Journalism Awards Finalists
Graduate Student Kasia Kovacs Named Student Writer of the Year, Wins $1,250 Scholarship
By Ashley Szatala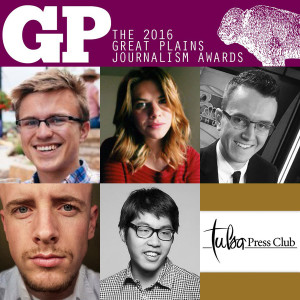 Tulsa, Oklahoma (April 4, 2016) — The Tulsa Press Club has named five Missouri School of Journalism students as finalists for the 2016 Great Plains Journalism Awards, and the press club has recognized one University of Missouri faculty member for his previous design work.
This is the first time Missouri journalism students have been finalists in this contest.
The Great Plains Journalism Awards began eight years ago as a way to recognize print, Web, TV and magazine journalists for outstanding stories, photography and design. The eight-state competition includes Oklahoma, Arkansas, Iowa, Kansas, Missouri, Nebraska, North Dakota and South Dakota. Since the contest's inception, the press club has recognized more than 800 journalists.
New this year for the contest is student scholarships. Five student journalists from across the Midwest will be awarded $1,250 scholarships named after former Tulsa Press Club president Dan Harrison.
One of the five scholarship winners is graduate student Kasia Kovacs, who is being recognized as student writer of the year. Four other categories of journalists being recognized include student editor in chief of the year; student designer of the year; student broadcaster of the year; and student photographer of the year.
In the student category for the 2016 Great Plains Journalism Awards, the following students have been named finalists:
Ben Kothe, senior, design
Kasia Kovacs, graduate student, investigative reporting
James Packard, junior, radio-television journalism
Justin Stewart, graduate student, photojournalism
Timothy Tai, senior, photojournalism
In addition, Columbia Missourian design editor Brady Jones has been recognized as a Great Plains Journalism Awards finalist in the professional category for his previous design work at the Omaha World-Herald in Nebraska.
Winners will be announced at a luncheon on April 18 at the Mayo Hotel in Tulsa. The event will include distinguished lecturer Erik Logan, who is president of the Oprah Winfrey Network. The featured speaker is Diana Marcum, a 2015 Pulitzer Prize winner and Los Angeles Times reporter. Both will present workshops to conference attendees and offer portfolio reviews.
The Tulsa Press Club was founded in 1906 as a professional organization offering networking, education events and social opportunities. The press club promotes the highest standards in journalism with an emphasis in recognizing young journalism talent through its annual scholarship initiatives, according to its website.
Updated: September 22, 2020
Related Stories
Expand All
Collapse All
---