Top TV Recruiters Tap Missouri Journalism Students for Job Openings
Visiting Organizations Represented More Than a Third of All Television Newsrooms in America
By Caroline Murray
Columbia, Mo. (April 22, 2015) — The Missouri School of Journalism hosted its largest job placement effort ever for television students this spring.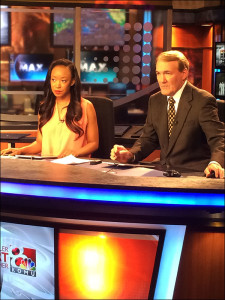 From February to April, recruiters from 10 major media organizations visited campus to critique student work and conduct interviews. This was the second annual series of recruiting visits for radio-television and convergence students at the School of Journalism, with the School hosting exponentially more recruiters than in 2014.
Nine television owners and one television consulting firm dispatched 32 company news executives – individual station news directors and corporate news directors – who conducted 248 one-on-one half-hour interviews with 60 students over the course of their two-day visits.
"These students have been taught the right skills," said Tracy Brogden-Miller, news director of WDAF-TV, the Tribune Broadcasting station in Kansas City. "There is a big difference between students coming out of Mizzou and other schools."
In addition to conducting interviews, all the recruiters visited KOMU-TV to view the 6 p.m. news and provide comments to students on their work.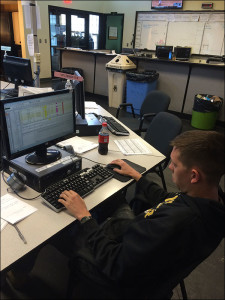 "I could tell that writing and storytelling are valued at Missouri," said Rose Ann Shannon, news director at KETV-TV, the Hearst Television station in Omaha. "The students take pride in their storytelling ability and asked a lot of questions about how to improve. I found their work to be well above the average 'first job' reporting I see."
As a group, the recruiters represented 333 television news operations, more than one-third of the television newsrooms in America. Participating news and media organizations included:
The recruiters also made classroom presentations and met with faculty members to discuss the issue and changes in the television journalism industry.
Updated: September 4, 2020
Related Stories
Expand All
Collapse All
---