Intensive Career Workshop Prepares Radio-TV Students for Interviews and Job Searches
Sessions Focused on Application Strategies, Creating Resume Reels and Handling Pay Negotiation
By Caroline Murray
Columbia, Mo. (Feb. 20, 2014) — Expert faculty members provided students with tips on effective job searching at a workshop hosted by the Radio Television Digital News Association (RTDNA) on Feb. 16.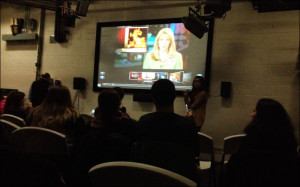 The "Get Me Hired" workshop, held at the KOMU-TV studio, was the first of its kind hosted by RTDNA. Eight faculty and staff members led sessions on application strategies, creating strong resume reels and handling pay negotiation. The faculty conducted more than 40 one-on-one critiques with students attending the workshop.
The goal of the event was to give graduating seniors a chance to meet with multiple faculty members and get advice from a variety of perspectives before heading into the job search.
Taylor Beck, president of MU's RTDNA chapter and organizer of the workshop, said it was important to give students an opportunity to ask any questions they had about what to expect in a the hiring process before speaking with recruiters.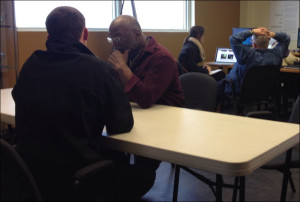 "We often get 'the job hunt' lecture in our classes, but sometimes it comes a semester before we need to start thinking about it, or maybe we didn't take enough notes," Beck said. "This gave students more than just a 50-minute lecture on what to expect; it also gave them a wealth of options and a great opportunity to ask questions and seek advice from their most respected faculty members."
Contributing faculty and staff members included Eric Blumberg, Kent Collins, Annie Hammock, Matt Johnson, Greeley Kyle, Randy Reeves, Jeimmie Nevalga, Emily Spain and Stacey Woelfel.
RTDNA is the world's largest professional organization exclusively serving the electronic news profession. Its members include news executives, news directors, producers, reporters, digital news professionals, educators and students. Headquartered in Washington, D.C., this group represents radio and television journalists in hearings before Congressional committees and with special interest groups.
Updated: July 22, 2020
Related Stories
Expand All
Collapse All
---