Strategic Communication Career Fair Offers Students and Recruiters the Chance to Meet Their Perfect Match
By Katherine Vicari
Public Relations Account Executive
MOJO Ad
Columbia, Mo. (March 4, 2010) — More than 180 Missouri School of Journalism students and 50 recruiters from 22 agencies and organizations attended the annual Strategic Communication Career Fair on Feb. 18.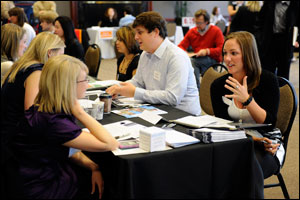 Recruiters traveled from Denver, Dallas, Chicago, Kansas City, St. Louis and Minneapolis to network with students. Before recruiters arrived, students diligently prepared their resumes and portfolios to reflect the education and experience they received through the strategic communication program.
The Career Fair's theme focused on "meeting your perfect match," and a series of events and workshops were offered beforehand to help students prepare for the day. The "Branding Yourself" workshop taught by Ross Snodgrass, BJ '87, group creative director at The Integer Group in Denver guided students in creating cohesiveness between their resumes and portfolios to stand out in large application stacks.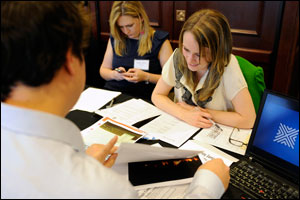 After discovering their own brand, students interacted with area professionals in the "Resume Panel and Review" workshop, a session new to the Career Fair this year. The panel included Bill Costello, BJ '95, director of client relations, Woodruff Sweitzer in Columbia; Andrea Scaduto, senior specialist, Fleishman-Hillard in St. Louis; and Stephanie Rosskopf, marketing manager at Socket in Columbia. The panel gave advice on creating resumes to help students land interviews. In addition, students received one-on-one reviews of their resumes to better prepare them for the upcoming Career Fair.
As a special session in this year's Career Fair, David Selby, president of Schafer, Condon, Carter in Chicago, visited Columbia to give a unique presentation called "Building Your Marketing and Advertising Career: It Starts Now!" During the session, Selby discussed strategies on how students can start and develop their careers in the fields of marketing and advertising.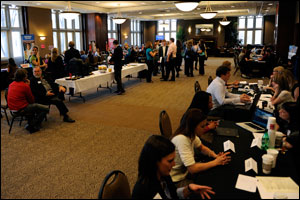 Just days leading up to the Career Fair, students prepared to meet their perfect matches by honing their networking skills and their portfolios. Students attended the "Networking" workshop with Stephanie Padgett, a 2009-2010 Donald W. Reynolds Journalism Fellow and director of media and research for MOJO Ad. Padgett offered relevant tips on networking and utilizing resources to start initial conversations with recruiters. A number of students interested in creative fields took advantage of the new one-on-one portfolio reviews with Snodgrass and Ashley Harville, creative services manager at the Miami Ad School.
To break the ice before a long day of recruiting, students practiced their new networking skills with recruiters over hors d'oeuvres during the "Meet & Greet Reception." Barbara Ifshin, director of planning and account management for MOJO Ad, gave a brief overview of the program while recruiters offered a glimpse into the personalities of their agencies.
With all of this preparation, recruiters were impressed to network with so many students from the strategic communication emphasis area.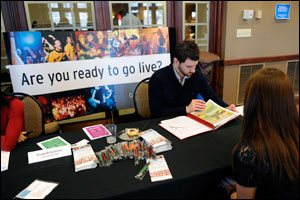 "I was thrilled to see and meet so many qualified, sharp and enthusiastic students. The quality of internships really stuck out, and we've not seen a gathering of students with so many good internships under their belts," Tim Dyer, BJ '03, creative director at GMR Marketing in Wisconsin, said.
MOJO Ad, the School of Journalism's student-staffed professional services advertising agency, hosted the 2010 Strategic Communication Career Fair. The Career Fair and public relations manager for MOJO Ad, Rachael Keck, and three public relations account executives – Kat Bear, Melanie Buford, and Katherine Vicari – planned, marketed, and executed the event along with many contributions from the MOJO Ad staff including creative and media. All MOJO Ad staff members had a unique opportunity to make connections with recruiters, as they served as liaisons for individual agencies before and during the event.
"We have only heard great things from students and recruiters about the quality of their experiences at the Career Fair," Keck said. "We look forward to hosting another great event in 2011."
Career Fair Participants
Adamson Advertising
Callahan Creek
BJ/MA Master of Arts in Journalism Program
MU Publications and Alumni Communication
Osborn & Barr
Verizon Wireless/Cellular Sales
Updated: May 7, 2020
Related Stories
Expand All
Collapse All
---