Ad Fair Helps Advertising and Public Relations Companies Meet, Recruit Top Applicants
By Ashley D. Gammon
Columbia, Mo. (Feb. 17, 2006) — Missouri School of Journalism students had the opportunity to meet, interview and make formal contacts with recruiters in the advertising and public relations fields at the fifth annual Ad Fair.
"We've had a lot of J-School students in the past, and the School has a great reputation. All of our positive experiences have been rolled into one, making coming to the Ad Fair very valuable," noted Sarah Hogg, a recruiter from Fleishman-Hillard.
According to Phou Sengsavanh, assistant director of career services, the benefits of the Ad Fair go far beyond the networking and employment opportunities sought by students and employers.
"The career fair can be a cost-effective way for companies to showcase themselves as first-choice employers to the next generation of leaders in journalism and strategic communication," Sengsavanh said. "Students also can become more confident in their interviewing skills and learn more about specific companies and the industry-at-large."
"The Journalism School is one of the strongest in the nation. The students are great writers," said Kristin Saunders, a recruiter from the St. Louis-based Standing Partnership. "The sequences offered fit well with public relations, and the students have the ability to work with real-world clients."
In addition to providing internship and full-time job opportunities, individual interviews, company information and resume assessment, the fair included a luncheon for recruiters and students and an evening reception that featured a presentation by MOJO Ad students. The agency specializes in brands that target teens and young adults.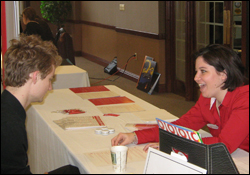 Recruiters who participated in the Feb. 9 Ad Fair were:
Adamson Advertising, St. Louis
Boasberg Wheeler Communications, Kansas City, Mo.
Fleishman-Hillard Inc., St. Louis
Hughes, St. Louis
Marketing Arm, Dallas
Missouri State High School Activities Association, Columbia, Mo.
Moosylvania Marketing, St. Louis, Mo.
MU Crosby MBA Program, Columbia, Mo.
MU Publications & Alumni Communications, Columbia, Mo.
Osborn & Barr Communications, St. Louis
Rodgers Townsend, St. Louis
Standing Partnership, St. Louis
Target Corporation, Nationwide
The Ad Fair was a valuable experience for Rachel Gaglio, a senior from St. Louis. "I learned about different ad agencies and what they're looking for in potential internship and job candidates. The recruiters were approachable and enthusiastic about being there."The Ad Fair is just one of the many ways the School helps its students find internships and full-time jobs. The Career Center sends students regular e-mails about internships and jobs and provides help with resumes and cover letters. A new website at the University, hiremizzoutigers.com, is a centralized, one-stop source of recruitment activity. The site also makes it easy for employers to post openings.
---
Ashley Gammon of St. Louis plans to use her advertising degree to pursue a career in public relations. She returned to her hometown to gain professional experience through internships at Cape Albeon Senior Living Community and Ladue Schools. Gammon has served as a teaching assistant for Principles of Strategic Communication for three semesters. She is the student coordinator of Diversity Peer Educators and has participated in National Association of Black Journalists and Ad Club.
Updated: April 8, 2020
Related Stories
Expand All
Collapse All
---