Strategic communication students, MOJO Ad team take home local ADDY awards for top advertising campaign and report work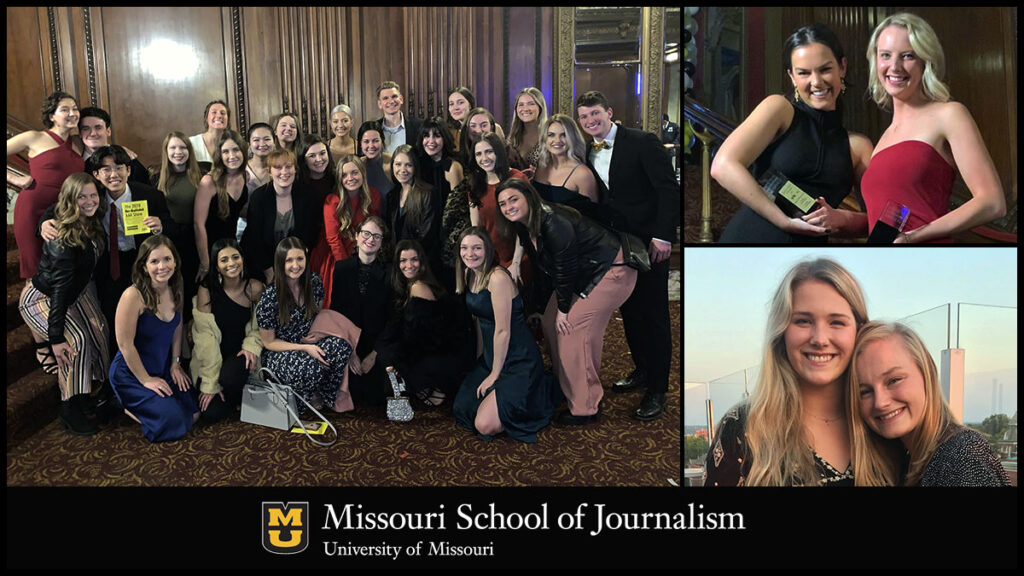 Three teams of Missouri Journalism students won a silver ADDY award for their "Under No Illusion" campaign. Seniors Gracie Fitzgerald and Reed Wilson (top right) won gold for their "23and Me: Find what makes you whole" campaign while seniors Hope Johnson and Hannah Pohl (bottom right) took home a silver award for the "State of the YAYA" report.
Winners progress to regional competition
By Jennifer Nelson
Columbia, Mo. (March 10, 2020) — Several strategic communication students at the Missouri School of Journalism were recognized for their efforts on advertising campaigns or printed reports with local 2020 ADDY Awards from the Kansas City American Advertising Federation.
Winners now progress to an AAF regional competition. Regional winners are expected to be announced at the end of March. From there, winners have the potential of moving on to the national competition.
Seniors Gracie Fitzgerald of St. Louis and Reed Wilson of Columbia, Missouri, received a gold award for the integrated advertising campaign "23and Me: Find what makes you whole." The campaign was designed as part of their strategic communication Creative Portfolio class.
Three MOJO Ad teams as a whole won a silver award for their B-to-B integrated advertising campaign called "Under No Illusion." Findings from a national survey were printed in three volumes to make up the annual State of the YAYA Report (Youth and Young Adult), which explores the habits and preferences of the 18-to-24 market. MOJO Ad is a premier, student-staffed ad agency at the Missouri School of Journalism.
Seniors Hope Johnson, of Taylorville, Illinois, and Hannah Pohl, of Columbia, Missouri, received a silver award for their design work on the Duality volume of the State of YAYA report as part of MOJO Ad.
23AndMe Campaign
Wilson was the art director on the 23andMe campaign and Fitzgerald was the copywriter. The women had about two weeks to work on the various aspects of the campaign, which encouraged an audience to buy a genetics kit from the genomics and biotechnology company.
Although the campaigns designed in Creative Portfolio are part of a class assignment, students are also encouraged to submit them to the respective clients for their consideration and for award competitions.
The students said their strategy for the campaign design involved placing value on the characteristics that make individuals unique using fabrics that symbolize the specific geography locations from which each family lineage derived.
"When we were thinking about the idea for the campaign, we wanted to tie in the idea that everybody's culture is sewn into their DNA and that you should wear your family history, your ancestry, just like you would wear your clothes every day and be proud of them," said Wilson, art director. "We used the fabric patches on the faces for different cultures around the world that would match up to where their ancestry was from."
Fitzgerald said the biggest thing this project taught the young copywriter was to have more faith in her own abilities and what she's learned.
"The whole process of winning the award was so exciting and we kind of went into it blind," she said. "I don't think I was that confident in our ability to come out on top. I just learned a lot about having faith in our own abilities."
YAYA Campaign
Last fall, the 33-member MOJO Ad team was broken up into three teams. Researchers from each team gathered data from a national survey of more than 700 people. Each team was assigned a collection of topics to focus on in their reporting including mental health, employment, dating and relationships, media consumption and gender expression. The teams then interpreted the data and combined it with secondary research, and then wrote about it in the final report.
The campaign was titled "Under No Illusion," which was meant to encourage marketers to look at things from different angles to see the full picture, according to the report.
"We really worked collaboratively as a team to support each other and build on those insights and bring new perspectives," said Grace Corley, an account executive for MOJO Ad, from Leawood, Kansas. "It was really cool to see how that can all be done with undergraduate students."
State of the YAYA Annual Report
Johnson and Pohl were responsible for the design of one volume of the report.
Johnson said working on the report design and being part of MOJO Ad taught her the importance of teamwork, which was crucial to this project. This meant that while Johnson and Pohl were primarily responsible for the design, they also relied on team members for other needs.
"A group project this large in a capstone requires a lot of hard work," said Johnson. "But most importantly, trust. You have to trust yourself and your capabilities, and you have to trust your teammates to give it their all. Of course they did. Every member of Team Omni cared about this book and design just as much as Hannah and I did. They helped with the photo shoot, collected props, cheered us on and a million other things. Few projects in my college experience have required me to rely this much on others."
Pohl said the project provided her the opportunity to try her hand at learning publication design as a skill. She says she is used to advertising design where she has to design something with the intention of trying to sell something versus just having to design a book or magazine.
"We would create things and then bring them to management, which is a panel of professors that sits on our capstone and helps us learn and share their expertise," she said. "So we would bring things to them and they would critique and so it was just a lot of back and forth in trying to make the work better."
About the Kansas City American Advertising Federation
AAF-KC is a 501(c)6 trade and professional association in Kansas City serving the advertising/marketing industry through educational programming, volunteer opportunities and networking, and a member of District 9 of the AAF. Its mission is to foster a cohesive creative culture within the Kansas City advertising industry and promoting it to the rest of the country.
Updated: November 11, 2020
Related Stories
Expand All
Collapse All
---