The ADDY Awards offer Missouri School of Journalism students a gold and silver lining to the pandemic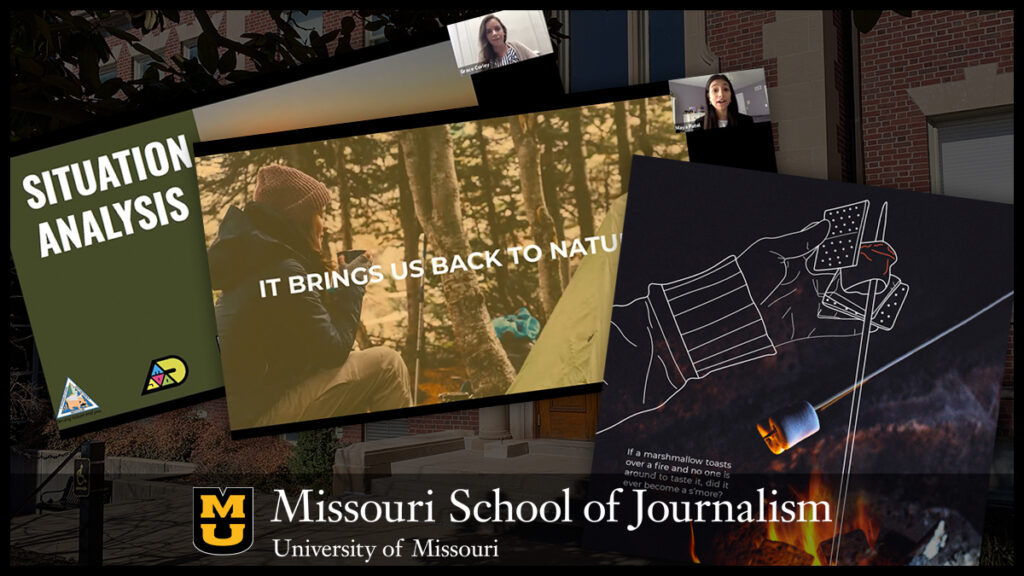 Strategic Communication students took home four times as many local ADDY Awards as they did last year. Each winner advances to the District 9 competition.
By Zach Taylor
Columbia, Mo. (March 8, 2021) — The coronavirus pandemic has made this school year hard for Missouri School of Journalism strategic communication students and faculty. But there is a gold and silver lining.
The Kansas City and St. Louis chapters of the American Advertising Federation held their annual ADDY Awards in late February. Even though the ceremonies were held virtually, there was still plenty to celebrate as Mizzou strategic communication students took home five gold awards, seven silver awards and one Best of Show honor. Winning 12 awards is a significant jump from the three awards students took home last year at the local level.
Each winner will advance to the District 9 competition where they will have a chance to move on to nationals.
Seven of the awards were won by MOJO Ad teams, including the Best of Show honor won by team Venex for its Never Lose Touch campaign for the Association of Fish & Wildlife Agencies (AFWA).
"Winning an award in general, but especially winning Best of Show, felt unreal," said Lacey Paul, BJ '20, team Venex's art director. "I'm just so incredibly proud of my team for creating such an amazing campaign, and I'm super thankful for MOJO Ad – constantly striving to create the best work possible has carried over into my professional career and contributed to my overall success."
All in all, four MOJO Ad teams from two different semesters were in the mix – Venex and Vista won gold awards while Vaxa and Vero won silver awards.
"Seeing all of our work on the screen felt validating," said Abby Walden, BJ '21, team Vero's art director who also won a silver award for her Peacock campaign done as part of the Creative Portfolio class. "So much time and effort went into this, and knowing that a group of advertising professionals appreciated our work was a perfect conclusion to the client project."
The J-School takes pride in its Missouri Method, the hands-on philosophy of learning-by-doing. Meredith Westrich, BJ '21, who won a gold award for her Krusteaz Pancakes campaign done as part of her Strategic Writing II class, feels like the real-world exposure she has gained will benefit her as she enters the next stage of her life.
"Strategic communication has been some of the most challenging work I've ever done, but also some of the most valuable," she said. "Every time I do an interview or talk to someone in the advertising industry it feels like I'm constantly drawing on the real-world experience that I have. I don't think I would have ever found myself wanting to be a copywriter if it wasn't for Mizzou Strat Comm."
"As strategic communication students, we don't get bylines or front-page spreads," said copywriter Josh Borgschulte, BJ '21, who won two gold awards with designer Emma McNail, BJ '21, for their Coolhaus and Peacock campaigns done in their Creative Portfolio class. "When my teammate and I got our ADDYs, I felt vindicated in a way. This time, our hard work had been rewarded with something more than a good grade. I thought to myself, 'Oh, people are liking what we're doing. Maybe I should keep doing this.'"
Advertising is a collaborative endeavor. To succeed at this level, the participating students had to work closely together. For McNail, the relationship she developed with Borgschulte was one of the most rewarding parts of her college experience: "My Mizzou education brought me Josh, who was critical to my success. He turned out to be the best partner I could ask for and an even better friend. Our ADDYs are just a nice bonus to that."
It took hard work for these campaigns to come to fruition. None know that better than Associate Professor Frank Corridori, who serves as creative director of MOJO Ad and oversaw the art direction of several of the award-winning campaigns. "I remember when these ideas were rough little sketches scratched out on the pages of a disorganized sketchbook," said Corridori.  "It's been a joy watching these ideas get slowly polished into diamonds. These students are the future of advertising – no, they're the future of thoughtful communication – and they're moving it in the right direction."
Gold
Emma McNail and Josh Borgschulte, Coolhaus campaign – Cross-Platform, Integrated Campaigns, Integrated Advertising Campaign (KC Chapter)
Emma McNail and Josh Borgschulte, Peacock Microsite – Website (Desktop or Mobile), Cross-Platform, Integrated Advertising Campaign, Consumer Campaign (KC Chapter)
Meredith Westrich, Krusteaz Pancakes campaign – Print Magazine Campaign (St. Louis Chapter)
Show Your Thanks: MOJO AD, Vista – Integrated Advertising Campaign, Consumer Campaign (KC Chapter)
Never Lose Touch: MOJO AD, Venex – Integrated Advertising Campaign, Consumer Campaign (KC Chapter)
Silver
Never Lose Touch: MOJO AD, Venex – Art Direction, Campaign (KC Chapter)
Live Fully: MOJO AD, Ampersand – Integrated Advertising Campaign, Consumer Campaign (KC Chapter)
How Ya Feelin'?: MOJO AD, Vaxa – Publication Design, Book Design (KC Chapter)
Live Connected: MOJO AD, Vero – Publication Design, Book Design (KC Chapter)
How Ya Feelin'?: MOJO AD, Vaxa – Integrated Advertising Campaign, Consumer Campaign (KC Chapter)
Live Connected: MOJO AD, Vero – Integrated Advertising Campaign, Consumer Campaign (KC Chapter)
Abby Walden and Hannah Wente, Peacock TV entry – Print Advertising, Magazine Advertising (KC Chapter)
Updated: March 8, 2021
Related Stories
Expand All
Collapse All
---