Danny Rosenberg Wins ADDY Award for Copywriting
Columbia, Mo. (April 3, 2018) — Strategic communication senior Danny Rosenberg recently won a Silver ADDY Award in the student category for copywriting from the Kansas City American Advertising Federation (AAF) for his advertising work with Slack, a professional communication platform, which he did as part of the Creative Portfolio class.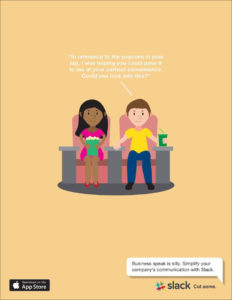 "I was really excited and proud when I found out I had won," said Rosenberg. "The first thing I did was forward the email to my mom. It's a great feeling to be recognized for hard work."
Rosenberg was recognized for his work along with five other students at the 2018 Kansas City American Advertising Awards on Feb. 17 at the Arvest Bank Theatre at the Midland in Kansas City. The American Advertising Awards is the advertising industry's largest and most representative competition, attracting more than 40,000 entries every year in local AAF club competitions. The mission of the American Advertising Awards competition is to recognize and reward the creative spirit of excellence in the art of advertising.
"I enjoyed the opportunity to network with some of the most influential ad agencies in Kansas City, and this whole experience has reminded me how cool it is that our courses are structured based on the Missouri Method, so that we are actually learning by doing," Rosenberg said.
The Creative Portfolio class gives students the opportunity to create ads for packaged goods, a durable good, a network and a service each semester. Mark Swanson, who oversees the copywriting side of the class, chose Slack because it seemed relevant and challenging.
"I was happy for Danny when he won the ADDY Award," said Swanson. "Awards aren't the end-all, be-all, but they can validate solid work and give a young copywriter a confidence boost."
"We were assigned Slack as a client for the class, but the assignment was pretty open-ended beyond that. I owe a big thanks to Katie Blechinger, my art director partner, for helping fine-tune the copy," said Rosenberg. "For this ad, we were inspired by our own experiences and how awkward it can be to compose formal emails. Sometimes it can take a million words to say what could be said less formally in a much faster manner."
To see a full list of recipients, visit the 2018 AAAs Winners page.
About the Kansas City American Advertising Federation
AAF-KC is a 501(c)6 trade and professional association in Kansas City serving the advertising/marketing industry through educational programming, volunteer opportunities and networking, and a member of District 9 of the AAF. Its mission is to foster a cohesive creative culture within the Kansas City advertising industry and promoting it to the rest of the country.
Updated: October 30, 2020
Related Stories
Expand All
Collapse All
---