Kristen Hare Wins Sifford Prize for Journalism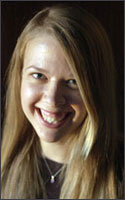 Columbia, Mo. (Jan. 10, 2005) — Kristen Hare of the St. Joseph (Mo.) News-Press is the latest winner of the Darrell Sifford Memorial Prize in Journalism.
Hare is the youngest winner (26 years old) ever in the 10-year-old contest and is from the smallest newspaper (circ. 39,500) ever to boast a winner in the annual writing contest.
Hare, BJ '00, is a native of Springfield, Mo., and earned a bachelor's degree with an emphasis in magazine journalism from the Missouri School of Journalism. After college, Hare served two years in the Peace Corps in Guyana, where she was a community education promoter, teacher and co-editor of a Peace Corps magazine. She also met her husband, Jailall Jairam, while in Guyana. Hare joined the staff of the News-Press in January 2003 as a lifestyles reporter and was promoted last summer to assistant lifestyles editor.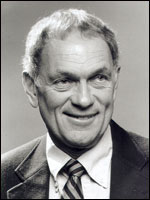 "I can't imagine a better honor, but honestly I think this award is more a reflection of the wonderful Midwestern community in which I live and work, where people invite me in out of the cold, patiently give me their time and open up their lives," Hare said upon learning of the award. "It also says a lot about MU that the school even has this award, which encouraged me as a student and encourages me as a reporter to listen to people's real voices and tell their stories."
Her win indicates again that writers and columnists from smaller newspapers are every bit as competitive as their big city colleagues. Reported the judges: "She documents the rhythms of daily life in small-town Kansas and Missouri, as well as in St. Joseph through immersion and close observation. Her smooth writing style includes telling detail, and persistence. Readers feel as if they are present at a local bowling alley, a weekly bingo game, softball fields where men who are friends since childhood are now fathers playing on the same team. All five of Ms. Hare's entries are captivating."
About the Darrell Sifford Memorial Prize in Journalism
The Darrell Sifford Memorial Prize in Journalism is designed to honor and encourage newspaper writing that the contest creators explained as depicting the personal struggles and triumphs that together make up the fabric of our lives. Sifford's insightful and inspirational columns in The Philadelphia Inquirer touched readers in such an intimate way that his accidental death in 1992 hit thousands as if they had lost a close relative. Colleagues described Sifford as "a rarity in American journalism – a columnist with the heart of a poet."
Updated: April 1, 2020
Related Stories
Expand All
Collapse All
---