Adam Schreck Wins Atwater Prize for Writing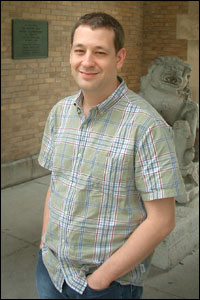 Columbia, Mo. (May 10, 2006) –Master's student Adam Schreck has been recognized for his outstanding work in writing as the recipient of the 2006 Atwater Prize for in-depth reporting. Awarded by the Missouri School of Journalism, the Atwater Prize provides a $500 stipend to one elite writing student each year.
Originally from Bourbonnais, Ill., Schreck recently finished his first year of master's work with a focus on international print journalism. His submissions for the competition included two in-depth Columbia Missourian reports from the Mississippi coast following Hurricane Katrina and an investigative story about former Enron CEO Ken Lay's connections to Missouri.
"Adam Schreck submitted stories that placed us in the lives of people affected by Hurricane Katrina and that linked a national story, the trial of Ken Lay, to his roots in Columbia," said Elizabeth Brixey, Missourian city editor and assistant professor. "In these stories, and in his work here in the Missourian, it's obvious that Adam strives for accurate and relevant storytelling that immediately tells the reader what's going on."
The Atwater Prize is open to students in all sequences and was founded in memory of James D. Atwater, dean of the School from 1983-1989 and a professor of magazine and editorial writing. During his lifetime, Atwater published several books and worked at several publications, including Time, The Saturday Evening Post and Reader's Digest. He died in 1996 of cancer. This year's selection committee included Brixey; George Kennedy, professor emeritus; Don Ranly, professor emeritus; Pat Smith, adjunct professor; and Patty Atwater, former instructor and copy editor at the Columbia Missourian and wife of Dean Atwater.
"Adam wrote excellent pieces and put a lot of work into his reporting," Atwater said. "We were all very impressed with his writing."
Schreck said he is pleased to receive an award with such significance.
"It's an honor to receive this award," Schreck said. "I've heard a lot about what a wonderful writing teacher Dean Atwater was, and I'm honored to receive this prize in his memory."
Schreck, who is an assistant city editor for the Missourian, will complete an internship in Brussels, Belgium, this summer working for the Wall Street Journal online. He is a graduate of Loyola University in Chicago with a double major in political science and theology. Prior to joining the graduate program at Missouri, Schreck lived overseas for five years. He taught English and worked as a freelance writer in Prague, Czech Republic; Budapest, Hungary; Cairo, Egypt; and Jenin in the West Bank. Upon completion of his degree in 2007, Schreck plans to pursue a career as an international correspondent.
Updated: April 9, 2020
Related Stories
Expand All
Collapse All
---