Traudes Wins Atwater Prize for Writing
Columbia, Mo. (May 25, 2007) — Senior newspaper journalism major Cristof Traudes recently won the 2007 Atwater Prize for Writing at the Missouri School of Journalism. The Atwater Prize provides a $500 stipend to one talented writing student each year.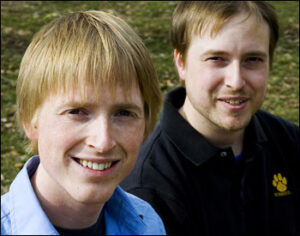 Traudes, who grew up in the Netherlands but settled in Columbia, Mo., has worked as a reporter, copy editor, 1A page designer and assistant city editor at the Columbia Missourian, the School's student-staffed, faculty-run daily city newspaper. Traudes submitted several of his stories from the Missourian for the competition, including "A Brother's Story," a 5,000 word personal report about growing up with a sibling with Asperger's Syndrome. Asperger's is considered the mildest form of autism.
"Cristof's main piece was a very intimate story," said Judy Bolch, professor and member of the selection committee. "He not only did solid reporting about autism, but he presented the story through his personal view."
The Atwater Prize is open to students in all sequences and was founded in memory of James D. Atwater, dean of the School from 1983-1989 and a professor of magazine and editorial writing. During his lifetime, Atwater published several books and worked at publications such as Time magazine, The Saturday Evening Post and Reader's Digest. He died in 1996 of cancer. This year's selection committee included Bolch; George Kennedy, professor emeritus; Don Ranly, professor emeritus; Pat Smith, adjunct professor; and Patty Atwater, former instructor and copy editor at the Columbia Missourian and wife of Dean Atwater.
For Traudes, who graduated May 12 and has taken a position at the Duluth (Minn.) News Tribune, the prize capped off a great senior year.
"It's the biggest honor I could possibly get being at this School. Just to be singled out, especially for this story, means a lot," Traudes said. "One of my main goals in being a reporter is to open people's eyes to something they don't know about. I feel that I did that with this story."
Traudes said he was honored to meet Patty Atwater, who came back to campus for the judging. She said she was "thrilled" with Traudes' work.
"Cristof's very realistic but at the same time enthusiastic," Atwater said. "He's just a wonderful writer."
Bolch said that Traudes' work lived up to the writing precedent set by Jim Atwater.
"The fact that Jim was a good reporter goes without saying," Bolch said. "But it was the strength of his writing skills that the prize honors."
Patty Atwater said she loved teaching and enjoys coming back to be around students at the School – just as her husband did.
"Jim was a wonderful writer, and he wrote all sorts of interesting things," Atwater said. "But he said the best thing he ever did, and the happiest he was, was teaching writing."
Updated: April 17, 2020
Related Stories
Expand All
Collapse All
---