Graduate Student Wins Atwater Prize for Writing
Columbia, Mo. (June 23, 2008) — Graduate student Jake Siegel wasn't thinking about winning awards as a writer for the Columbia Missourian and Vox magazine, two of the Missouri School of Journalism's professional news media outlets. Instead, his goal was to supplement his classroom experience with hands-on training in the School's graduate program. As it turned out, Siegel gained both experience and one of the School's top writing awards in the process.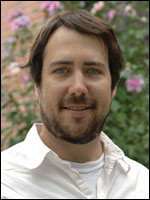 Siegel won the 2008 Atwater Prize for Writing, an award worth $600 that was presented at a luncheon this spring. He submitted three stories to the contest, which drew 24 entries from the School's talented undergraduate and graduate student body.
"The three distinct pieces showed the breadth of his talent as a writer and reporter," said one of the judges, Missourian city editor Elizabeth Brixey. "His work was graceful, accessible and authoritative."
The Atwater Prize is open to students in all emphasis areas and was founded in memory of James D. Atwater, dean of the School from 1983-1989 and a professor of magazine and editorial writing. During his lifetime, Atwater published several books and worked at publications such as Time magazine, The Saturday Evening Post and Reader's Digest. He died in 1996 of cancer. This year's selection committee included Brixey; Jeanne Abbott, Knight Fellow; George Kennedy, professor emeritus; Pat Smith, adjunct professor; and Patty Atwater, former instructor and copy editor at the Columbia Missourian and wife of Dean Atwater. Staff member Cheri Cherry managed the contest entries.
Siegel's winning stories included an explanatory piece on ethanol and a story about the feminization of sturgeon in the Missouri River, both for Vox; and one Missourian article, a dual profile of Rabbi Yossi Feintuch and Minister John Yonker.
"All three stories were wonderful reporting experiences," Siegel said. "For the profile, I spent significant time with Feintuch and Yonker, two colorful characters who have been building bridges between Columbia's Jewish and Christian communities. The two environmental stories were fun to report but challenging to write; I did my best to explain complex topics through narrative."
Patty Atwater, who returned to campus to judge the contest, said she really enjoyed Siegel's writing, especially his story on the minister and the rabbi. She also enjoyed Siegel's point of view.
"He is interesting and has a mature quality to his writing," Atwater said. "I liked that for a change of pace. He worked for quite a while before he applied to the J-School graduate program."
Before coming to the School, Siegel worked at the Harvard Law School Library. After graduation, he said he'll "land a job anywhere one's available."
Seigel said he was "thrilled" to win the prize. "This school overflows with talent," he said, "and to be recognized for my writing was an honor."
The Columbia Missourian is the working newspaper lab for students specializing in newspaper journalism, design, information graphics and photojournalism. Vox is a weekly city magazine that serves the people of Columbia with in-depth reporting and analysis of local issues, feature stories on local subjects, thoughtful essays and columns by local writers, and a useful guide to area arts and entertainment.
Updated: April 28, 2020
Related Stories
Expand All
Collapse All
---