Lauren Puckett Wins the 2018 Don Romero Prize for Magazine Writing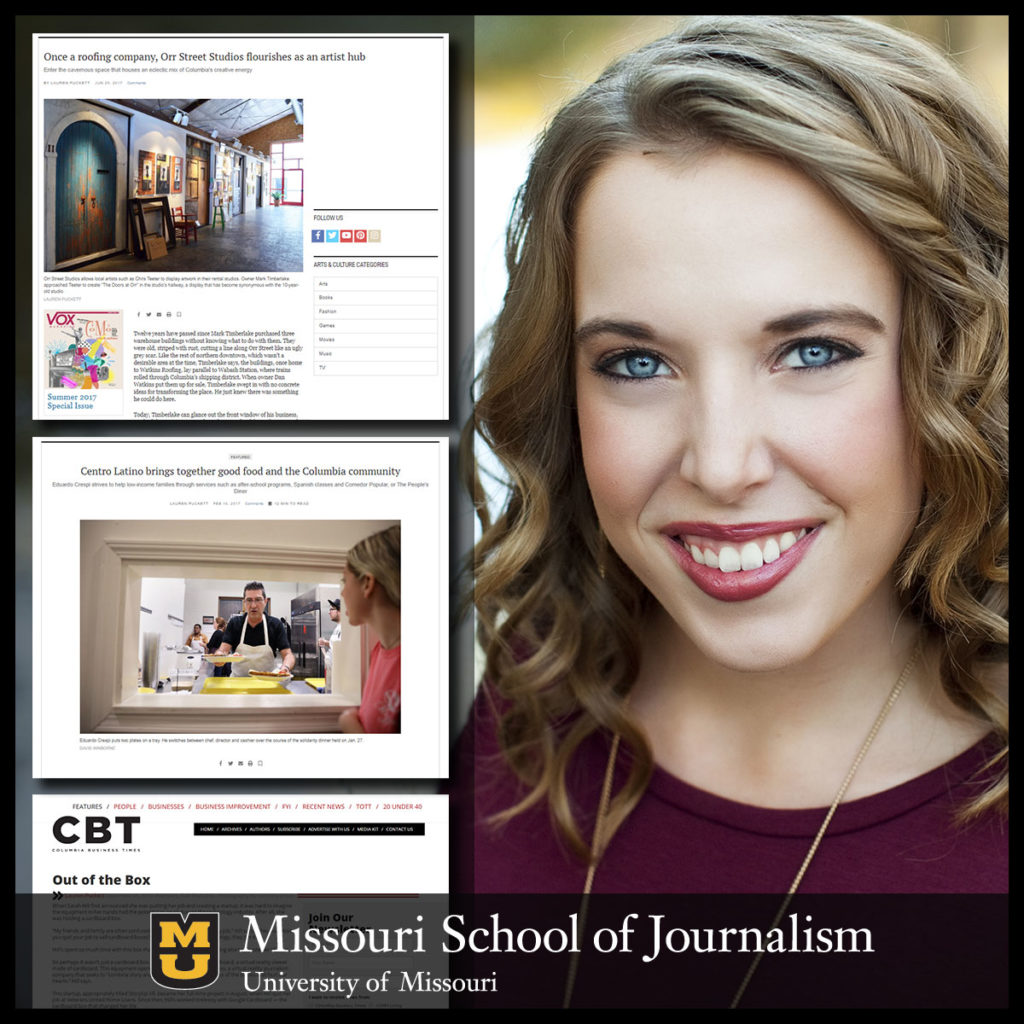 Master's student Lauren Puckett, asked to write a story about the making of tamales at a local eatery, ended up turning her assignment into a community-engagement piece. Puckett is this year's winner of the Don Romero Prize for Magazine Writing.
Master's Student Finds Herself Drawn to Community Engagement, Even When Assigned to Write about Food
Columbia, Mo. (May 18, 2018) — Missouri School of Journalism graduate student Lauren Puckett, BJ '17, is the winner of the 2018 Don Romero Prize for outstanding magazine writing. She receives a $1,000 cash award.
Puckett was born and raised in Columbia, Mo. She will work as the online editor at Vox Magazine during the fall 2018 semester, and plans to finish up her master's degree in December. Puckett previously served at Vox as a writer and section editor.
Upon learning of her selection, Puckett said that she was, "absolutely thrilled and humbled to be this year's winner. I've long admired several of the previous Romero Prize winners for their writing and reporting talents, so to be included in that cohort is hard for me to wrap my head around. I want to thank the judges and staff at Mizzou, especially the magazine department, from the bottom of my heart."
For her application to be considered for the Romero Prize, Puckett included the following three articles:
"La Corazon del Barrio," originally published in Vox Magazine, focuses on Centro Latino, a community center in Columbia's First Ward that serves Latino and low-income families. Puckett says that she wanted to force herself to explore something she knew nothing about. "My freshman dorm R.A. had volunteered for an organization named Centro Latino, and I'd never heard of it. So I emailed the director on a whim and showed up at the community center with absolutely no knowledge of where the story would go. I thought I wanted to write about how to make tamales. I ended up writing about a man who's trying to uplift Columbia's low-income and minority communities from the inside."
"Out of the Box," published in Columbia Business Times, focuses on Sarah Hill, CEO of a local virtual reality (VR) startup and an early adopter of Google Cardboard, a VR viewer made of cardboard. The catalyst for Hill's company, StoryUp, was her search for a VR solution for veterans too frail to travel to Washington, D.C., to see their war memorials. "I asked one of my editors if we might pursue the story with Ms. Hill, who was starting a new business using VR to do journalism and strategic communications. Her idea was that, if we can immerse people in the journalism, they'll engage more meaningfully with the story and its subjects. After some rigorous editing, that story was published as my first-ever cover feature."
"Orr Street Studios Flourishes as an Artist Hub," also published in Vox, highlights the denizens of Orr Street Studios, three Columbia warehouse buildings transformed by a local engineer into a creative space for local artists. "I reached out to a random group of the artists as well as the owner of the building, we talked, and the story came together as this piece about community transformation and meaningfulness discovered in art. A lot of my stories tend to hinge around community. That's not intentional; it just seems to be the concept to which I'm most attracted."
When asked how she plans to use her cash award, Puckett, perhaps unsurprisingly, is looking to pursue additional reporting opportunities. "I'm hoping to use a portion of the funds in pursuit of a piece. I'm currently working on a story about a man who was one of a handful of minorities at MU during the 1960s, and I also have my sights set on a story about adoption and the foster care system in Missouri. Both stories require a good amount of transportation, and potentially some overnight stays, so the Romero prize money will help with that."
About the Romero Prize for Magazine Writing
Funding for the Romero Prize is donated by two graduates of the Missouri School of Journalism in honor of the late Don Romero, a former faculty member, who excelled at magazine writing and editing not only in the classroom, but also as a professional before moving to Columbia, Missouri. The award acknowledges Romero's contribution to and his encouragement of outstanding magazine journalism.
Updated: November 4, 2020
Related Stories
Expand All
Collapse All
---