Keegan Pope Wins the 2019 Don Romero Prize for Magazine Writing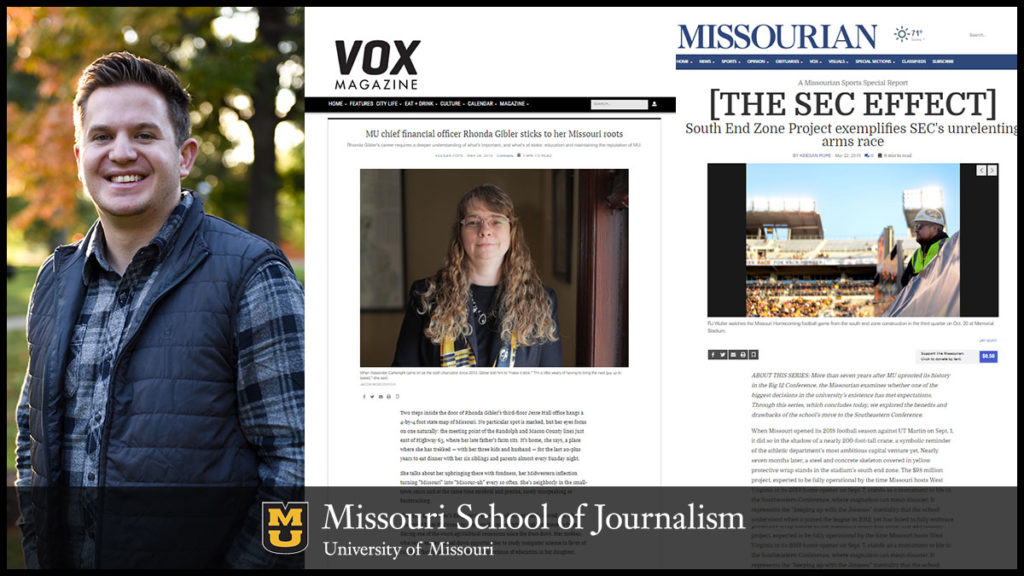 Story submissions taught him how to be concise, connect with cancer patient and keep a data story interesting.
Columbia, Mo. (Aug. 7, 2019) — Recent graduate Keegan Pope, MA '19, received the 2019 Don Romero Prize for outstanding magazine writing as a graduate student. His prize includes a $1,000 cash award.
Funding for the Romero Prize is donated by two graduates of the Missouri School of Journalism in honor of the late Don Romero, a former faculty member, who excelled at magazine writing and editing not only in the classroom, but also as a professional before moving to Columbia, Missouri. The award acknowledges Romero's contribution to and his encouragement of outstanding magazine journalism.
Pope, a Fort Collins, Colorado, native, was the editor-in-chief of Vox Magazine when he won the award. Previously, he also worked as the magazine's creative director and art director. Pope also worked as a sports enterprise reporter and editor for the Columbia Missourian, one of the Missouri School of Journalism's newsrooms where students gain hands-on experience while in school.
Pope is currently interning at 5280 Magazine in Denver. He submitted three articles to be considered for the Romero Prize. "In his writing, [Pope] avoids cliches and finds small details that tell the true story," said one of the judges.
MU chief financial officer Rhonda Gibler sticks to her Missouri roots, originally published in Vox Magazine, is a profile of University of Missouri Chief Financial Officer Rhonda Gibler. One of the biggest challenges for Pope in writing this story was to distill Gabler's life and everything she accomplished in a concise manner, he said. "It's easy to write a 4,000-word story because you have unlimited space to really expand upon things," he said. "It's a bigger challenge, in many ways, to be able to tell a story that is just as informational and just as interesting in 700 to 800 words." This required several edits.
High-schooler Riley Maher thrives on the field seven months after cancer diagnosis, was also published in Vox Magazine and tells the story of a young teen adjusting to a cancer diagnosis and how she connected with a University of Missouri coach who was a cancer survivor. "The story reflected a lot of detail and sensitivity, like how she reacted to having her hair fall out, how she was determined to go to prom, or the support of her fellow teammates and parents," said one of the judges. Pope said writing this story reminded him that even though journalists are taught to remove themselves from a story, journalists are still human. Being able to show your own emotions and vulnerabilities can help sources open up, he said. The story was a finalist for the Society of Professional Journalists' Mark of Excellence Region 7 contest.
South End Zone Project exemplifies SEC's unrelenting arms race, which was published by the Columbia Missourian, was part of a series highlighting Missouri's decision to leave the Big 12 conference and whether or not that was as successful as people thought it would be, Pope says. He says one of the challenges of writing a story like this is that taking what you have gleaned from the data, numbers and document requests and "weaving it into a coherent, well-written story," he said. "It's easy to get bogged down in that stuff, but you still have to make it an enjoyable read for readers," he said. "My biggest takeaway, and it's something I worked pretty extensively with Michael Knisley and Mark Horvit on, was learning how to combine all of this research and reporting together in a way that reads well and consistently informs the reader throughout the entire story."
Pope said he is thankful for the guidance and help he received from faculty at Vox and the Missourian as he worked on these stories.
"They were willing to give me a chance to pursue these stories and these ideas that weren't always flushed out," he said. "They were just these big things that I thought would make cool stories, and they were willing to give me the rope to chase those down. Once I was able to do that, they helped me focus these stories, edit them, and really just shape them into what they became."
Pope said he plans to use his prize money for additional writing projects.
Updated: November 10, 2020
Related Stories
Expand All
Collapse All
---