Master's Student Jesse Bishop Wins Don Romero Prize for Outstanding Writing; Receives $750 Award
Columbia, Mo. (April 12, 2013) — Missouri School of Journalism master's student Jesse Bishop is the 2013 winner of the Don Romero Prize. He will receive a $750 award.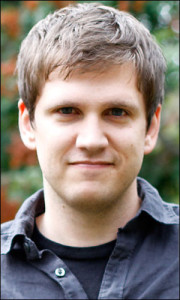 The prize was established in honor of Don Romero, a former magazine professor at the Missouri School of Journalism, by two of his former students. The award acknowledges Romero's contribution to and his encouragement of outstanding magazine journalism.
Bishop, from Columbia, Mo., taught middle and high school English in Bunceton, Mo., for two years before returning to the University of Missouri to work on his master's degree. He earned his bachelor's in English education from MU.
The judges described the competition as "stiff" among the School's most talented writers. They said Bishop's ability to capture the story makes him one of the School's most promising journalists.
"Jesse Bishop won the Romero prize because his moving profile of Cecil Estes demonstrated not only thorough reporting, it was written in a way that celebrated the beauty and difficulty of close family attachments, lost neighborhood traditions, and an exceptionally gifted high school athlete who loved the game more than fame," the judges said. "It is hard to imagine anyone could read this story about Estes without yearning to see him play."
"The Rise and Fall of Cecil Estes" was one of three stories Bishop submitted to the competition. He first learned about Estes in 2011.
"As someone who grew up in Columbia and has been a huge basketball fan my entire life, I was shocked that I hadn't heard about him before, so I started digging," Bishop said. "What I found was a forgotten legend, a guy who was one of the biggest names in Columbia hoops for four years before he took himself out of the spotlight. The real reasons remain a mystery, but for the few months I spent writing the story, I felt like I was back in 1983 watching a budding star shine."
Another story, "Adult Certification," was written in the wake of two gun-related arrests in Columbia in which juveniles were charged with the crime. Bishop met with the youths' and other families in Jefferson City as they were coordinating a lobbying effort to change the way juvenile offenders are handled. Two months after the story was published, a 15-year-old Columbia teen was charged as an adult the shooting death of a 17-year-old.
"Mid-Missouri's Past, Present and Future Olympians" ran as the feature article for Vox magazine's Olympic theme issue in July 2012. Bishop profiled Hickman High School senior J'den Cox, who won the Missouri State High School Activities Association heavyweight wrestling championship title in 2011 – despite being 50-60 pounds lighter than many of his opponents. Overall, Cox has won four state titles in four weight classes.
"Some brilliant writers have won this award," Bishop said. "I don't know if I belong in the same category. It's an honor to even be considered."
Updated: July 15, 2020
Related Stories
Expand All
Collapse All
---