Keith Greenwood Recognized for Excellence in Writing Intensive Teaching
The Photojournalism Professor Encourages Creativity in His Teaching Philosophy
By Ashley Szatala
Columbia, Mo. (April 13, 2016) — Associate Professor Keith Greenwood is a 2016 recipient of a Writing Intensive Teaching Excellence Award for his methods of teaching the History of Photojournalism course at the Missouri School of Journalism.
The Campus Writing Center recognize instructors of writing-intensive courses who effectively carry out the mission of "writing to learn and learning to write." The phrase has a two-part goal: to teach students composition and grammatical skills and to use writing as a way to promote learning.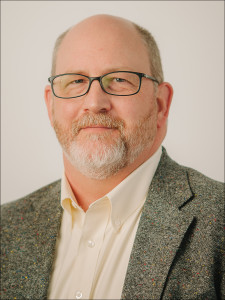 The History of Photojournalism class focuses on historical content and practices of photojournalism. Greenwood asks his students to dig deeper into the content by writing papers that vary in length.
"The majority of the students in the course are not photojournalism majors, so the writing assignments are designed to give them a chance to connect photojournalism to their own area of interest as well as use writing for some individual exploration," Greenwood said. "I encourage them to be creative instead of repeating the basic information presented in class."
Photojournalism faculty chair David Rees recommended Greenwood for the award. Rees noted that Greenwood has fervently endorsed the writing-to-learn philosophy and does much of the grading of multiple drafts himself, supplemented by the graduate teaching assistants he supervises.
"Dr. Greenwood recently modified the class approach to begin with the current trends and issues of photographic technique and through the course of the semester, works his way backward to the beginning of photography, even to the point of using the classroom itself to create a camera obscura," Rees said.
Greenwood will receive the award at a luncheon and ceremony at the Mark Twain Ballroom in Memorial Union on April 22.
The University of Missouri Writing Center was founded in 1977 with a goal of integrating writing across the university's curriculum. The center has a team of tutors who offer free editing and recommendations for many different types of writing projects, such as essays, creative pieces, and cover letters, according to its website.
Updated: September 24, 2020
Related Stories
Expand All
Collapse All
---