Column About Disease Shared by Mother, Coach Wins Hearst Award
Junior Aaron Reiss Describes How Cancer Shakes the Foundation of Life for All Family Members
By Ashley Szatala
Columbia, Mo. (March 17, 2016) — Missouri School of Journalism junior Aaron Reiss placed 15th in the top 20 of the sports writing category of the Hearst Journalism Awards Program. There were 121 entries from 72 schools received in the competition.
The winning column, "What My Mom and Gary Pinkel Have in Common," describes what it is like living with cancer for his mom and for his family. The story was published in the Columbia Missourian. Gary Pinkel retired in 2015 after serving as the head coach of the University of Missouri football team for 17 years.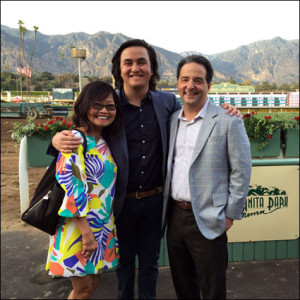 Reiss writes in his column:
MDS is a bone marrow disease, a pre-leukemia condition that results in the body failing to produce enough white blood cells. As a result, when my mom has a cold, it is not simply a cold. When she has a fever, it is not simply a fever. There are trips to the emergency room. Almost monthly transfusions. Rescheduled vacations.
Nothing is simple.
Reiss' mother, Anh Reiss, learned in 2009 that she had myleodysplastic syndrome, which can only be cured with a bone marrow transplant. Pinkel was diagnosed in May 2015 with non-Hodgkin's lymphoma.
Aaron Reiss' article comparing the two also helped him win an Associated Press Sports Editors award for beat writing earlier this month.
"It was an idea that came to me as I went to bed one night," Aaron Reiss said. "The next day, I stopped at my editor Greg Bowers's house to wish him a happy Thanksgiving and deliver a pie my parents wanted me to give him. We sat and talked about this idea that I had, this column. He told me to go for it, and I did."
He's grateful that his editor let him take a risk, but winning awards for his column is not what he set out to do.
"My mom read the story and told me it comforted her because it assured her I did have an understanding of what she was going through," Aaron Reiss said.
Anh Reiss, 48, died Feb. 26 at M.D. Anderson Cancer Center after her seven-year battle with cancer.
"It's a little bittersweet because I know it would've made her so happy to hear that I placed in Hearst, but I'm at least happy it was for this story," Aaron Reiss said. "Hopefully, I did some justice to honoring the memory of a really amazing lady."
Updated: September 22, 2020
Related Stories
Expand All
Collapse All
---