Two Recent Alumni Honored for Multimedia Coverage at Hearst Journalism Awards Program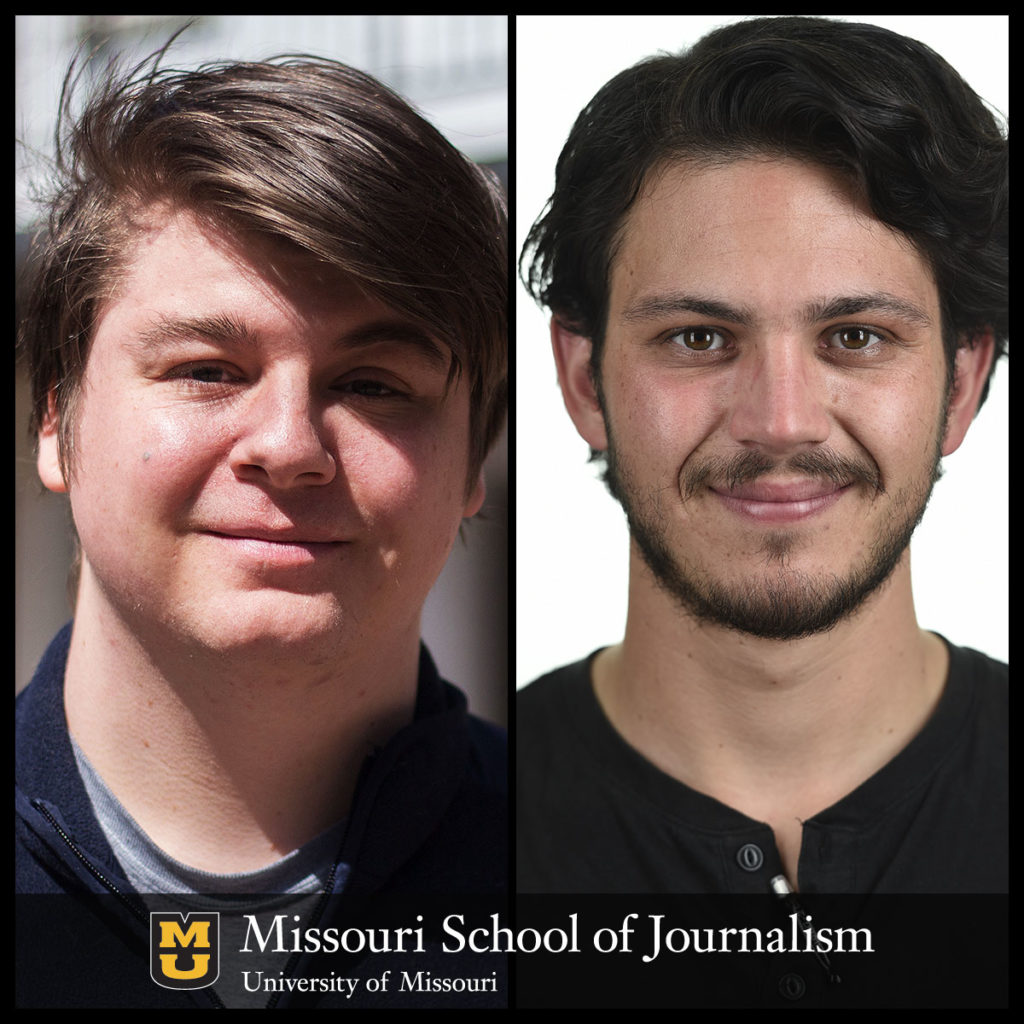 From left: Jon Doty, BJ '17, and Michael Cali, BJ '17, both won Hearst awards – often referred to as "the Pulitzer of college journalism" – for work produced during their senior year.
Jon Doty and Michael Cali Both Won for Projects Produced as Undergraduates
By Jennifer Nelson
Reynolds Journalism Institute
Columbia, Mo. (April 13, 2018) — The work of two recent Missouri School of Journalism alumni placed in the top 20 at this year's Hearst Journalism Awards Program. The two winning entries, produced during their senior years, were among 52 submitted by 30 schools for the Multimedia II/News Competition category.
Jon Doty, BJ '17, took seventh place for his Columbia Missourian coverage of spring 2017 floods in rural southeast Missouri. Michael Cali, BJ '17, placed 16th for his coverage of protests surrounding President Trump's inauguration in Washington, D.C. Cali's project was also published by the Missourian.
Missourian editors felt the Current River flooding and recovery wasn't receiving enough coverage, says Doty. He volunteered to be part of a team to report on the news event. Although Doty had learned how to report on tragedy in one of his classes, he gained some of his first hands-on experience covering an event that devastated a community. Fifty-five homes were destroyed and several others sustained water damage in Van Buren.
"You just had to sympathize with them and pay attention to what you're saying, and be respectful, and not just feel like somebody who's just there to get a story," says Doty.
Doty was able to "carve a narrative that was full of real voices" after assessing the community and cleanup efforts, says Brian Kratzer, Missourian director of photography. "He was quick to identify opportunities as he created video of flooded rooms, muddied artifacts and incorporated drone footage from another source," says Kratzer.
Before reporting on the violent Washington, D.C., protests as a senior, Cali shot photos at Democratic and Republican national conventions as a self-funded journalist. After hearing stories of journalists suffering injuries and being pepper-sprayed during events, Cali purchased a gas mask and goggles to protect himself. The conventions turned out to be much calmer than the Washington protests, he says. During the D.C. protests he was hit with pepper spray, and a police officer ran into him on a bike at full speed.
As Cali prepared for his trip to Washington, he says he knew protests were likely, but he felt better prepared. But there were new challenges to face, too, as he ran after protesters to get still photos as some smashed business windows. Cali live-streamed his experience as a way to protect himself, he says.
"I went into work mode," he says. "When I saw it start happening, I just started shooting things. I had that hyper-awareness and adrenaline and everything. I was scared at the end when I realized we had been surrounded though. The police had kettled everyone together on one city block."
Fortunately, Cali was able to break away from the crowd before a mass arrest of more than 200 people, including journalists.
"He's learned from each event as he has witnessed the differences in violence and peacefulness," says Kratzer.
About the Hearst Journalism Awards Program
The Hearst Journalism Awards Program operates under the auspices of the accredited schools of the Association of Schools of Journalism and Mass Communication. It is fully funded and administered by The William Randolph Hearst Foundation. Currently, more than 100 accredited undergraduate schools of journalism in the United States are eligible to participate in the program, which awards up to $500,000 in scholarships and grants annually. Publisher William Randolph Hearst established the William Randolph Hearst Foundation and The Hearst Foundation Inc. in the 1940's, a few years before his death in 1951. Since then, the Foundations have awarded over $1 billion in grants and programs.
Updated: October 30, 2020
Related Stories
Expand All
Collapse All
---