2 Journalism Students Rank in Top 4 in the National Hearst Radio Competition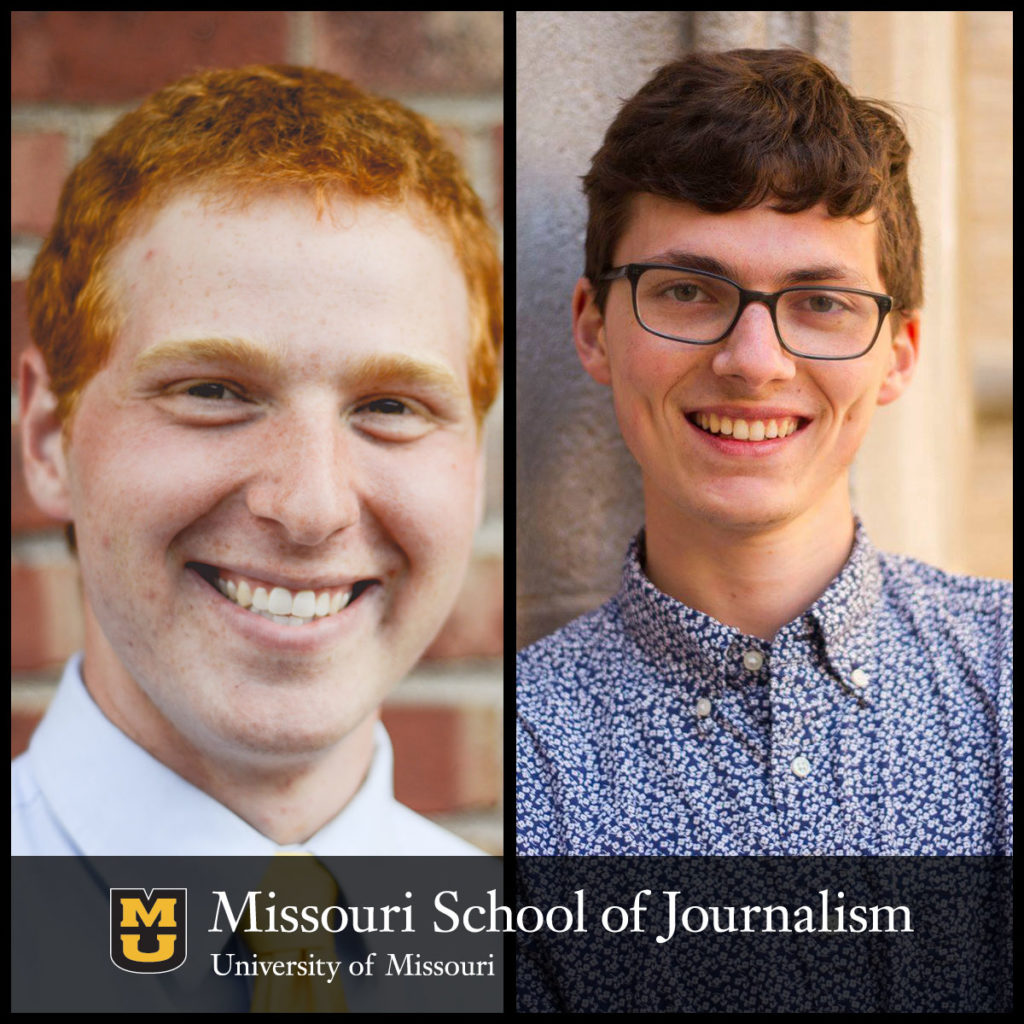 Former KBIA-FM reporter and producer Ryan Levi, left, and current KBIA reporter and anchor Carter Woodiel placed second and fourth, respectively, in the radio broadcast features and news competition of the 2016-17 national Hearst Journalism Awards Program.
Missouri Is in First Place in the Intercollegiate Broadcast Competition
By Yue Tang
San Francisco (March 14, 2017) — The work of two Missouri School of Journalism students placed in the top four in the highly competitive radio broadcast features and news competition of the 2016-17 national Hearst Journalism Awards Program.
Former KBIA-FM reporter and producer Ryan Levi placed second and won a $2,000 award; current KBIA reporter and anchor Carter Woodiel placed fourth and won a $1,000 award. There were 53 students from 32 different schools across the U.S. who competed in the Radio News and Features competition. KBIA is mid-Missouri's NPR affiliate.
With these two awards, Missouri is currently in first place in the overall Intercollegiate Broadcast Competition. The winner of that competition will be decided based on rankings from three competitions: this competition and two television competitions. A University of Missouri graduate placed first in the initial television competition earlier this year. The results of the second television competition have not yet been announced.
Levi's entry consisted of stories about how Columbia Public Schools were trying to support LGBTQ students, what Missourians who relied on food stamps were going to do after new cuts to the program, and a story about the ongoing debate over roll carts in Columbia.
Levi, BJ '16, graduated with degrees in convergence journalism and Spanish. The Minnesota native produced the weekly Business Beat show for KBIA. Levi was also a general assignment reporter and producer as well as coordinated the station's coverage of the 2016 True/False Film Festival. He was a contributing writer about film, food and books for Vox Magazine. Levi is currently an intern with The California Report, a statewide news program produced out of KQED Public Radio in San Francisco.
Levi attributed his win to the hands-on Missouri Method, noting that professors pushed him out of his comfort zone with ways to use his journalistic skills in covering community news.
"I was given the chance to report, to air real stories for real news organizations starting as a sophomore, and there is nothing that can replace that kind of experience," Levi said.
Woodiel's entry consisted of stories about diversity and inclusion efforts at the University of Missouri; a story detailing Winston Churchill's lasting impact in Fulton, Missouri; and a profile of volunteers working to make Columbia's Roots N Blues N BBQ Festival more accessible.
Woodiel is in his third year at the Missouri School of Journalism. He is a staff reporter for KBIA, where he anchors the local newscast on Friday mornings. He also works as a digital content producer for Newsy, a national video news network. There, Woodiel writes and anchors news summary videos for the Web, primarily focusing on sports news. On campus, he is the sports director at KCOU-FM, MU's student-run radio station. As a part of KCOU's play-by-play announcing staff, Woodiel has called various MU sports, including football, men's and women's basketball, baseball, softball, volleyball and soccer.
Woodiel will work this summer with the Brewster Whitecaps of the Cape Cod Baseball League as a play-by-play broadcaster and media intern.
Woodiel top placement qualifies him for the National Radio Championship in San Francisco this June. The finalists are assigned a story in San Francisco, and those submissions are judged for another competition and round of scholarship awards. Levi is not eligible for that competition because he has graduated from the program.
"We couldn't be prouder of these two. They're great examples of how students are able to do professional-caliber work before their careers even get started," said KBIA News Director and Assistant Professor Ryan Famuliner.
The 57th annual Hearst Journalism Awards Program is held in 106 member universities of the Association of Schools of Journalism and Mass Communication with accredited undergraduate journalism programs. The Broadcast News Competition was added in 1988 to Program which also includes writing, photojournalism, and multimedia competitions and offers awards totaling up to $500,000.
Updated: October 14, 2020
Related Stories
Expand All
Collapse All
---