James Carlson Wins National Writing Championship; Matt Talhelm Places in Television Category
Columbia, Mo. (June 2, 2005) — James Carlson, a May 2005 magazine graduate of the Missouri School of Journalism, won first place and a $5,000 scholarship in the 2005 William Randolph Hearst Foundation's National Writing Championship.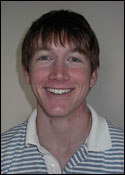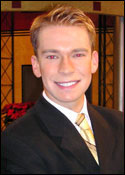 In addition, Matt Talhelm, also BJ '05, won a $1,000 scholarship as a semi-finalist in the Television Broadcast News category.
The Championships — the culmination of the 2004-2005 Journalism Awards Program, with more than 100 undergraduate colleges and universities competing under the auspices of the Association of Schools of Journalism and Mass Communication — were held in San Francisco, May 23-28.
Finalists were brought to San Francisco to demonstrate their writing, photography, radio and television skills in rigorous on-the-spot assignments. Assignments were decided by non-Hearst media professionals, also brought in to judge the students' work.
Carlson is from Springfield, Mo., and has written for the Columbia Missourian, Vox Magazine and Missouri Life magazine. He also has interned with the Cape Cod (Mass.) Times in the features department.
This is not the first time Carlson has received recognition from the Hearst Foundation's Journalism Awards Program. In April, he won first place overall in the personality/profile competition category.
Talhelm, of Chambersburg, Pa., plans to return to the East Coast and work as a television reporter. In an earlier Hearst competition he earned $1,500 for second place in television finals. Talhelm also received first and second-place awards in the television general news reporting category of the 2004 Mark of Excellence Awards sponsored by the Society of Professional Journalists. He was recognized as one of the top 39 students on the University of Missouri-Columbia campus.
"James Carlson possesses two traits that make for great storytellers: humility about his own work, and an endless curiosity about the human condition. We couldn't be prouder of his accomplishment. He's the kind of journalist we need in a confused and shrinking world," said Jacqui Banaszynski, who holds the Knight Chair in Editing at the School.
In addition to his journalism degree, Talhelm earned a Spanish minor. He interned at WHAG-TV, the NBC affiliate in Hagerstown, Md. While a student Talhelm was active in numerous campus and journalism organizations, including Journalism Scholars and Society of Professional Journalists.
"Matt has been a student who understands the language of television news and is able to tell a story in a way that gives viewers the information they need in an engaging manner," said Stacey Woelfel, news director for KOMU. "The judges saw the quality of his work and rewarded him for it."
Published six mornings a week and distributed throughout Columbia and the surrounding region, the Columbia Missourian is the working newspaper lab for students in news-editorial, design, information graphics and photojournalism. KOMU is the only commercial university-owned NBC affiliate in the United States that uses its newsroom as a working lab for broadcast students.
Updated: April 7, 2020
Related Stories
Expand All
Collapse All
---