Broadcast News Student Places Fifth, Wins $600 Scholarship in Hearst Competition
Columbia, Mo. (April 10, 2006) — Andrea Ramey, a Missouri School of Journalism broadcast news senior, placed fifth and won a $600 scholarship in the television news competition for this year's Hearst Journalism Awards.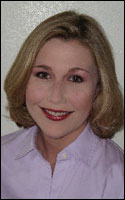 The win makes Ramey eligible to compete in the next round of the contest, the semi-finals, the winners of which will go to the national broadcast news championships in San Francisco, Calif., in June. Ramey, of Paducah, Ky., will graduate magna cum laude in May.
Ramey's entry included a story on a junk mail bill being considered in the Missouri Legislature, another on a Missouri member of the Army Corps of Engineers who helped in New Orleans following Hurricane Katrina, and an investigative report on the environmental impact of storm water and the Environmental Protection Agency fines issued to certain construction sites violating storm water regulation.
"Andrea does excellent work," said Kent Collins, head of the radio-television sequence and one of Ramey's professors. "She's worked hard to learn more than what we teach, and she has applied that knowledge to producing good stories, which she sent to Hearst."
Ramey plans to report at a television station after graduation.
The Hearst Journalism Awards Program is conducted under the auspices of accredited schools of the Association of Schools of Journalism and Mass Communication, and fully funded and administered by the William Randolph Hearst Foundation. It consists of six monthly writing, three photojournalism and two radio and two television broadcast news competitions, with championship finals in all divisions held at the culmination of the program year. More than $400,000 in scholarships and grants are awarded annually.
Updated: April 9, 2020
Related Stories
Expand All
Collapse All
---