Missouri Journalism Students Top List of Recent Hearst Journalism Award-Winners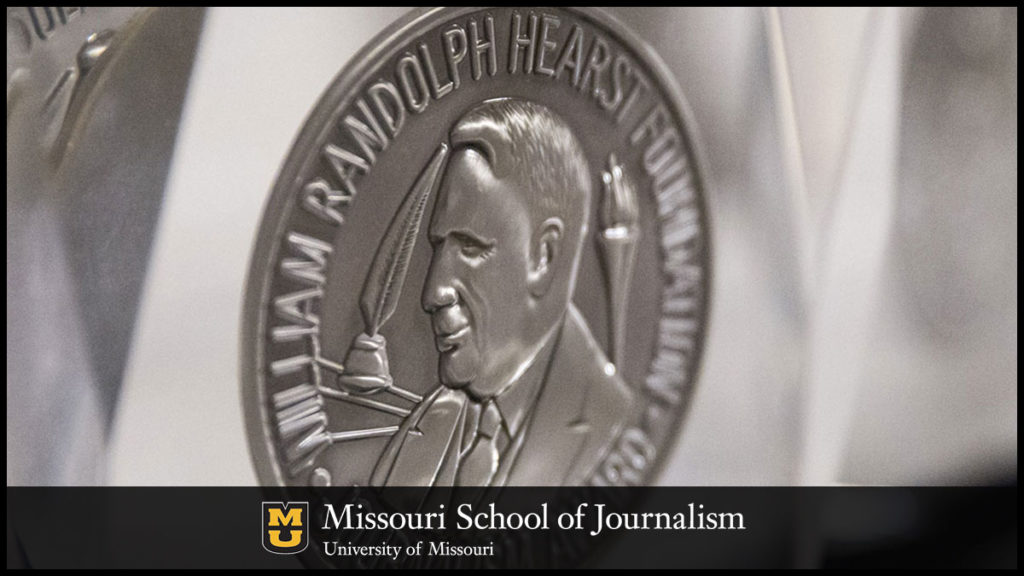 Columbia, Mo. (April 19, 2007) — Four Missouri School of Journalism students claimed prizes in three recent Hearst Journalism Awards Program competitions, raising the total number of Missouri students honored by the program this semester to eight.
Seniors Ryan Famuliner and Ryan Kruger placed third and 11th in the Television Broadcast II Competition, respectively. Meanwhile, senior Matthew Jarzemsky earned fourth in the Personality/Profile Writing Competition, and sophomore Sean Powers took 14th in the Radio II Competition.
Presented since 1950, the Hearst Awards recognize excellence in college student journalism in four categories: writing, photojournalism, radio and television. Students active in campus media submit their work to different competitions within each category, and practicing journalists review the submissions and name the finalists.
Missouri Journalism students competing in the Hearst competitions can submit work prepared as part of their experiences in the School's various community newsrooms. Radio-television students, for instance, enter stories they broadcast on either KOMU, the only university-owned network affiliate in the country, or KBIA, Columbia's award-winning NPR station. Writing and photojournalism contestants submit examples of their stories and photos from the Columbia Missourian, the city's faculty-run, student-staffed morning newspaper, or one of several other publications affiliated with the School.
Missouri Journalism faculty said the various students' accomplishments were all especially noteworthy.
"The Hearst competition is a chance for Mizzou students to show off the practical and theoretical skills they have perfected in the School of Journalism," said Stacey Woelfel, KOMU news director. "To place so highly in the television competition, as [Famuliner] did, shows the level of instruction in our newsrooms is top-notch. I wish him well as he competes for the top student journalism prize in the country."
Lisa Clausen, a Knight Editing Fellow at the School and an editor at the Columbia Missourian, called Jarzemsky a naturally talented reporter.
"His curiosity is surpassed only by his commitment to excellence and his attention to detail," Clausen said. "His work on the Max Lewis story [for which Jarzemsky was honored by Hearst] exemplifies these qualities in addition to his dedication. Matt continued perfecting this particular story over winter break while spending the holidays at home with his family."
Sarah Ashworth, KBIA news director and assistant professor of radio-television journalism, said that for Powers to place in the radio competition as a sophomore was remarkable.
"I have never come across a student with as much drive or desire to become a journalist, and over the past two years, I have seen Sean grow into a really strong reporter," Ashworth said. "He is one of these students who basically makes the newsroom his second home. He's there for breaking news, and he is always the first one to volunteer to do an extra story. At such a young age, he's really extraordinary, and I'm glad he's being rewarded for all of his work."
The four Missouri Journalism students recently honored with Hearst Awards were: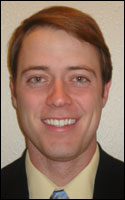 Ryan Famuliner
Third Place
Television Category: Television Broadcast II Competition
Famuliner, a senior radio-television journalism major from Blue Springs, Mo., will graduate in May. He submitted three KOMU stories to the competition. One, based on his original research, broke the news that Howard County, Mo., has the highest bankruptcy-filing rate in the United States. A second, his Target 8 investigative piece about the disorganization of the state's voter-registration database, found at least one Missourian with more than one voter registration. His third story, which aired the day after 16 inches of snow fell on Columbia, showed two men trying to dig their car out of a cul-de-sac to go pick up a paycheck.
Famuliner said he was extremely flattered to have the Hearst Awards recognize his work.
"Doing these stories day to day, you have to wonder if they're really any good," Famuliner said. "So, to have a panel of professionals saying something about how your work stands out means a lot."
Because of his third-place finish in the competition, Famuliner now is eligible to submit a second compilation of his television reporting to a semi-final round of judging. In the semi-finals, judges score submissions from the top-five finalists in each of the first two television journalism competitions. The top-five winners in the semi-finals then advance to the national championship, which will take place in June in San Francisco, Calif.
In addition to his work for KOMU, Famuliner has interned for KCTV-5, the CBS affiliate in Kansas City, Mo. He continues to anchor a weekly business program on KBIA and used to anchor the morning newscasts and report for the station. Famuliner also is a weekend anchor for The Missourinet radio network out of Jefferson City, Mo.
"The experience I've had here at the Journalism School has been so positive, and I have nothing but praise and thanks for the broadcast faculty," Famuliner said.
Matthew Jarzemsky
Fourth Place
Writing Category: Personality/Profile Writing Competition
Jarzemsky, a senior newspaper journalism and political science double major from Middleton, Wis., will graduate in May 2008 and plans to pursue a career at a daily newspaper. For the competition, he submitted a cover story titled "Legally Bound," which he wrote for NewSunday, the Columbia Missourian's Sunday edition. Jarzemsky's profile discussed the life of Max Lewis, a quadriplegic lawyer from Columbia, Mo., who relies on Medicaid for his health care coverage. As a result, Lewis must earn a poverty-level wage.
Jarzemsky has written freelance stories for the Wisconsin State Journal and the Capital Region Business Journal, both in Madison, Wis., and the Middleton (Wis.) Times Tribune, a suburban weekly in his hometown. In the summer of 2006, he completed a general assignment internship at the Kenosha (Wis.) News. For the Missourian, he has covered both the business and police and court beats. Jarzemsky also has been a staff writer for The Maneater, a student-produced campus newspaper at the University. This semester, he is studying abroad in Pamplona, Spain.
"I'd like to say thanks for winning the award," Jarzemsky said. "I appreciate it because I've never cared so much about a story as I did about that one. I share the honor with Brandon Kruse, a talented photojournalist who was the one who actually found the story, and Max Lewis, who was very gracious while sharing his story with me."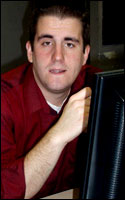 Ryan Kruger
11th Place
Television Category: Television II Competition
Kruger, a senior radio-television journalism major from Blue Springs, Mo., will graduate in May. He also has interned at KCTV-5 and has worked at KOMU since April 2006.
Two of the KOMU stories he submitted to the competition were live shots of breaking-news events: one, a bus wreck in Boone County, Mo., involving students from the Jefferson City YMCA; the other, from Clinton, Mo., the night the Elks Lodge collapsed while a meeting was in progress. The collapse killed one man. The third story Kruger entered was a Target 8 investigation of a property fight between a property developer who built a house too close to another resident's property.
Kruger said it was an honor to represent the School in the Hearst Awards Competition.
"Just to be asked to compete was an honor because it shows that the work I do out here is being noticed and that perhaps I did choose the right profession," Kruger said. "But to actually place in the competition is absolutely unreal, and it's hard for me to believe that some people think I am one of the top student journalists in the country."
With his graduation just weeks ahead, Kruger said he thinks his Missouri education has prepared him well for his professional career.
"I work hard out here at KOMU, but I can't take much of the credit," Kruger said. "The only reason I have had any success is the great teaching we receive. It's something that I will take with me wherever I go."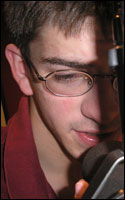 Sean Powers
14th Place
Radio Category: Radio II Competition
Powers, a sophomore pre-journalism major from Homewood, Ill., will graduate in May 2009. He hopes to have a career in public radio. For the contest, Powers submitted a four-part KBIA series on alcohol use and an in-depth report on Amendment II, an initiative about stem-cell research that appeared on the November 2006 Missouri ballot.
Powers has worked as a reporter and announcer for KBIA and as a volunteer for Chicago Public Radio. In addition, he has written for The Maneater and served as an engineer for SISLTcast, the online radio station operated by the School of Information Science and Learning Technologies. Powers also completed an internship at the Field Museum in Chicago.
While winning a Hearst Award was a huge honor, Powers said, it was also a personal reminder of his true passion for journalism.
"Being able to tell a story that can potentially influence another person's life is a tremendous responsibility and honor," Powers said. "I could never imagine doing anything else with my life."
Although he has yet to enter the School of Journalism officially, Powers said he already has begun learning and practicing journalism outside the classroom.
"I am extremely fortunate to have had the opportunity to work with so many talented and inspiring people," Powers said. "I would particularly like to thank KBIA News Director Sarah Ashworth for being the greatest mentor. Any aspiring journalist would be lucky to work with her."
Updated: April 16, 2020
Related Stories
Expand All
Collapse All
---