Andrew Astleford Wins First Place in Hearst Journalism Awards Sports Writing Competition
Columbia, Mo. (March 10, 2010) — Andrew Astleford, BJ '09, won first place in the sports writing competition of the 50th annual William Randolph Hearst Journalism Awards Program for his story, "Detour to Destiny: Arena of Dreams," about former Missouri football players playing for the River City Rage indoor football team in St. Louis. Astleford wrote the story during his second-to-last semester of his studies at the Missouri School of Journalism.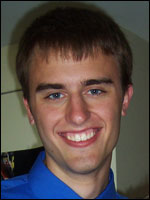 Astleford will receive a $2,000 scholarship for his winning article, which was published in the Columbia Missourian, and the School will receive a matching grant. He has qualified to participate in the Hearst National Writing Championship in New York City this June.
A total of 97 students from 56 universities participated in the sports writing competition.
"Detour to Destiny" was produced as a project in the intermediate writing class taught by Jacqui Banaszynski, a professor and the Knight Chair in Editing.
"Andrew was fascinated with the Tiger football players who didn't quite make the pros, but couldn't seem to give up the game after college," said Banaszynski. "To understand what drove them, he made the trip to to St. Louis several times to catch them at pre-dawn practices, watched them compete before small crowds for $200 a game, visited them at spartan apartments to talk about the line between passion and obsession. The resulting story wasn't just about sports, but resonated with anyone who has chased a dream. It also gave readers a glimpse into part of our society that glorifies the winners and quickly forgets the near-winners."
Astleford has won three Hearst awards in as many years while a Missouri journalism student.
Updated: May 7, 2020
Related Stories
Expand All
Collapse All
---