Missouri School of Journalism Places Second Overall in 2008-2009 Hearst Competition, Wins $5,000 in Prizes
Matthew Harris Wins First Place in the Writing Competition and $2,000 in Prizes
Columbia, Mo. (May 4, 2009) — The Missouri School of Journalism placed second overall in the 2008-2009 Hearst Journalism Awards Program, one of the most elite national collegiate journalism competitions.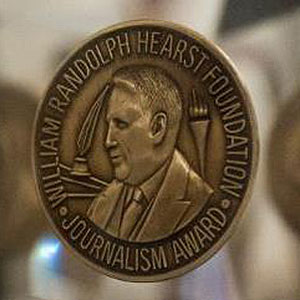 In total, five of the School's students placed in the Intercollegiate Writing Competition of the Hearst awards program, which is often called the "Pulitzers of College Journalism." The winners garnered points from the six writing competitions of the academic year for the School's overall placement, coming in second after the University of Kansas.
Matthew Harris, a senior when he wrote his story, "Back to Basics," placed first in the Personality/Profile writing competition in which 106 students from 61 universities competed across the nation. Harris is one of 10 students selected to compete in the 2009 National Writing Championship in early June in San Francisco. There, the finalists will participate in various spot assignments competing for additional scholarship awards that range from $1,500 to $5,000.
Harris profiled Quin Snyder, a former coach for the University of Missouri men's basketball team. Greg Bowers, assistant professor and sports editor of the Columbia Missourian, worked closely with Harris as he wrote the story.
"Matt worked hard to get the interview. Then he worked very hard on that story. Through numerous drafts, rewrites and cuts, he kept his head up and plowed ahead like a professional. The Hearst judges recognized the effort," Bowers said. "He should be proud of himself."
Senior Andrew Astleford's narrative piece on former NFL player Tom McHale, which was published in the Washington Post, placed 3rd in the competition, earning Astleford $1,000.
Seniors Rebecca Delaney, Elle Moxley and Audrey Spalding also placed in the Hearst writing competition.
Since 1950, the Hearst Awards have recognized excellence in collegiate journalism in three categories: writing, photojournalism and broadcast news. Students active in campus media submit their work to different competitions within each category, and practicing journalists review the submissions and name the finalists. More than 100 accredited undergraduate schools of journalism participate in the contest each year. The Hearst program matches each scholarship won by students in the monthly competitions with an equal amount for the schools they represent.
Missouri's Hearst Intercollegiate Writing Competition winners and their scholarship amounts are:

Andrew Astleford
Year/Major: Senior, Magazine Journalism
Placement/Category: 3rd Place, $1,000
Competition: Sports Writing
Award-Winning Submission: In "Seeking Relief, McHale's Life Took a Fatal Turn," Astleford wrote about the late Tampa Bay Buccaneer Tom McHale, a former NFL player who battled drug addiction.
Outlet: The Washington Post

Rebecca Delaney
Year/Major: Senior, Print and Digital News
Placement/Category: 7th Place, $500
Competition: In-Depth Reporting
Award-Winning Submission: "The Fairfield Gorget: The Little White Disk with a Big, Big History" was an explanatory piece on the Fairfield Gorget, an engraved marine shell believed to have come from the Middle Woodland period, 200 B.C. to A.D. 500. The gorget, which has become an unofficial logo of the Missouri Archaeological Society, has puzzled anthropologists and archaeologists since its discovery from more than 50 years ago.
Outlet: The Columbia Missourian

Matthew Harris
Year/Major: Senior at Submission, Print and Digital News
Placement/Category: First Place, $2,000
Competition: Personality/Profile Writing
Award-Winning Submission: "Back to Basics" explored former University of Missouri men's basketball coach Quin Snyder activities after departing Columbia, to coach an NBA development league in Austin, Texas.
Outlet: The Columbia Missourian

Elle Moxley
Year/Major: Senior, Convergence Journalism
Placement/Category: 18th Place, Certificate of Merit
Competition: Personality Profile
Award-Winning Submission: "A League of Her Own" profiled Colleen Coble, a Columbia resident who lobbies in Jefferson City on behalf of abused and assaulted women.
Outlet: Vox Magazine
Audrey Spalding
Year: Senior
Placement/Category: 6th Place, $500
Category: Spot News
Award-Winning Submission: "Voters say no, loudly, to school tax levy"
Outlet: The Columbia Missourian
Updated: May 4, 2020
Related Stories
Expand All
Collapse All
---