Missouri School of Journalism Earns First Place in Multimedia Category of Hearst Journalism Awards Program
San Francisco (May 25, 2010) — The Missouri School of Journalism earned first place in the third annual Multimedia Competition in the 50th annual William Randolph Hearst Foundation's Journalism Awards Program. A total of 75 entrants from 42 undergraduate journalism programs at colleges and universities across the nation participated.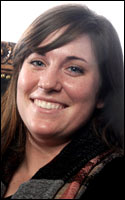 The rankings of two students combined to give Missouri the highest number of accumulated points.
Photojournalism major M. Colleen McDevitt won third place and a $1,000 scholarship for her project, "I am a survivor of rape."
Convergence journalism major Melissa Urscheler won fifth place and a $600 scholarship for her project on University of Missouri students studying abroad in Rwanda.
The School receives a matching grant as do the journalism departments of all scholarship winners.
Other schools participating in the Multimedia Competition included the University of North Carolina, Chapel Hill; University of Illinois; University of Colorado; Western Kentucky University; Pennsylvania State University; University of Oklahoma; University of Kentucky; University of Southern California; and Syracuse University.
The Hearst Journalism Awards Program is conducted under the auspices of accredited schools of the Association of Schools of Journalism and Mass Communication, and fully funded and administered by the William Randolph Hearst Foundation. It consists of six monthly writing, three photojournalism and four broadcast news competitions and one multimedia competition, with championship finals in all divisions. The program awards up to $550,000 in scholarships and grants annually.
Judging the multimedia competition this year were: Ken Geiger, senior editor, technology/lllustrations, National Geographic Magazine, Washington, D.C.; Jeff Cohen, executive vice president and editor, Houston Chronicle; and Fred Young, former senior vice president of news, Hearst-Argyle Television, New York.
For samples of the winning work, please check the monthly winners section of the Journalism Awards' website, www.hearstawards.org, which is updated shortly after each competition.
Updated: May 12, 2020
Related Stories
Expand All
Collapse All
---