Two Missouri School of Journalism students make Top 15 in prestigious Hearst TV Features Competition
By Austin Fitzgerald
COLUMBIA, Mo. (Jan. 18, 2022) — Two Missouri School of Journalism students have finished in the Top 15 of the Hearst Journalism Awards Program's TV Features Competition, marking yet another strong showing as the year's Hearst awards continue to roll out.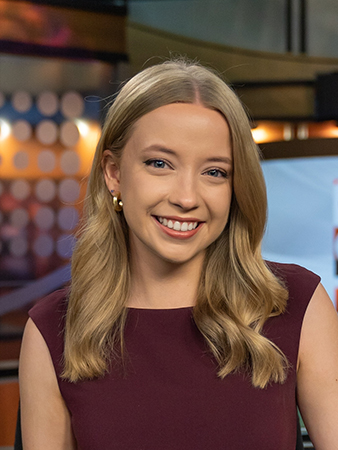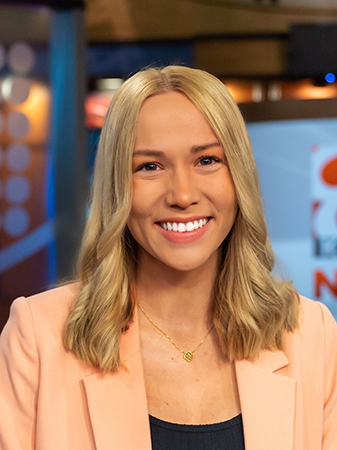 Out of 92 entries from universities nationwide, senior Julie Koharik finished in seventh place, while fellow senior Reagan Di Trolio finished in a tie for 12th. They were honored for stories originally produced for KOMU-TV, the School's NBC affiliate TV station.
"Julie and Reagan have created standout work that has not only provided our community with valuable and meaningful reporting, but has now reflected the power of the Missouri Method on the national stage," said David Kurpius, dean of the School of Journalism. "I'm proud to see our students continue to finish strong in these prestigious Hearst competitions."
In the TV Features Competition, two stories are submitted for each entrant. Koharik and Di Trolio's submissions were all grounded through a community-focused lens, according to Elizabeth Frogge, an associate professor and editor at KOMU.
"Both Julie and Reagan's entries are character-driven stories that document relevant issues ranging from climate change and explicit materials in school libraries to rural homelessness and the only law enforcement academy at an HBCU," Frogge said.
Koharik was honored for stories that aired in August and September 2022: "Science teacher uses Hurricane Ida to teach climate change" and "Law bans visually explicit materials in schools." A reporter and weekend anchor on KOMU, she interned at the TODAY Show this past summer.
"It's an honor to be acknowledged by Hearst," Koharik said. "Both of these stories are topics I'm incredibly passionate about: education and inclusivity. I'm so thankful to work for a newsroom that gives me the support I need to tell these stories and to have my J-school mentors to guide me along the way."
Di Trolio's stories, "Nonprofit helps fight rural homelessness" and "LULETA graduate starts career as Missouri Capitol police officer" were published in October and February 2022, respectively. In addition to serving as a reporter and production assistant at KOMU, she interned at KYTV in Springfield over the summer.
"I wasn't expecting to place so well since I haven't been reporting for very long, but I'm thrilled with this news!" Di Trolio said. "I absolutely love being able to share people's stories who might otherwise not have a voice."
The competition is the latest in a series that constitutes the Intercollegiate Broadcast Competition, in which schools accumulate points for top student finishes. The School of Journalism won last year's broadcast competition and is currently in second place, with the top 3 schools to be announced in April.
"This is a prestigious competition, and our students are up against some of the most talented young journalists from the best journalism schools in the country," Frogge said. "I am proud of the growth of both of these student reporters and am confident they will receive more accolades throughout their careers."
Updated: January 18, 2023
Related Stories
Expand All
Collapse All
---