Four Missouri Journalism Students Win Scholarships in Hearst Foundation Journalism Competition
First-Place Honors Earned in News/Sports Photojournalism and Sportswriting Competitions
Columbia, Mo. (Feb. 27, 2007) — Four Missouri Journalism students recently received top honors from two Hearst Journalism Awards competitions.
Seniors Ben Fredman and John Tully won first and ninth places, respectively, in the news/sports photojournalism competition. Senior Jenifer Langosch took first place in the sportswriting competition while senior Doug Meigs earned seventh.
Presented since 1950, the Hearst Awards recognize excellence in college student journalism in four categories: writing, photojournalism, radio and television. Students active in campus media submit their work to different competitions within each category, and practicing journalists review the submissions and name the finalists.
The top-three finalists in the writing competitions advance directly to the national championship, which takes place in June in San Francisco, Calif. In photojournalism, the top four in each contest must submit an additional portfolio for judging in a semi-final round. Six finalists from the semi-finals then advance to the championship shoot-off. In all, the program will award more than $500,000 in scholarships to winners this year.
The two photojournalism winners are not only well-rounded, astute photographers but also understanding, humble individuals, said Jackie Bell, associate professor of photojournalism.
"It was just amazing to have two students place in the top 10," Bell said. "I knew we could do this, but I don't think the students knew how good they were."
On the sportswriting side, the awards reflect the winners' growth as writers and a willingness to tackle difficult subjects, said Greg Bowers, assistant professor of newspaper journalism and Columbia Missourian sports editor.
"It's very cool to have two winners," Bowers said. "I'm very proud of both of them."
The four honorees from the Missouri School of Journalism are: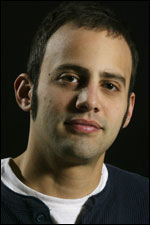 Ben Fredman
First Place
Photojournalism Category: News/Sports Competition
Fredman is a senior photojournalism major from Albuquerque, N.M. He will graduate in fall 2007 and then plans to work as a staff photographer for a newspaper or wire service. Fredman has completed an internship at the Idaho Falls (Idaho) Post Register and currently is interning at the Muskegon (Mich.) Chronicle. In the summer, he will intern at the Newark (N.J.) Star-Ledger.
"I am honored to receive first place in this prestigious competition," Fredman said. "To be named among the top photojournalism students from across the country is an extraordinary feeling."
As the first-place winner, Fredman received a $2,000 award and is eligible to submit additional photographs for the semi-final competition.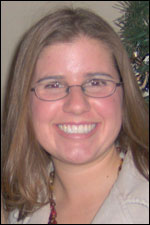 Jenifer Langosch
First Place
Writing Category: Sportswriting Competition
Langosch, a native of Marietta, Ga., is a newspaper journalism and French double major. Her award-winning article, titled "Playing On," featured the members of a softball team from the Rock Church in Columbia, Mo., who dedicated their season to a friend who was killed in a car wreck last summer. In summer 2006, Langosch interned for MLB.com in Atlanta, Ga., primarily covering the Braves. She has been a sportswriter for the Columbia Missourian for two semesters and is a freelance writer for the Springfield (Mo.) News-Leader and Inside Mizzou, a University athletics magazine. Langosch will take a job as the Pittsburgh Pirates beat writer for MLB.com after her graduation in May.
"I was both shocked and humbled when I received the news of this award," Langosch said. "To me, it signifies the culmination of a challenging and rewarding education at the Missouri School of Journalism. I would like to thank Tom Warhover and my editor, Greg Bowers, for their guidance throughout the writing and editing process of this story and my time at the Missourian. I look forward to representing Missouri, and the Missourian sports desk, at the national competition this summer."
As the first-place winner, Langosch's story will advance directly to the championship contest. She also received a $2,000 award.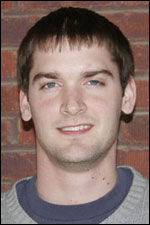 Doug Meigs
Seventh Place
Writing Category: Sportswriting Competition
Meigs, a newspaper journalism major from Omaha, Neb., will graduate in fall 2007. He has written for the Omaha (Neb.) World Herald and the Columbia Missourian.
His story, titled "Industrial Evolution," profiled a local fur trapper throughout the end of the trapping season. Meigs followed the trapper as he caught animals, dried furs and went to auction. The process of removing the pelt from a raccoon was especially gripping for Meigs.
"Whatever one might think about trapping, it was interesting to examine contemporary human interaction with the natural world and see how this relationship has changed – or not – over time," Meigs said.
Meigs received a $500 award for his story.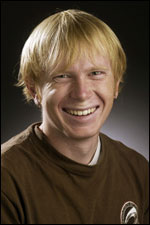 John Tully
Ninth Place
Photojournalism Category: News and Sports Competition
John Tully is a senior photojournalism major from Woodbridge, Va. This semester, he is studying at the Danish School of Journalism in Aarhus, Denmark. He will return to Missouri in the fall and plans to graduate in May 2008.
Tully has interned for The Patriot-News (Harrisburg, Penn.), The Free Lance-Star (Fredericksburg, Va.) and the Potomac News (Woodbridge, Va.). He also has been a staff photographer and pictures editor at the Columbia Missourian.
Having his photographs honored by the Hearst program was a reassurance that photojournalism was the right career for him, Tully said.
"I think no matter who you are, it's great to be recognized for things you've done or are doing," Tully said. "For me, this award communicates that I'm doing something right."
After four of the six annual Hearst writing competitions, the Missouri School of Journalism has accrued the most points and is in first place in the Intercollegiate Writing Competition. After two of the three photojournalism competitions, the School is in second place in the Intercollegiate Photojournalism Competition. Hearst will announce the intercollegiate competition winners after the final two writing competitions and the final photojournalism competition in April.
Updated: April 16, 2020
Related Stories
Expand All
Collapse All
---