Alex Rozier Earns 4th Place in Hearst Journalism Award Program's Broadcast Features Competition I
Columbia, Mo. (Dec. 20, 2010) — Missouri School of Journalism senior Alex Rozier has placed in the top five in the Hearst Journalism Awards Program's Broadcast Features Competition I. Rozier submitted two stories to the contest for his fourth-place win: "The Story of Amanda McDaniel" and "Busted by Your Bracket," both produced for KOMU-TV. He qualifies for the semi-finals and receives $1,000. A matching grant will be given to the School.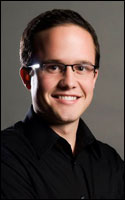 Rozier's win is one of several for the award-winning journalist. In November he won the student production-news category Emmy from the Mid-America Chapter of the National Academy of Television Arts and Sciences. Last spring Rozier was one of five grand-prize winners in YouTube's "Project: Report" international competition. He received a $10,000 grant to work with the Pulitzer Center on an international reporting project.
The top five Hearst television winners, selected from 69 entries, along with the top five finalists from the television competition II, which will be held in February, will submit additional entries for a semi-final round of judging. Following the semi-finals, five television finalists will be chosen to participate in the championship, along with the radio, writing and photojournalism finalists.
The judges, all professionals in radio and television, are: Kate O'Brian, senior vice president, ABC News, New York; Ursula Reutin, managing editor/news anchor, News Talk 97.3 KIRO Radio, Seattle; and Fred Young, former senior vice president of news, Hearst-Argyle Television, Yardley, Penn.
The 2010-2011 broadcast news competitions are held in 110 member colleges and universities of the Association of Schools of Journalism and Mass Communication with accredited undergraduate journalism programs. The Broadcast News Competition was added in 1988 to the Hearst Foundation's Journalism Awards Program that for 51 years has included writing, photojournalism, and multimedia, and now offers awards totaling up to $500,000 in scholarships, matching grants and stipends.
Updated: May 19, 2020
Related Stories
Expand All
Collapse All
---